" Da Best" Chicago-Style Italian Beef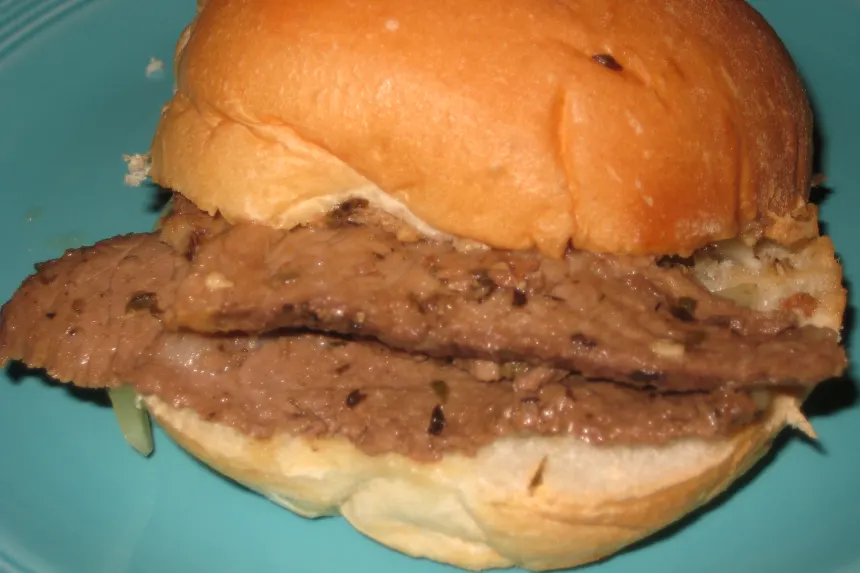 photo by Ycooks2

Ready In:

10hrs 45mins

Ingredients:

13
directions
Preheat oven to 325°F.
Sprinkle the roast with garlic powder, oregano and pepper, then cook roast, uncovered, in a shallow roasting pan, about 30 minutes per pound.
Roast will be very rare-- don't overcook it!
Let cool slightly, then thinly slice.
Add to the roast's pan drippings: the boiling water, bouillon cubes, oregano, thyme, pepper, Tabasco sauce, garlic and Worcestershire sauce.
Simmer for 20 minutes, scraping up the browned bits.
Taste for salt and add some if you wish.
Add the sliced beef; cover and marinate in da gravy overnight.
Reheat the next day and serve in crusty Italian sandwich rolls.
Questions & Replies

Got a question?
Share it with the community!
Reviews
As you might be able to tell from my name, I'm a big fan of Chicago food and this beef was delicious. You do need access to a slicer to get the beef sliced good and thin. If you've got a relationhip with your butcher or deli, maybe they'll slice it for you (especially if you're willing to share some beef). Double the gravy- you won't regret it if you like to pour it on. I inserted 12 garlic cloves into my roast before roasting and they sliced up with the beef. I've made this twice now, and it is the only Italian beef I'll ever make.

 

This recipe is da bomb! As one who spent most of his life just outside Chicago, Italian (Eye-talian) beef is (was) a staple. And when I moved west a few years ago, I assumed that it was as ubiquitous as hamburgers and hot dogs. Not!! I looked high and low, but--sadly--this delicious sandwich was nowhere to be found. (I've since come across a couple Chicago-themed places that serve it, but I have to drive 60 mi. and plunk down almost $9 for a sandwich!) I've tried making it at home a few times with, at best, average results. And the last time I made it I had to try slicing it with a knife. The flavor was good, but you just can't get it right (i.e., thin enough) with a knife. And I just couldn't justify splurging for a slicer. But I was happy to stumble across one recently at a thrift store in like-new condition for only $12. Italian beef was coming to our table very soon!! And so I tried this recipe and, with some good, not-too-crusty/tough, French bread, you'd swear you're eating carryout from your favorite IB joint. Even my teenaged daughter, who doesn't usually care much for beef, went back for seconds! My tips for the recipe are to at least triple "da gravy," and next time I'll probably quadruple it. You want your cooked and sliced beef completely submerged to absorb all the yummy goodness. But I would only double the garlic and Worcestershire; 2x on those two ingredients is plenty. And even at double it is plenty garlicky. But it's oh so delicious. SIX STARS!!