Curtido De Repollo - El Salvadorean Cabbage Salad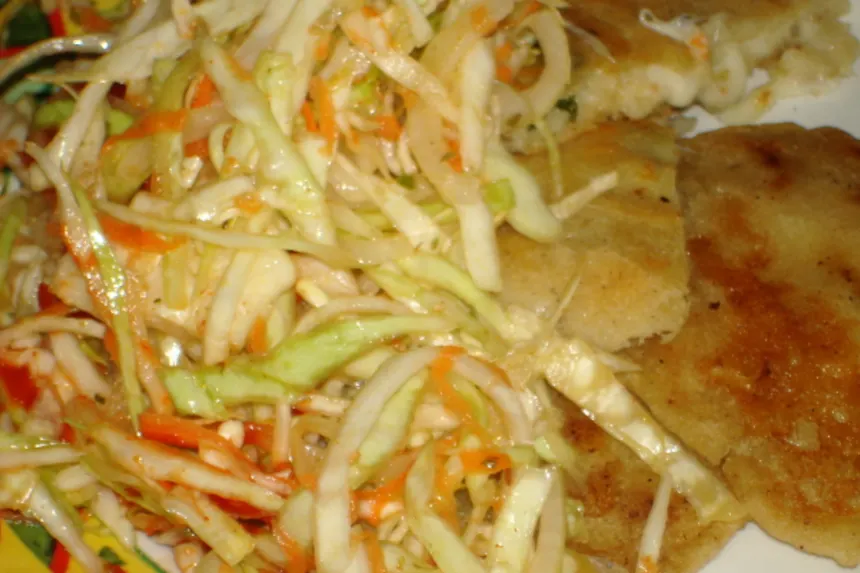 photo by Linajjac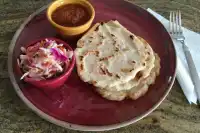 Ready In:

15mins

Ingredients:

11
directions
Using a hand-grater or the grater attachment of your food processor, shred cabbage, carrots and onion.
Combine all ingredients in a large mixing bowl.
Use the back of a wooden spoon to press all the ingredients down so they are submerged in liquid.
Allow to rest at room temperature or in the refrigerator before serving, ideally for at least 4-6 hours.
Serve with pupusas, or as a topping for fish, quesadillas, or other dishes.
Questions & Replies

Got a question?
Share it with the community!
Reviews
I tried this recipe. I don't know about the sugar and the oil, I suppose it depends on one's taste. But I'll guarantee you that's not what they use in authentic curtido in El Salvador.<br/>Also, the cayenne pepper. Much better to throw in a handful of dry chile japones or chile de arbol. Also, go ahead and try to reduce a whole head of cabbage with a grater. Good luck!! The curtido in the pupusarias is not grated, it's simply cut up on a board with a large knife. A kraut cutter works the best. Curtido needs to have a rough texture, not grated into oblivion.<br/>But, one critical thing I noticed: The recipe says to let set 5-6 HOURS. I think they meant 5-6 DAYS, not hours. If you let it set for a few DAYS you'll have a juicy curtido, like sauerkraut, and it'll taste as it should. In 5-6 hours, all you'll have is shredded cabbage in vinegar, not curtido. If you've ever eaten in the "pupuserias" you'll will have seen that the "curtido" is in large jars sitting out on the counter in the heat and is to some degree fermented. If you're going for the real deal, add a dessicated house fly or two to your curtido. (joke) (kind of)<br/>This recipe was pretty obviously written by someone who never actually tried it, or at least had no idea what curtido should taste like. We owned a pupusaria in Santa Tecla back in the '70's. A small one, but it was a money maker, crowded in the evenings and on the weekends. I well know how curtido is made and how it should taste.<br/>Now, what they do in Guatemala or Honduras I don't know, nor less care. Western El Salvador is where pupusas originated as far as I know, so that's what I go with.<br/>I think what this is, is an attempt to create a recipe for "curtido al instante." Forget it, make REAL curtido. It's good!!

 

This has the most amazing flavor. It met the seal of approval w/ the in-laws so I know I'm not delusional. I only did half the head of cabbage but needed the full amount of additional ingredients to get the cabbage, carrot & onion actually submerged in the liquid. Chopping the cabbage in thin slices w/ a big knife was so much easier than trying to grate it. Thanks for the great recipe. Will make this again & again.

 

I also served this with Pupusas and it was fantastic!! Making this was a labor of love because I only had a hand grater and grating everything took FOREVER. However, it was more than worth it because it tasted so good! This recipe yielded so much that we had a big bowl in the fridge that we used all week (on pupusas, quesadillas, beans and rice, etc) and still had more left over. I'll make this again with a food processor and halve the recipe. Thank you for the wonderful recipe!!!

 
RECIPE SUBMITTED BY
Read my gluten-free blog <a href="http://glutenfreebay.blogspot.com/">here</a>. I love cooking and always have. I learned how to cook as a young kid and I've worked as a prep cook for a catering company and for a restaurant though I am no longer working in that industry. Being a food lover, it was an unpleasant surprise to develop major food intolerances within the past few years. I've been 100% gluten-free since 07/06 out of medical necessity and am cutting down on dairy and soy since they make me ill in large quantities. I'm also working on becoming kosher. So, you'll see reflected in my recipes my recent interest in developing recipes that are both kosher and suitable for people with food allergies, without sacrificing taste. And there's lots of good stuff in my cookbooks for those of you with no food allergies, too, of course! My areas of specialty are gluten-free baking and cooking, dairy substitution, vegan and vegetarian dishes, and Jewish cooking.
View Full Profile