Crusty Whole Wheat Italian Bread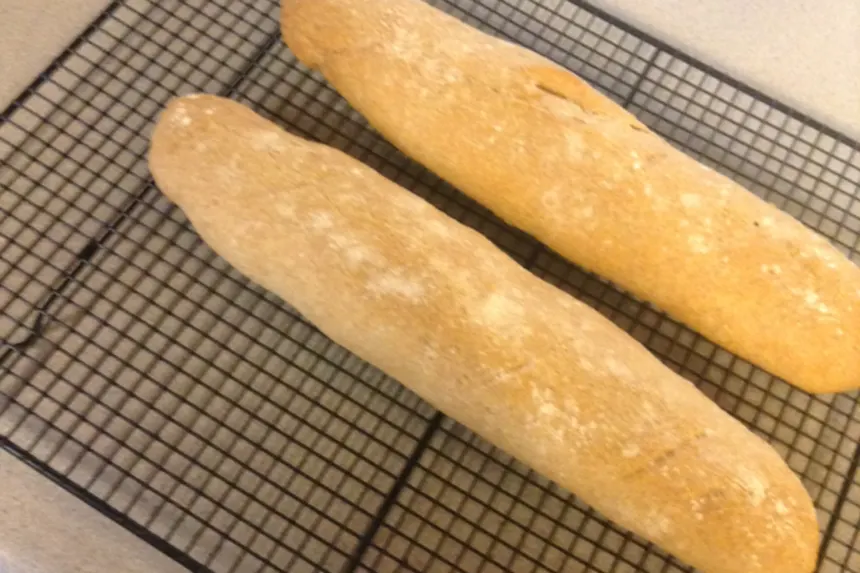 photo by Anonymous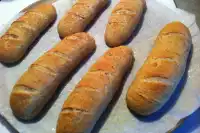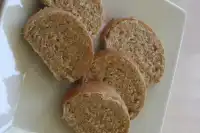 Ready In:

2hrs 50mins

Ingredients:

8

Serves:

16
directions
----ForBread Machine----.
Add all ingredients except cornmeal to bread machine pan in the order recommended by your machine's manufacturer.
Select dough cycle and start machine.
----ConventionalMethod----.
In large bowl, dissolve yeast, brown sugar, and ginger in warm water.
Let stand 5 minutes until yeast foams.
Add salt and bread flour; beat well.
Stir in whole wheat flour to make a stiff dough.
Turn out onto lightly floured board and knead 10 minutes or until dough is springy, smooth and satiny.
Wash bowl, grease it, and add dough to bowl; turn over to grease top.
Let rise in a warm place until doubled in bulk, about 1 hour.
----Shapingand Baking----.
Lightly oil or grease a 14x17" baking sheet and sprinkle with cornmeal; set aside.
Punch down the dough.
Divide in half and, on a lightly floured surface, shape into long loaves, rolling each piece first into a 5x12" rectangle, then rolling each up along the long side to make a long, narrow loaf.
Pinch edges to seal, and taper ends.
Place loaves, seam side down, on prepared baking sheet.
Let rise until doubled, about 45 minutes.
Make 4-5 slashes across each loaf with sharp knife or razor blade.
Brush each loaf with water and sprinkle with whole wheat flour.
Bake in a preheated 400 degree F oven for 15-20 minutes, until loaves are browned and crisp.
Remove to a wire rack to cool completely.
NOTE: I also use a spray bottle filled with water and spray the loaves and oven walls once or twice at 5-minute intervals at the beginning of baking.
You could also make this into one large oblong loaf or a round loaf, but baking time would need to be increased.
Tweaks
FANTASTIC!! I have tried several wheat Italian breads and have never been satisfied. I grind my own wheat and used hard white wheat berries for this recipe and was vary happy with consistency and taste. I would have liked my crust to be crunchier so next time I will use egg whites instead of water to coat the top. This recipe is a keeper!!

 

I've made this bread several times now and each time, it comes out great. I've used unbleached all purpose flour in place of bread flour... and I've also sometimes eliminated the 2nd rise and it still comes out great. You don't really taste the ginger. I think it's more for yeast-enhancing purposes. I've also added an extra Tbsp of brown sugar for a little added sweetness and that makes it perfect.

 

All right! What a great bread! This was very easy to work with. Since I am not a ginger fan I left the ginger out. I subbed honey for the sugar and used rapid rise yeast and cut the rising times by maybe 15 minutes each rising. I split the dough into three long ropes, braided them together into one long loaf and let rise. Then I brushed the top with an egg wash, sprinkled with sesame seeds and baked as directed. The loaf came out as beautiful as any from a bakery and went just as quickly. I will make this bread again and again. Thank you for sharing this recipe!