Crusty Sourdough Rye Bread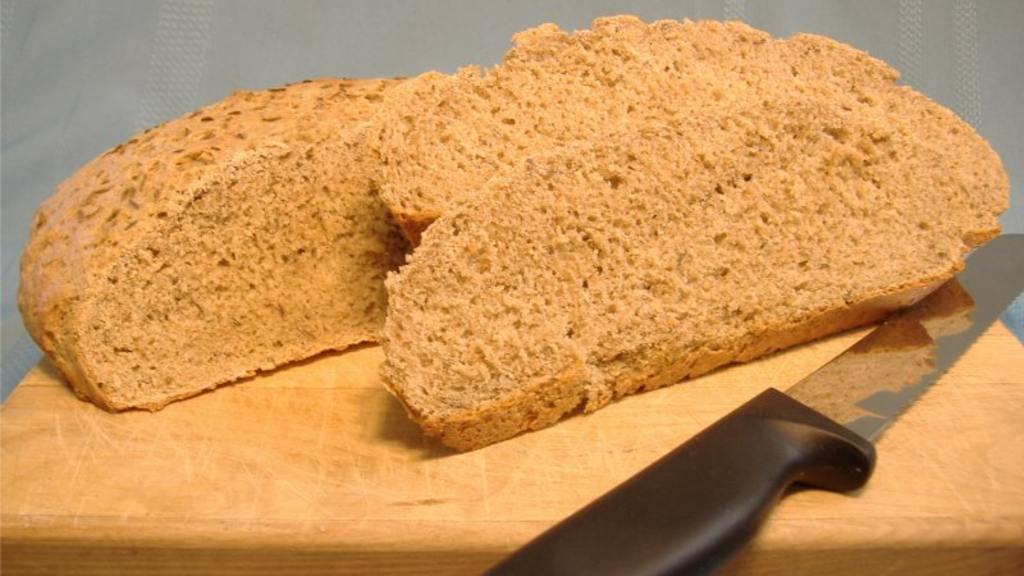 Ready In:

2hrs 55mins

Serves:

Yields:

Units:
Nutrition Information
directions
Combine starter, rye flour, and one cup of the water in a large bowl; stir to blend; if you'd like an extra-sour flavor, cover mixture with plastic wrap and let stand in a warm place 6-24 hours (I let mine go six hours) until bubbly and sour, even boozy, smelling.
Combine yeast and remaining water in small bowl; let stand about 5 minutes until foamy; stir into sourdough mixture; add whole-wheat flour, 1 3/4 cups of the all-purpose flour, salt, sugar, and caraway seeds; stir (in KitchenAid stand mixer on low speed) until dough comes together.
Knead 9-10 minutes (in KitchenAid stand mixer on speed #2) until dough is smooth and springy; add more all-purpose flour, a tablespoon or two at a time during the kneading process as necessary to reduce excess stickiness (this particular dough will remain somewhat sticky); cover and let rise about 1 - 1 1/2 hours in a warm place until doubled.
Punch down dough and knead a few strokes to release air; shape into a round loaf and place on a baking stone or a greasing baking sheet; cover loaf lightly and allow to rise about 30 minutes until almost doubled.
Cut a couple small slashes about 3/4" deep on top of loaf; spray loaf with water and bake at 425° for 9 minutes, spraying loaf after 3, 6, and 9 minutes; reduce oven temperature to 400° and bake another 20-25 minutes until loaf is browned and sounds hollow when tapped on the bottom; transfer finished loaf to cooling rack.
NOTE: If you opt to let your starter and rye combination stand for several hours, you can get by without the additional yeast ~ Just plan on increased rising times.
Submit a Recipe Correction
Join The Conversation
Excellent rye bread. I tweaked the flavorings slightly and added instant espresso, onion powder, cocoa, and molasses because I wanted a dark rye, but followed the recipe for the core ingredients. The sourdough taste comes through. The crumb is moist and tender. It makes great sandwiches. I used instant yeast instead of active, so added the full 1 1/4 cups water when mixing my unfed starter with the rye flour. I added the instant yeast to the remaining ingredients and kneaded the dough for about 5 minutes in my KA, and by hand for about 8 minutes. I didn't have to add any additional flour. The dough was soft and slightly tacky and handled nicely. I proofed the dough in a cloth-lined colander in the fridge overnight and baked first thing in the morning, taking the dough straight from the fridge to the oven. As a few others have noted, there wasn't much of an oven spring, but my dough kept its round shape from the colander and didn't spread. This is a very dense bread and I had to bake it much longer than the recipe indicated to get it to an internal temperature of 205°.

I've made this recipe four times, okay, three times. We won't count the time I used cumin seeds by accident (Yech!). Twice I tried it with yeast and once with just the sourdough. All three times it came out dense and heavy and not unlike a lead balloon. But it tasted so good! It rises twice, and to make sure the last 30 minutes are enough, I poke a knuckle in the dough and it does not spring back. There was no oven rise at all, which makes me think something in the oven-rise part of the process is wrong. My oven temperatures are accurate, so what's the solution to this? Add gluten? Suggestions?