Crustless Bacon, Spinach & Swiss Quiche - Low Carb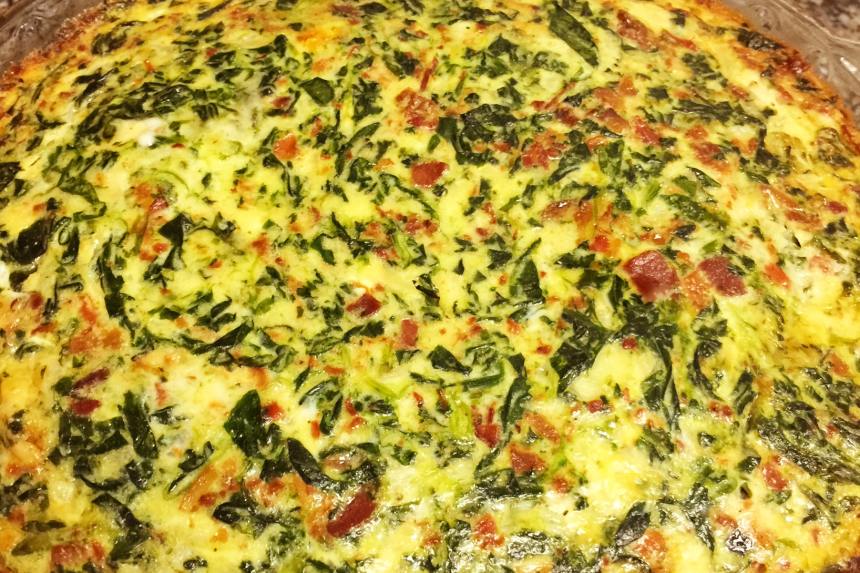 photo by A Pinch of This ...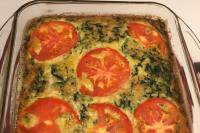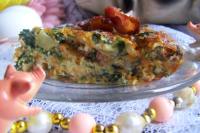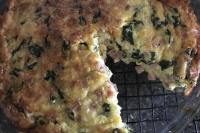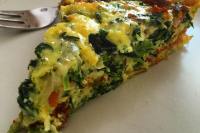 Ready In:

45mins

Ingredients:

10
directions
On a foil lined pan, cook bacon in 350 degree F. oven until crisp.
While bacon cooks, chop onion and shred cheese.
Heat 1 tablespoon butter and 1 teaspoon oil in skillet over medium heat. Add chopped onion, and stir to coat.
When onion turns glossy, add thawed spinach, and stir to mix. Heat about 5 minutes, then remove from heat to cool.
Remove bacon from oven, and place on a paper-towel lined plate to drain.
Stir together eggs, salt, pepper & heavy whipping cream in a medium bowl.
Add in cheese, onion/spinach mixture, and bacon. Stir thoroughly to mix.
Butter a glass pie plate or quiche dish, pour mix in, and pat evenly with a fork.
Bake in 350 degrees F. oven 25-30 minutes, or until a knife inserted in the center comes out clean.
Let rest 5 minutes before cutting & serving.
I bet you can't eat just ONE slice!
Reviews
great base recipe. i made mine with a few tweaks--sauteed the onion with red pepper & spinach, then layered that on the bottom of the quiche plate. topped that with 2oz of shredded swiss, then crumbled turkey bacon, then four ounces of crumbled goat cheese on top. poured the egg & cream mixture over the top and shook it around a bit so the egg settled through all the layers. at 350 it took mine about 33 min to be nice and golden on top. we ate half for dinner tonight with a simple salad, and will bring the rest to work tomorrow. it was delicious--very flavorful, very moist. possibly a little too moist, i think next time i would squeeze out the thawed spinach a bit more and maybe let it simmer over lowish heat to cook more of the water out first. despite the tweaks, i am giving this one 5 stars because it is going in my cookbook as a great base recipe for endless variations of crustless quiche. i will be workin' that quiche plate!

 

This was easy and very good! I forgot to pick up a deep shell pie crust and almost skipped making a quiche. Found this recipe and was very pleased with the results. I made a few changes though. The second time I made it, I added a full cup of heavy whipping cream. Made it a bit fluffier--not as dense. Also, less cheese tasted better to me. Only put in 4 Oz. of cheese--Swiss. Can also. do the bacon in the microwave with paper towels. Other than that, easy and very good recipe!! Got me out of a jam too! Served for breakfast the next morning. I would say it is closer to a Frittata than a quiche...kind of in between.

 

I too..agree this is great! I only used 3 thick slices bacon...I love bacon...putting a whole lb. seemed heavy . It was great to come across the nuggets of bacon! I also agree,be sure to squeeze out the spinach. I added tomatoes to mine and some garlic. Can imagine lots of other vegs to add in the future! Gotta run....getting another slice!! lol

 
Tweaks
Since I went KETO about 2 months ago, I was looking for something like this. My mods: 9 Eggs, 2 cups of pre-cooked Bacon crumbles, 8 oz. Feta crumbles, 1 Cup Heavy Cream, NO SALT (Bacon and Feta have plenty), 4 Cups fresh Spinach, 1/4 tsp. Nutmeg and Tomatoes on top (Like the Photo). In an 8x8 greased Pyrex & 40-44 Minutes in oven. IT WAS FABULOUS!!

 

I made this delicious, easy recipe for brunch in the days after Christmas 2011. I did substitute leftover Christmas ham and had broccoli instead of spinach, but I will use the pound of bacon (my kids will love it!) and spinach next time. I will be making this recipe regularly-thanks for a quick, tasty, crustless quiche recipe!

 

Thx for posting this recipe - we really enjoyed it. I did make some changes - but they were inspired by you. I am trying to lose a few lbs, so low carbing AND trying to watch the calorie intake so I reduced the bacon to just 2 thick-cut slices which I diced and pan fried. I then added the onions to that pan, utilizing the bacon grease ( to avoid the butter and olive oil). I also used 3 whole eggs, and substituted the remaining 3 with equivalent egg whites only, and lastly 5 oz of cheese instead of 6. It was a bit watery-looking when I poured it in the casserole, but after 50 minutes in (my rather cool) oven, I pulled it out and it was great. Oh - I also added about 1/3 cup diced red pepper and 1/3 cup diced broccoli as well. I took a chance and left out the heavy cream and subbed 1/2 c cottage cheese - I think it would have tasted richer with the cream, but it still worked. It was really good -thx for posting and giving me the idea to try something.