Crock Pot Smothered Chicken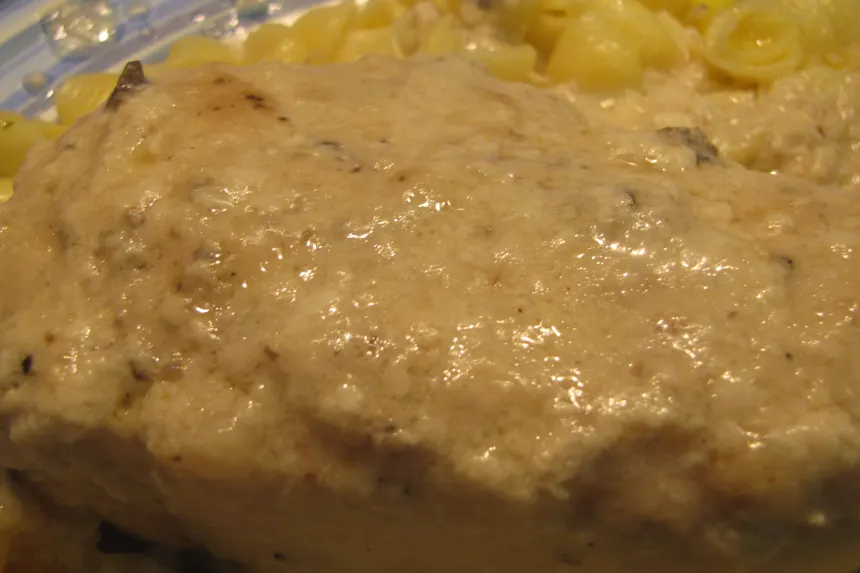 photo by kellychris

Ready In:

6hrs 20mins

Ingredients:

7
directions
Place Chicken in Crockpot, Season (to taste).
Sprinkle Flour on Chicken.
Mix Soup and Milk (till creamy).
Pour over Chicken.
Cover.
Cook for 4-6 Hours.
Nice Gravy can be used over Potatoes, Rice or Pasta.
Reviews
Braunda, I threw all the ingredients for this into the crockpot and went out into the beautiful spring air today and had an excellent chicken dinner waiting for me on my return! The chicken is so tender with this recipe that it simply falls off the bones! I served it with mashed potatoes and Bergy's Stir Fried Asparagus with Mushrooms recipe #22865, and a crisp green tossed salad. Delicious and simple! What more could you ask? Thank you so much, Braunda, for sharing this recipe with all of us on Zaar!

 

Very good. I used 4 boneless, skinless chicken breasts, cooked them on high for 4 hours. I took meat out and shredded it - no effort at all as the chicken was very tender. The sauce was not as thick as we prefer so, before adding the meat back, I followed another's advice and made a beurre manie (had no clue what that is so I looked it up and it is a mixture of flour and butter... I used 2T each... kneaded together and added to sauce). I also added some sour cream - I didn't measure but it was probably 1/4 cup or so. We served over rice but I think it would be delicious over egg noodles. Thank you.

 

Perfect for a Sunday dinner! If you really want to watch the fat content you can use Campbells Cream of Mushroom and skim milk. I did increase the flour to 2 1/2 tablespoons to thicken it since I used skim milk. It didn't compromise the taste at all. I love using my Crock pot and this was a great recipe for it! Thanks!

 
Tweaks
Very simple, and simply delicious! I used frozen chicken breasts and cooked on high for somewhere between 5 and 6 hours. I forgot to put in the flour, so I had to add a little cornstarch mixed with water about 30 minutes before I served it to thicken the sauce. I used Tony Chachere's Creole Seasoning instead of pepper. And I added one onion, cut into wedges. Otherwise, I followed the recipe as written. It turned out great just like it was, and I also think the recipe has the potential to be varied in pretty much whatever way you can think of. Next time I might add some bell peppers or mushrooms, or maybe a little sour cream at the end of the cooking time. The chicken was wonderfully tender, and I'll definitely be making this again. Thanks, Braunda!

 

Hi Braunda: A very quick, easy and tasty meal to prepare and it was ready for me when I got home from a hard day in the "trenches". All that was left to do was prepare the rice, and Uncle Ben makes that a 5-minute "non-chore". Because of dietary implications, I use Soy Milk, and it did nothing to compromise your recipe. Substituted the garlic powder with crushed, fresh garlic. Also added additional flour for gravy thickening, because I like a thicker sauce. A perfect dinner on a perfect, cold, winter day. Thank you Braunda. Added to our grace, was an earnest prayer for your family's special needs. God Bless you.