Crock Pot (Slow Cooker) French Dip Roast Beef Sandwiches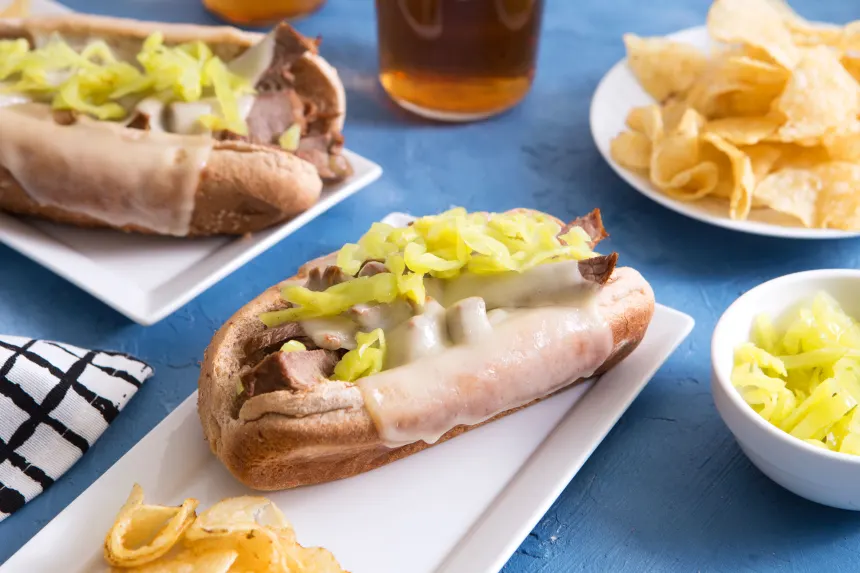 photo by esteban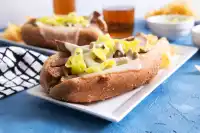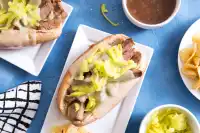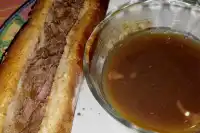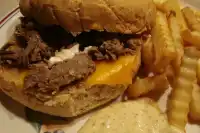 Ready In:

5hrs 15mins

Ingredients:

9
directions
Place roast in 4.5 - 6 quart slow cooker.
Sprinkle with onion soup mix and then pour onion soup and beer over it.
Drop bouillon cubes in different spots into the liquid and sprinkle pepper and salt to taste over all.
Cook on high for 4-5 hours. (I guess you could also cook on low for 8 hours or so, but I haven't tried it!).
Remove meat and slice or shred; return to slow cooker and cover.
Turn to low and let meat soak up the juices until ready to serve.
Our favorite way to serve: open rolls and place a slice of provolone on one side of each; place under broiler until cheese is almost melted. Spoon beef on top with slotted spoon and serve sandwich with a side cup of au jus.
Questions & Replies

Reviews
I'm sorry, the concept of this recipe is wonderful, BUT...the sodium content in this recipe is above and beyond the necessary. The simplicity of using packets of seasoning is great, but not at the cost of my families health. I found that creating my own seasoning combo's and using those made this recipe equally delicious and succulent WITHOUT the ridiculous amount of salt.

 

Used pre-sliced Round steaks from our local meat deli, followed recipe but didn't have the canned French onion soup in stock ( which I love) so instead added 2 fresh sliced onions and few extra beef cubes in lieu of. It was perfect! Just to share....even when I prepare any type of Roast, for yrs I've always added the 'Dry' onion soup mix along with a Can of creamed mushroom and mix in 1 cup of water Per. I flour Roast 1st, braise in bit of oil, , put fresh carrots & onions at bottom of Crock-pot, add beef, then top with fresh cut potatoes, OR if too tired (canned Whole potatoes) works fine from pantry. Enjoy! Family loves Everytime :)

 

Fantastic! I have tried several crock pot french dip recipes over the last few years but none have come close to this. I think the french onion soup makes the difference. I made this recipe as written with the exception of not adding salt, thinking with the canned soup and the bouillon that it would be too much. It was not as salty as I expected but I still don't feel the need to add more, just my personal preference.<br/>Served on toasted french bread with melted provolone and the juice on the side. My wife, 11 year old daughter and I thought it was phenomenal! The juice was so much more rich and flavorful than recipes I've tried in the past and the beef was so tender and delicious. Used a four pound roast and cooked for five hours on high rather than on low for 10 or so hours. I've always opted for the longer cook time thinking it would be more tender and was hesitant to cook on high for a shorter time but I was so pleasantly surprised how this turned out.<br/>I can't wait for the leftovers which I'm re-heating as I write this. Thanks for my new roast beef sandwich recipe...I will get a ton of use out of this one!