Crock Pot Sauerkraut and Pork Shoulder Roast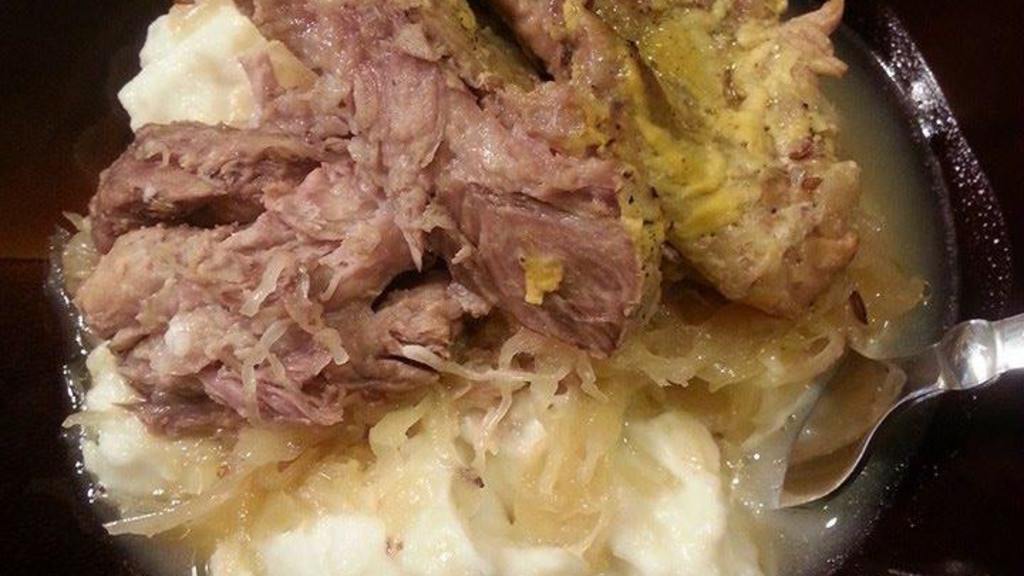 Ready In:

8hrs 15mins

Ingredients:

6
directions
Place sauerkraut in a 3-1/2 to 4 quart crock pot. Trim fat from meat. If need be, trim the meat to fit in crock pot.
Lightly sprinkle meat with salt and pepper. Spread mustard over meat and place the meat on top of the sauerkraut. Pour beer over the meat.
Cover and cook on low heat setting for 8 to 10 hours or on high for 4 to 5 hours.
Transfer meat to cutting board. Cool slightly. Slice meat, discarding fat, and serve.
Join The Conversation
I grew up eating this dish on New Year's Day, and now that I'm all moved out and an "adult", I wanted to replicate my mothers pork & sauerkraut. The differences between hers and this recipe are 1. She uses an actual oven, 2. She doesn't use beer, and 3. She doesn't use mustard. So going into this I was a little nervous that it wouldn't taste like hers but I was wowed. Honestly I thought it tasted identical but with just a little more umph. I followed the recipe to a tee but used my own rub (salt, pepper, paprika, and brown sugar) and it really added a new dimension. The paprika added a little smokiness and obviously the brown sugar adds some sweetness but surprisingly those flavors didn't overpower and perfectly rounded out the entire dish. I even shared some with mom the last time she visited from back home and she loved it. Thanks so much for the awesome recipe.

 

This was amazing! I ended up getting caught up in stuff with the kids ( pre-k and toddler age! ) and chores then by noon remembered of crap dinner! So it didn't get to cook as long but i did the on high option for 4 hours and it was still delicious! My husband is the cook in the house but i've taken over week day meals so he doesn't have to after work and he loved it! Also we lived in Germany for 3 years and this was like being there again, totally tastes German <3 Especially served over creamy mashed potatoes! yum yum! <br/><br/>Substitutions:<br/><br/>Yellow mustard because I realized i had no Dijon and didn't feel like dragging my kids to the store for just that but still tasted great!<br/><br/>didn't rinse sauerkraut, and added caraway seeds evening but generously