Crock Pot Chicken, Gravy and Stuffing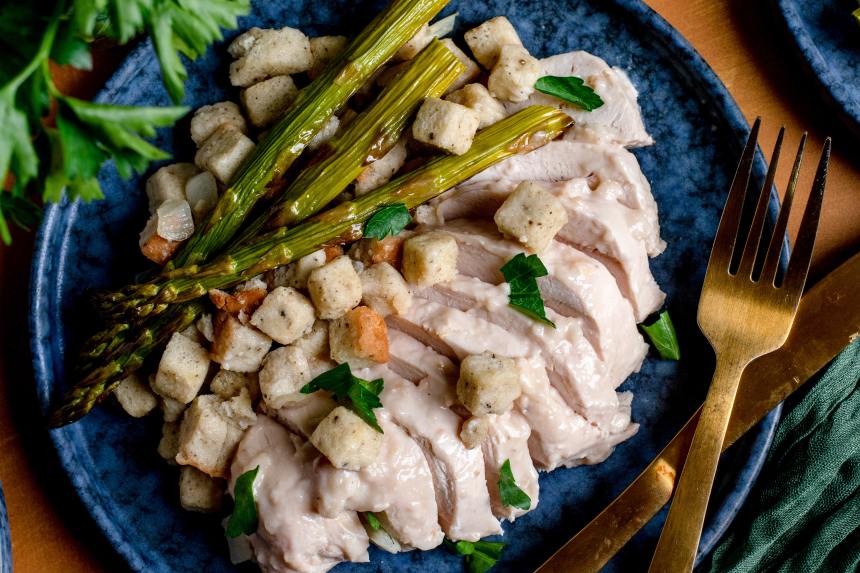 photo by A Marsteller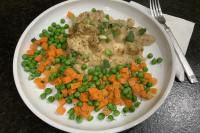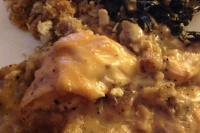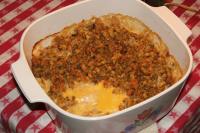 Ready In:

6hrs 20mins

Ingredients:

10
directions
Season chicken breasts with salt and pepper and place chicken breasts in crock pot. Pour Chicken broth over breasts.
Put one slice of Swiss cheese on each breast. Combine both cans of soup and milk.
Cover chicken breasts with soup mixture. Sprinkle stuffing mix over all.
Drizzle melted butter on top.
Cook on low for 6 hours or high for 3.
Reviews
A real winner. Made exactly as stated w/ only one substitution no butter on hand so melted 1/4 cup Smart Balance spread. Worked just fine. I used perhaps a bit more cheese, my slices were approx 4x4 so I used two per breast and overlapped them a bit. Plugged her in at 10am and we ate at 5:30. The chicken was VERY tender. Wonderful on a rainy night. Next time I will add the 3rd cup of stuffing as others have suggested. Thanks for a great and so simple meal. Update: I made this again using Pepperidge Farm stuffing and it came out very mushy. Previously I had used a crouton like stuffing from Mrs. Cubison which held together nicely. The PF was too crushed to begin with for such a long cooking time. Update: Made again for the third time. This time I used healthy request soups and reduced fat swiss cheese. The result was great!

 

I made this almost exactly as written. I had to use bone in chicken as this was all I had and I baked it in the oven because I got a late start and it wouldn't have been done in time for dinner in a crock pot! The chicken was SUPER tender and falling off the bone almost! I baked it covered in a casserole dish in the oven for about an hour and left the cover off and cooked for another 15 minutes to brown up the stuffing. This was great! Very easy and tasted wonderful with mashed potatoes and asparagus. The gravy tasted very homemade and not like "canned soup"! I can't wait to make this in the crock pot. I love using my crock pot and coming home to a cooked meal! Thanks for posting Anne!

 

This was delicious. I did make a couple changes. I have a 3 qt. crock pot. I layered about four quartered baby red potatoes on the bottom of the crock, then added a couple handfuls of baby carrots on top of the potatoes. I then followed the recipe as shown except I used Muenster cheese and Stove Top cornbread stuffing. All this filled my crock pot to the top. For the soups I used Healthy Request & low sodium broth to cut down sodium and fat. Everything came out wonderfully. Very tasty. I'll certainly make this recipe again and again

 

Wonderful, hearty recipe! I wanted to make it a truly one-pot meal so I added a layer of veggies under the chicken. I chopped carrots, parsnips, potatoes and half a large onion into big chunks, put them in the bottom of the crock pot and then sprinkled them with a little salt, pepper, garlic powder and onion powder. I then added the chicken breasts and seasoned them the same way. I poured the chicken stock around the edges of the chicken so the seasoning wasn't disturbed. Then I layered about a cup or so of shredded Swiss cheese on top of the chicken (didn't have slices) and then the soups (I used the low sodium version). I ended up topping it off 2 cups of cubed PF stuffing mix and 2 cups of PF cornbread stuffing and drizzled it all with 1/2 cup of melted butter. I cooked it on low for 6 hours and we came home to a wonderful feast! Not only was it a complete, delicious meal but clean-up was a snap! I had lined my crock-pot with a roasting bag so there was nothing to scrub or even rinse off afterward. A total win! Thanks for a wonderful recipe.