Crock Pot Bread & Sausage Stuffing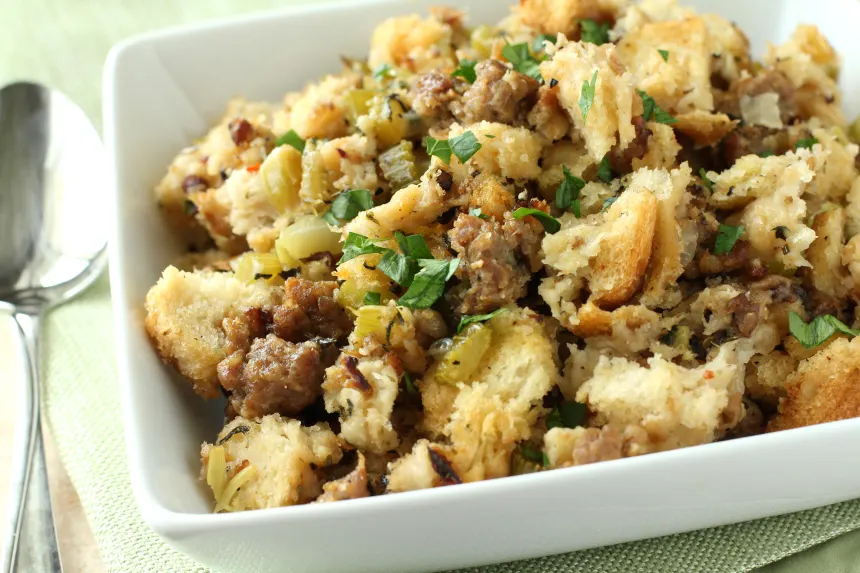 photo by DeliciousAsItLooks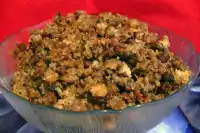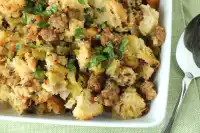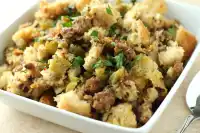 Ready In:

3hrs 15mins

Ingredients:

11
directions
In large bowl put 1 loaf bread broken up and dried overnight. Season crumbs with salt, pepper, poultry seasoning & garlic powder.
In pan, saute 1 chopped onion, chopped celery and the chopped parsley in the butter.
In another pan brown & break up the bulk sausage.
Pour the sauteed vegetables and sausage over the bread crumbs. Moisten with the chicken broth.
Place in slow cooker on low for about 3 hours. (Time may vary depending on your crock pot.) I recommend giving it a stir and checking to see if it is getting too dry around the edges from time to time. You can always add a little more broth to suit your taste.
Questions & Replies

Hey! Reggie 's mom ! I just happened across your recipe here for sausage stuffing and what a surprise -- this is pretty much the sYame recipe I always made with my mother while growing up ( I'm 70 ) It was my great-grandmother's recipe! We had to leave 2 loaves of bread out on the kitchen counter Wednesday afternoon and overnight to get "stale"--we had a large family. .Then my mom got up so early on Thanksgiving morning to start all the cooking. The stuffing was always most important to get done because you couldn't begin the turkey until the stuffing was in it. While she had her tea kettle heating, she brought the massive bird to the kitchen sink and started rummaging around in its big "hole," pulling things out while I watched. What she got was a collection of parts called " giblets" which she then put on the stove to boil until cooked. Next came sitting at the large kitchen table(I had eight younger siblings and the table sat all of us)to start on those 2 dried-up loaves of bread. We had to tear them into tiny pieces by hand , filling up a huge stockpot. No store-bought bread cubes in those days. Then everything in the recipes is the same until mixing the onion/celery with the bread-- here my gr.grandmother's had added mushrooms to saute with the onions--next, she cracked an egg over the mountain of bread and such (she said it helped hold it together)--then the hot broth she poured over it all was the water the giblets had boiled in, and she chopped up the giblets very finely and put them in.And of course it didn't go in a crock pot. Back then , we washed our hands again then squished everything together with the sausage until it was mixed really well. When it was time to cook the turkey, my mom took handfuls of stuffing over and over again to fill the bird--it was fun to watch. Anyways,your recipe brought me happy memories.Thank you. Kathy

 
Reviews
Made for Spring PAC 2008 ~ We loved this excellent stuffing! I made it exactly as written using half white & whole wheat breads. Judgment & pers pref are factors w/this. All ingredients are pre-cooked, so crockpot cook time may vary based on how hot the pot cooks & the denseness + dryness of the bread used. I ckd at 3 hrs, found it starting to get dry & added 1/2 cup more broth. I shut off the crockpot at 4.5 hrs & left the stuffing to sit in it till dinner was ready. It was still a bit drier than we prefer, so I assume my cp cooks hot & I will need to use extra broth. Great recipe! Thx for sharing it w/us. :-) ~ *Edited to Add* on 11/30/08 ~ A big hit at our annual Post-Thanksgiving dinner party last nite. The recipe was requested & shared. We love this stuffing! :-)

 

I've made this two Thanksgivings in a row and have had rave reviews both times. Love that it frees up the oven for other things. This year I used 1/2 brioche sandwich rolls and half french bread. Came out great! I haven't had any trouble with this stuffing drying out. In fact, this year I left the top off the crock pot for the last 20 minutes or so to let some of the moisture evaporate. One thing I might try in the future (if I have oven space for it) is to finish it in the oven so it has that nice crispy around the edges, moist in the middle thing going on.

 

I've made sausage stuffing for years but not in the crock pot. That's definitley a plus. I make it almost the same with a few exceptions. I tear/cut up the bread the day before in a big pot. In the morning I use a whole stick of butter to cook celery and onions then pour over the bread. Add sausage (Jimmy Dean's Original) to same pan, cook, drain then add to bread then add broth until wet, season with salt, pepper, and plenty of sage to taste. I love the sage in it. Just isn't the same without it. Just don't overdo it or all that hard work is down the drain. So I've always stuffed the turkey and put the rest in a casserole but this year I am going to use the crock pot. I think Ill use one of those crock pot liners also and see how they work.