Crock Pot Beef Burgundy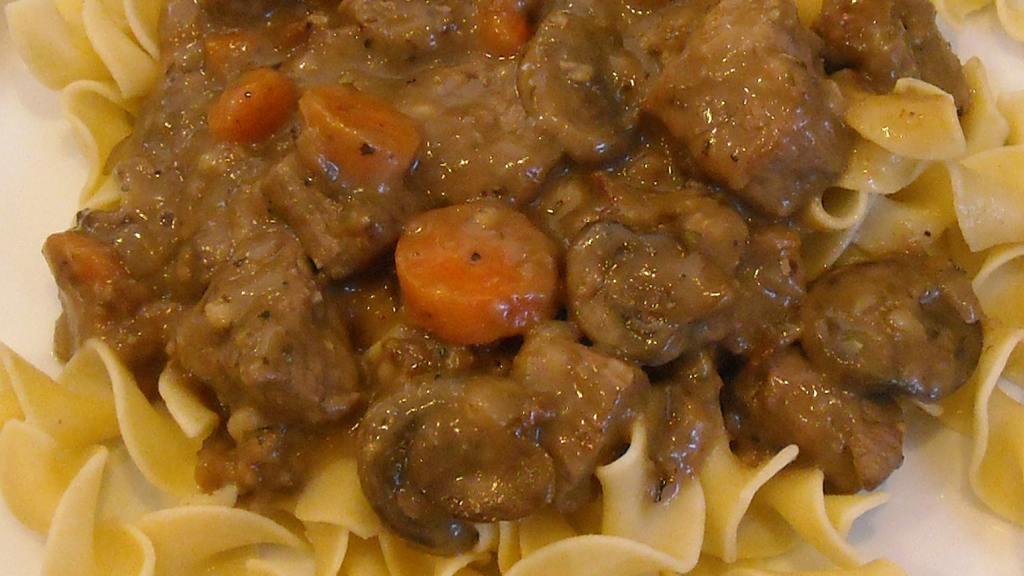 Ready In:

8hrs 15mins

Ingredients:

14
directions
Cook bacon until crisp; drain, and crumble.
Place beef, bacon, carrots, and onions in the bottom of the crock pot.
Whisk together flour, marjoram, garlic, and pepper with broth, wine and Worcestershire sauce.
Pour mixture into crockpot.
Cook on high for 1 hour.
Reduce to low and cook for 5-6 hours.
Add mushrooms to crock pot.
Cook on high for 30 minutes or until mushrooms are cooked to your liking.
While mushrooms are cooking, prepare noodles according to package directions.
Serve beef over noodles garnished with parsley, if desired.
Join The Conversation
I followed this recipe exactly and found it to be very bland and fairly runny. I expected something much richer. So I added more wine (I used a pinot noir; the driest of the burgundys), more garlic,salt, worcestershire and added a bunch of beef bouillon crystals. It was better, but still not great. It got such great reviews from everyone else that I went back thru the recipe to see what I did wrong, but I did it all as written. Sorry, I really wanted to love this. UPDATE: One of the reviews said it was much better the next day so I reheated leftovers and OMG it was perfect! Thick and rich and absolutely awesome! I am changing from 3 to 4 stars.

I made this tonight for dinnerand had to write the review immediately. It was delicious. I followed the recipe other than I added 16 oz of beef broth. That could be why my sauce was too thin. I did use 1 Tbsp of cornstarch and also used a 1/2 cup of potato water to thicken it. Was much better. DSO said he didn't think it was spicy enough, I was speechless. but after another bite was fine with it. (This is coming from a man who never ate anything with any kind of spice, his ex-wife did'nt know how nor cared to cook and he cooks only simple plain things.) I will definitely be making this again. I thank you Sue for a great recipe.

My very first slow cooker recipe in my new crock pot. I eliminated the mushrooms (daughter doesn't like them) and used baby carrots and a red rhine wine. The house smelled great during the cooking process. The meat was so tender and the thick sauce was loaded with flavor. My wife, who rarely eats red meat, had two helpings. Will definately make it again. Thank you Sue!