Crispy Baked Chicken Strips
photo by VickyJ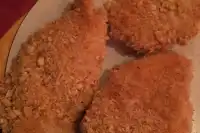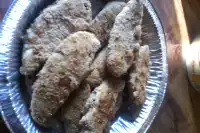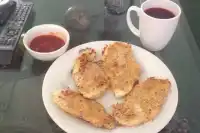 Ready In:

30mins

Ingredients:

7
directions
Cut chicken breasts into thin strips, about one inch wide.
Longer sections can be cut in half to have uniform pieces.
Mix cracker crumbs and seasonings well.
Dip chicken pieces into egg mixture, then dredge in crumb mixture.
Place on baking sheet sprayed with cooking spray.
Bake at 375 degrees F, for 10-12 minutes, until crispy on outside and lightly browned.
Dip into favorite sauce, or enjoy just as they are!
Reviews
This was amazing i did change a few things though. i added about a teaspoon of dried parsley, a shake of cayenne pepper, about 1 1/2 tsp seasoning salt,a big shake of garlic powder, some onion powder,and i finally found my pepper grinder i got from the dollar store so i added about a tsp of that all to some crushed crackers. (my first attempt at putting toast in the oven to dry it out some more ended up black.) i also added a little of all of these except the parsley to a handful of flour.(dip in flour, then egg, then cracker). i used about half a package of crackers, one egg and one chicken breast. it made about 12 pieces. I ran out of egg for the last 2 pieces so i dipped them in mayonnaise. They came out with a little more flavor then the others but the breading was loose on them. I also found this amazing dipping sauce recipe that tasted amazing. My dad loved this and hes the pickiest person i know.<br/><br/>Heres the link for the dipping sauce. Enjoy :)<br/>http://www.food.com/recipe/zaxbys-chicken-fingers-dipping-sauce-302553

 

I used chicken tenders, which I left whole since they are so small. Used Ritz crackers and the seasonings as listed. Baked for 15 minutes and turned the tenders over halfway through so they would brown on both sides. While the chicken was moist, tender and a pretty golden color, we could not taste any seasoning and found them to be very bland unless dipped into barbecue sauce.

 
Tweaks
I made these chicken strips twice. The first time, I made as directed (using Italian breadcrumbs instead of crackers) and thought these strips were bland, even when smothered in homemade honey-mustard sauce. The second time I made these, I seasoned the chicken directly with salt, black pepper, garlic powder, onion powder, paprika, and oregano, and used Italian breadcrumbs for the coating again. Much better tasting the second time around, but the breadcrumb coating didn't turn crispy as it should have according to the recipe. My kids liked these chicken strips, though, so I will be making them a third time with crackers instead of breadcrumbs, all of the spices aforementioned, and I'll add the chili powder for an additional contrasting flavor. Thank you for posting.

 

Easy, quick and very tender and tasty chicken! Changes I made-added Tony Chachere's and onion powder instead of salt, black pepper, and garlic powder (didn't have it). Dipped in ketchup, ranch, and honey mustard. Was best with ketchup and ranch. Would have loved to dip with sweet BBQ sauce too since the chicken has a kick. Thanks!!

 

Thank you for this recipe, it was just what I was looking for. I didn't make it the exact same way, but I did use it for a jumping off point. So, here's what I did: instead of egg I used milk, I used salt, black pepper, and cayenne, and I covered it with foil and baked it for about 30 minutes. The chicken came out moist on the inside and crispy on the outside. Again, thank you for this recipe!

 
RECIPE SUBMITTED BY
<p>I live in TN with a husband, 9 year old, 6 year old, and our two dogs. I'm a busy mom who loves to cook for family and friends. We have two boys, and they are the light of my life! My husband is a restaurant manager. We actually met while working together at Bob Evans in another city. He was one cute grill cook!! Now he is one cute manager, and I am so proud of him! He currently works for El Chico, and he is very happy there. <br />I am a stay at home mom who sometimes does temp work, which is a big change from corporate America. We'll see how that goes. Now that I have some more time, I plan to get back to the kind of cooking I used to do. You know...with pots and pans instead of a take out menu. I love to crochet, garden and hike with the family. Thanks in advance for any reviews you do of my recipes. :)</p>
View Full Profile