Creamy Broccoli and Cheese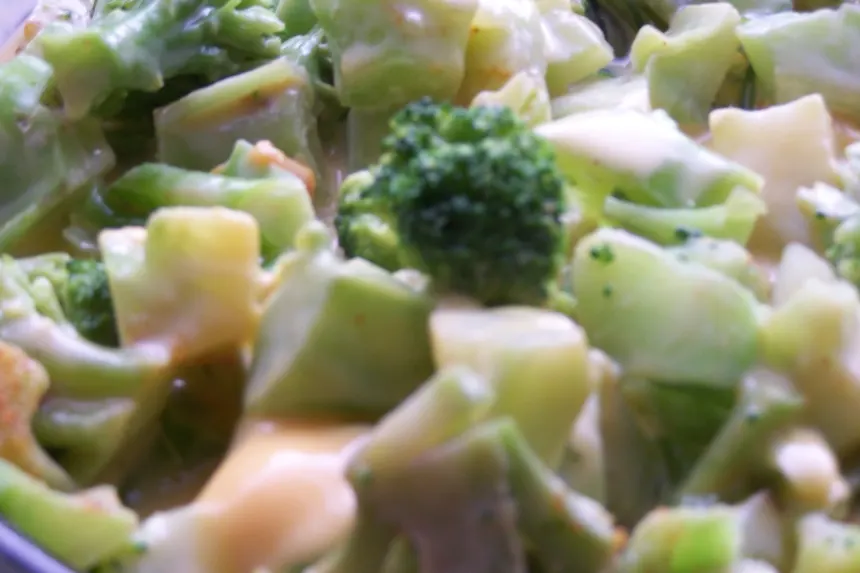 photo by Sherrybeth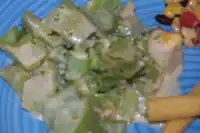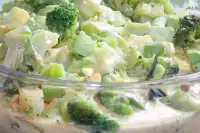 Ready In:

15mins

Ingredients:

5
directions
Melt butter in saucepan.
Add 1/2 of Milk.
Add Velveeta.
Stir frequently until thouroughly melted.
Add more milk if you would like a creamier sauce. To equal out flavor you may need additional butter or cheese, judge to taste.
Add steamed broccoli and stir lightly together.
Serve alone or over potatoes.
Questions & Replies

Got a question?
Share it with the community!
Reviews
Very very good! I used soy creamer because I hadn't made my daily batch of soymilk yet today (oops). Since I didn't want it to be so thick I subbed some of it with chicken broth, which I figured would add to the buttery flavor as well (and it did). Also used margarine and Teese soy cheese. So I made the same recipe only with completely different ingredients lol. Just wanted to review to let everyone know how versatile and tasty it is. Thanks so much KrisVonD!

 

I'm actually reviewing this for my daughter. She needed a side dish to take to a company dinner to go with steak. She called me on the way there in a panic saying the sauce was really thin but it tasted good. She called me after the dinner and said by the time she got there, it had thickened to a perfect consistency and her dish was the talk of the dinner. Everyone loved loved it. The steaks were dry and people used the sauce from this dish to dip their steak in!! SHe was soo proud!!!

 
RECIPE SUBMITTED BY
<p><br /><br /><br /><a title=Myspace Graphics href=http://www.glitter-graphics.com><img src=http://dl.glitter-graphics.net/pub/128/128381ecqrz6b89e.gif border=0 alt=myspace layouts, myspace codes, glitter graphics width=96 height=96 /></a><a title=Myspace Graphics href=http://www.kortenaar.com><img src=http://dl6.kortenaar.com/pub/196/196626x75mkxht2n.gif border=0 alt=myspace layouts, myspace codes, glitter graphics width=100 height=100 /></a><a title=Myspace Graphics href=http://www.kortenaar.com><img src=http://dl5.kortenaar.com/pub/220/220745ofxszlsb71.gif border=0 alt=myspace layouts, myspace codes, glitter graphics width=100 height=100 /></a><a title=Myspace Graphics href=http://www.kortenaar.com><img src=http://dl7.kortenaar.com/pub/243/243737ouhchszfo0.jpg border=0 alt=myspace layouts, myspace codes, glitter graphics width=100 height=100 /></a><a title=Myspace Graphics href=http://www.kortenaar.com><img src=http://dl7.kortenaar.com/pub/323/323707ww9rjove8f.gif border=0 alt=myspace layouts, myspace codes, glitter graphics width=100 height=100 /></a> <br /><br /><br /><a title=Myspace Graphics href=http://www.kortenaar.com><img src=http://dl5.kortenaar.com/pub/2/2665n3q04x802v.gif border=0 alt=myspace layouts, myspace codes, glitter graphics width=150 height=20 /></a><a title=Myspace Graphics href=http://www.kortenaar.com><img src=http://dl.kortenaar.com/pub/3/3241ukb6o7cgaq.gif border=0 alt=myspace layouts, myspace codes, glitter graphics width=150 height=20 /></a><a title=Myspace Graphics href=http://www.kortenaar.com><img src=http://dl3.kortenaar.com/pub/2/2403saqd624ne2.gif border=0 alt=myspace layouts, myspace codes, glitter graphics width=150 height=20 /></a><a title=Myspace Graphics href=http://www.kortenaar.com><img src=http://dl9.kortenaar.com/pub/3/3029uec7lhmlik.gif border=0 alt=myspace layouts, myspace codes, glitter graphics width=150 height=20 /></a><a title=Myspace Graphics href=http://www.kortenaar.com><img src=http://dl3.kortenaar.com/pub/2/2513pmke81r538.gif border=0 alt=myspace layouts, myspace codes, glitter graphics width=150 height=20 /></a><a title=Myspace Graphics href=http://www.kortenaar.com><img src=http://dl7.kortenaar.com/pub/223/223757mcexczkww9.gif border=0 alt=myspace layouts, myspace codes, glitter graphics width=150 height=20 /></a><a title=Myspace Graphics href=http://www.kortenaar.com><img src=http://dl4.kortenaar.com/pub/148/148974zxajm41utc.gif border=0 alt=myspace layouts, myspace codes, glitter graphics width=150 height=25 /></a><a title=Myspace Graphics href=http://www.kortenaar.com><img src=http://dl3.kortenaar.com/pub/2/2923ftqqdknvx1.gif border=0 alt=myspace layouts, myspace codes, glitter graphics width=150 height=20 /></a><a title=Myspace Graphics href=http://www.kortenaar.com><img src=http://dl8.kortenaar.com/pub/272/272378ywqke0qm2j.gif border=0 alt=myspace layouts, myspace codes, glitter graphics width=150 height=20 /></a></p>
View Full Profile