Cream Puffs, Choux Pastries, Balls or Ring Variety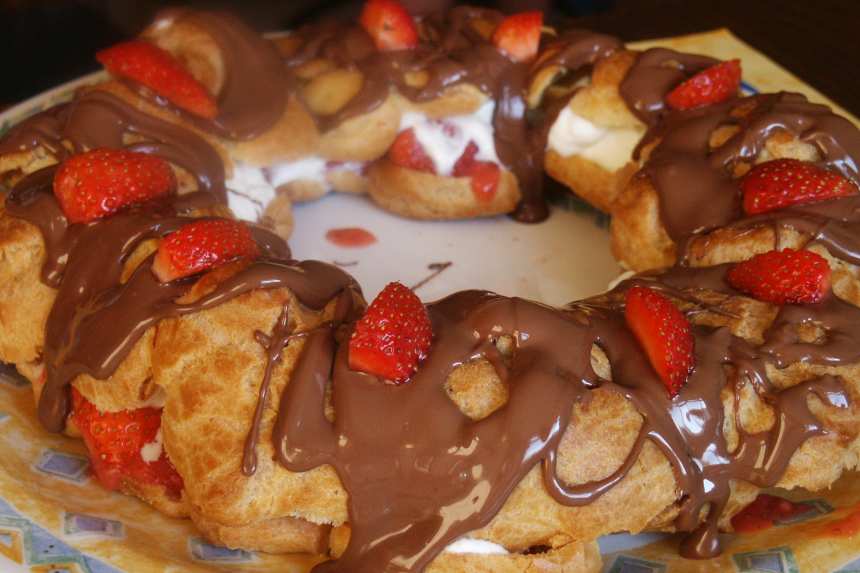 photo by kiwidutch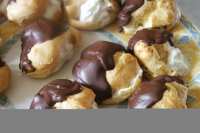 Ready In:

1hr

Ingredients:

11

Serves:

8
directions
Heat the butter and water gently in a saucepan, bring to the boil and remove from the heat.
Quickly tip in all the flour and beat to the smooth paste with a wooden spoon so that it forms a ball in the center of the pan.
Leave to cool slightly for several minutes, (This is important!).
Cover the baking sheet (cookie sheet) with baking paper, and then wet the paper slightly with cold water so that you have some little droplets still on the sheet--this will help the pastry not to catch on the bottom and stick at all.
Add all the beaten eggs a little bit at a time until the paste gets a glossy sheen on it, if it's still a little "liquid-y" then you haven't beaten it in long enough, When it comes back to the thick paste it's ready to be put in spoonfuls into the baking sheets (cookie sheets).
Spoon the paste onto baking sheets in the form of a the numbers of the clock-face, lifting the top of each mound into a peak and joining the balls together to create a circle.
Bake at 200°C (400°F) for 45-50 minutes.
Once cooked, carefully cut the "ring" in half horizontally and lift off the top half of the ring. (I use a wire cooling rack to hold it against so it doesn't break). Leave to cool on the wire rack.
Fill with: Traditionally it would be filled with Confectioners' custard, but even quicker and easier (and one of my favourites) make a very basic custard, but use a little less custard powder than the packet recommends, and add lemon juice to taste, cover the bottom half of the cream puff ring with custard, layer on the peaches or apricots, add a little more custard to fill up spaces.
Put the choux pastry "top" back on, drizzle melted chocolate in "zig-zag" style over the top.
OR another favorite variation: Heap fresh strawberries into the bottom part of the ring, cover with whipped cream, put the "top" back on again and drizzle melted chocolate over the top of it all --.
Alternatively: spoon the paste onto the baking sheet in little balls, and cut a small slit in them when they are cooked to release the steam and fill with anything you like: whipped cream, custard etc.
The little balls can then be dipped into chocolate for WOW presentation and ultimate yumminess :).
However you present the final result, enjoy!
Questions & Replies

Got a question?
Share it with the community!