Cream of Leek Soup With Onions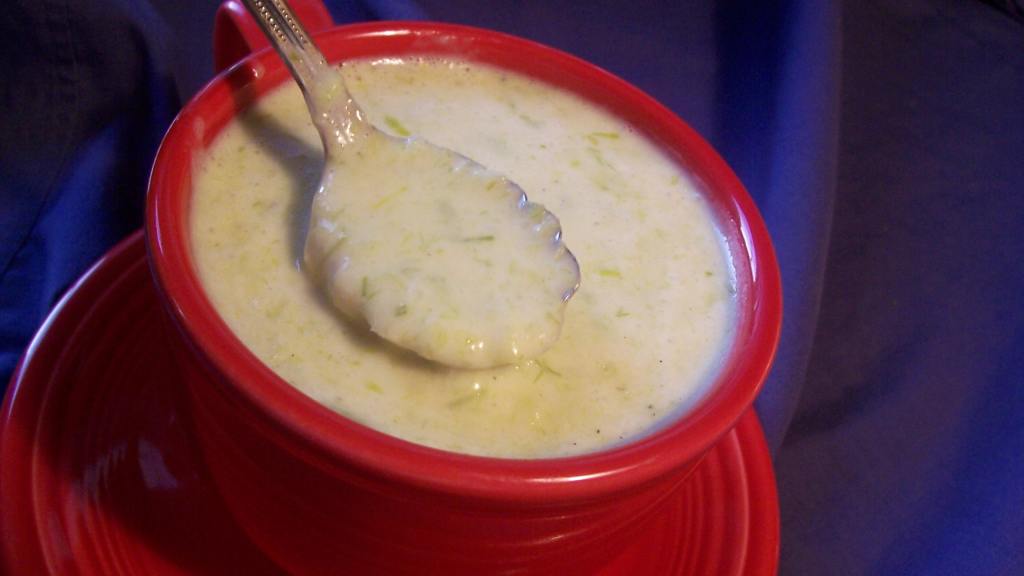 Ready In:

30mins

Serves:

Units:
Nutrition Information
directions
In a large soup pot over medium heat, melt butter. Add in leeks, and onions and saute for about 10 minutes or until they are tender, but not browned.
Stir in flour; mix well.
Add broth, wine, thyme, ground mustard, white pepper, and bring to a boil; reduce heat and simmer for 8-10 minutes.
Stir in half and half and optional cheese, if using it. Heat through.
Puree with immersion hand blender/blender/food processor to a semi-smooth texture (or make smooth, if desired).
Return to hot pot. Serve.
Submit a Recipe Correction
Join The Conversation
Start with less butter & some olive oil in the bottom of a pot. I used and electric pot that I could control the temp. more exactly. Add 2 cloves of GARLIC to the recipe. Set the temp. of the pot at about boil and add all the onions. I used the entire leek. Don't know why you throw the top away. Bring onions to a simmer and adjust pot to cook SLOW ( a simmer) with pot covered. I cooked them for 1 hour by which time they had reduced significantly in volume but DID NOT BROWN. Picked up this tip from Jamie Oliver. I then removed the lid and reduced the volume of liquid for 20 minutes to intensify the flavors. The aroma in the house was wonderful. I used chicken broth that I had started many hours earlier. I used a chicken carcass that I had used some of the chicken from (added a carrot, onion, head of garlic, slice of fresh ginger, and a couple of stalks of celery with the leaves, pepper, and salt). Strained it and it became my broth. I then took all the cooked onions (which I had allowed to cool off for safety sakes), chicken broth, & seasonings and added it to a BLENDER in 2 batches. I blended it smooth and WOW! – This tasted wonderful without the added cream. It blended to a light green creamy soup that tasted like it was full of cream and it had none in it. The tops of the leeks disappeared completely and probably added to the beautiful green color. If you wish to have more texture in the soup, blend one batch smooth and leave the other batch with some texture (and mix all together). I then added to the soup bowl about 1/3 to ½ cup of cubed Yukon Gold Potatoes (that I had cut into ½ inch cubes earlier and cooked about 5 minutes until tender in the chicken broth) into each individual bowl. I ate mine plain but grated a little smoked Gouda cheese over my wife's soup. It didn't really need the cheese but my wife likes cheese on everything. This will be a repeat recipe that is good enough for company. Try this soup for a low calorie healthy soup. Jim in So. Calif.

We've never had Cream of Leek soup so we thought we'd give this recipe a try. We were glad we did - this was one of the best soups we've ever had! We used chicken broth and mozzarella cheese since that's what we had in the house. Vidalia's aren't readily available in our area so we used a regular white onion. Hope to 'make again' soon! Very tasty yet very simple.

Despite all of the onions, this soup is very mild, and sort of sweet, because of the leeks. The smoked gouda cheese is optional (I've already skipped it totally because I had none, or used sharp cheddar or Swiss instead), but the smokey flavor of the cheese goes well with the sweetness of the leeks.