Cream of Chicken & Wild Rice Soup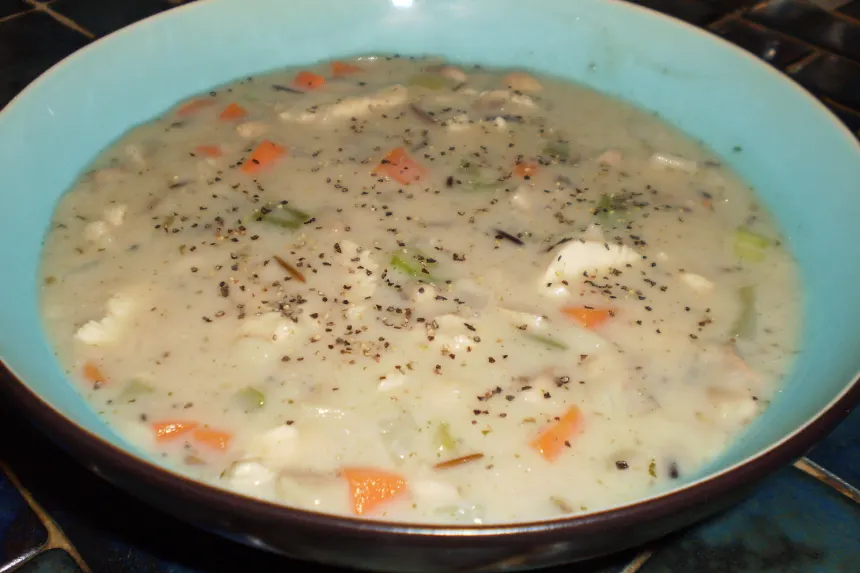 photo by breezermom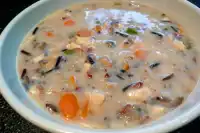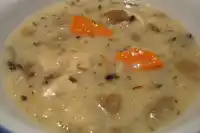 Ready In:

55mins

Ingredients:

14
directions
Prepare rice according to package directions. The box I use usually runs about 25 minutes, so I usually give it a 10 minute head start and then start working on the rest.
In another pan, bring the chicken broth to a boil.
Cut the chicken into pieces and coat with the corn starch and pepper. Put chicken into the boiling broth and reduce heat to medium.
Add carrots, celery, and mushrooms to the broth mixture and let cook until tender.
Meanwhile, in a small pan, melt butter over medium heat.
Add onions and saute until soft.
Stir in flour, coating onions and absorbing the butter.
Stir milk into flour mixture, and let simmer, stirring occasionally, until thickened.
When rice is done, add to the broth mixture and stir in rosemary and sage.
Stir the flour mixture into the broth mixture and heat through, stirring until thickened throughout.
Enjoy!
Questions & Replies

Got a question?
Share it with the community!
Reviews
This was delicious. It is definitely restaurant quality. I put onion in food processor since I have picky eaters. (All steps can be done in one pot except for cooking the rice). In a big soup pot I then sauteed chicken (no cornstarch) and when almost done I added all the rest of the veggies (I added red bell pepper, squash, and asparagus) with minced garlic and red pepper flakes. When veggies were just starting to get soft I added oat flour to thicken. Then added milk and chicken broth and seasoned with salt added rice in at the end. The rosemary and sage in this are so good. I cannot wait to try it tomorrow if there is any left. Very easy recipe, sophisticated taste, and a great way to get rid of veggies in the fridge. Thank you for sharing this it is going in the recipe rotation.

 

Delicious and extremely hearty! I was tempted to add more broth, but it worked fine without it. (I prefer thicker soups). I made one change. I used already cooked leftover chicken breast meat, and added at the end with the cooked rice, bringing it up to heat. Loved the sage and rosemary ( I used fresh). Thanks for a great bowl of soup on what turned out to be a really nasty day for May!

 

I made this and it's delicious. I changed a couple of things though. No mushrooms, because I don't like them, no milk, because of allergy so 2 cans of chicken broth and instead of the chicken tenderloins, I used 1 chicken breast - the complete half - I feel like you can never have too much chicken. Have just posted it on my Pinterest page and sent the recipe to my best friend so she can go to the store and buy the ingredients to make it tomorrow.

 

WOW - first, let me say that I will be making this again! After starting the recipe, I realized that this was going to be a little more involved than I had thought and makes a whole lot of dirty dishes. I started the prep work and cooking the rest at the same time that I put the rice on and the rice was done before I needed it. Since I had the rice in my medium saucepan, I had to use a large pot to boil the chicken - so I needed to use double the broth to have enough broth to cover the bottom of the pot (next time I would use a third can). Since, I now had my medium and large pots in use and needed another to saute the onion that was big enough to hold the onions (I used 1 medium), flour and milk, I decided to use the microwave to do the job because I simply don't have enough pans of the same size. Anyhow, I chopped the onions and put them in a pyrex bowl with 1T butter and nuked until they were transparent, then added flour and milk - no problem. Finally, the first bite - and it was just terrific - it is most certainly restaurant worthy. The soup is very flavorful and really thick and creamy (which is why I'd add that 3rd can of broth). I didn't think it needed the rosemary, but the sage was a nice addition. Sorry to be so long winded, but I plan to make this again and wanted to remember my steps. This is going in my favorites folder for the year!