Cream-Filled Peach Cookies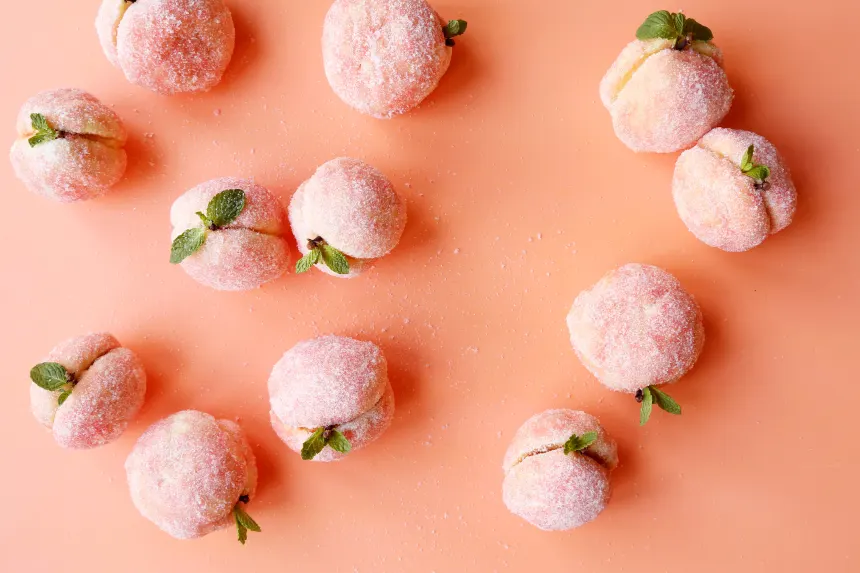 photo by Jonathan Melendez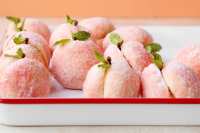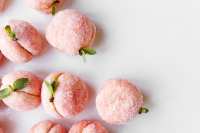 Ready In:

4hrs 30mins

Ingredients:

20
directions
Pastry cream:

In a large heavy-bottomed saucepan, bring half and half to a simmer over medium heat. Meanwhile, in a large bowl, vigorously whisk egg yolks, sugar and salt until thick and pale yellow; add cornstarch and whisk until completely smooth. Whisking constantly, gradually add warm half and half. Return mixture to saucepan and cook over medium-high heat, whisking constantly, until custard is very thick and paste-like in texture, and begins to boil, about 6 minutes. Add peach preserves and vanilla and stir until completely incorporated. Transfer to a medium bowl and cover with plastic, pressing directly onto surface of custard, and chill until cold, at least 2 hours.

Cookies:

Whisk flour, baking powder and salt in a large bowl until combined. Whisk eggs and sugar in another bowl until foamy. Add milk, peach juice, butter, vanilla and orange zest and whisk until combined. Fold wet mixture into the dry until dough comes together and no lumps of flour remain. Batter will be very thick and sticky.
Place a rack in middle of oven; preheat to 350°. Line two rimmed baking sheets with parchment; set aside. Rub hands with melted butter to prevent the dough from sticking and roll a tablespoon of dough firmly between your palms to make a smooth, round ball. Repeat with remaining dough (and more butter if necessary) arranging balls on prepared baking sheets spaced 1" apart, 24 balls per sheet. Balls should be uniform in size and shape. Rub hands with butter and lightly flatten each ball, they will round out slightly and look more peach-like as they bake. Bake one tray at a time in the center rack until bottoms are lightly browned but the tops are still pale, 14-16 minutes. Transfer to a rack and let cool 5 minutes.
While the cookies are still warm, use a small, sharp paring knife to cut a circle about the size of a quarter on the bottom (flat) side of each cookie, taking care not to crack the edges or pierce the top. Use the tip of the knife to scrape out enough crumbs to hollow out and hold a teaspoon of pastry cream. Set cookies aside.

Assembly:

Stir peach juice and 10 drops food coloring in a small, stain resistant bowl until color is uniform and bright red. Transfer sugar to a small bowl. Give the pastry cream a vigorous stir to break it up and smooth it out. Fill each cookie shell with a heaping teaspoon of pastry cream, smooth the surface of the cream and wipe any excess off the rim of the cookie. The cookie cavity should be full but not stuffed or the cookie might crack or break. Repeat with remaining cookies and cream.
Gently sandwich two cookies together being careful not to crack or break but pressing them together until they stick (the cream is the glue). If the cookies won't stay together, add a little more cream and try again. Using a pastry brush, paint each "peach" with colored juice and roll in sugar to coat. Repeat with remaining cookies. Transfer to a baking sheet, loosely cover with plastic wrap and chill 8 hours, overnight works great. Just before serving, insert a small sprig of mint and a single whole clove where the two cookies come together.
Questions & Replies

Got a question?
Share it with the community!