Cranberry Sauce Extraordinaire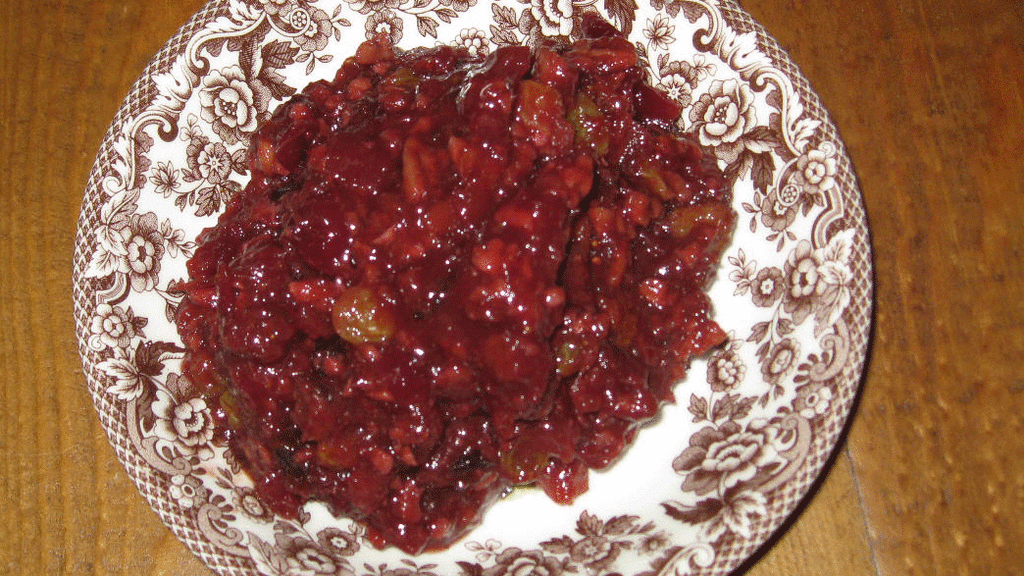 Ready In:

45mins

Ingredients:

11
directions
Boil the water and sugar in a medium saucepan until dissolved.
Reduce heat.
Add the rest of the ingredients and simmer (with the lid on) for 30 minutes, stirring occasionally.
Remove from heat and allow to cool to room temperature before serving or storing.
Join The Conversation
I loved this cranberry sauce! I used frozen berries and made it in the crock pot. I just threw everything in there and cooked it on low for about 3 hours (the berries were frozen.) I didn't find any ripe pears in the grocery store (I went shopping the day before Thanksgiving so no time for one to ripen) so I used canned pears with no sugar added. I expected it to be too sweet what with the dried fruit, but it wasn't once it was cold. (It was a bit on the sweet side when warm.) I did add a bit of orange zest (just a bit) and it added a nice bit of tart accent. This makes a fair amount of sauce, so I had a lot left over (with just hubby and I eating it) and will freeze it for future use. It would be great with pork chops or chicken too. I'm putting this in my "keeper" file for future. It was excellent. Note: I made this again and substituted Framboise Lambec beer for the water. I skipped the pear, because my pears were not yet ripe, and used Xylitol instead of sugar for the sweetener. I used dried apricots, prunes, figs, and raisins for the fruit. I have to admit, this is without a doubt the BEST cranberry sauce I've ever eaten.

I'm really glad I found this recipe because I really wanted to try cranberry sauce with lots of fruits added. I made the recipe just as it was written, using dried apricots and dried cherries for the dried fruit. However, I found out all the fruits really overtook the cranberry taste, and it was sweeter than I care for. I'm a cranberry sauce lover, however; I gather several that tried are not, and liked it that way; individual tastes are just that-individual! I want you to know that I solved my problem with it by cooking and adding another bag of cranberries-that got me the taste I wanted! I loved it after that. So, if you like the taste of cranberries, you may want to try fewer fruits or more cranberries in this recipe.

You have never tasted anything so good in your life. No one in my family really just loves the tartness of cranberries, and every year we kind of politely take some just to "add color" to our plate. This was not the case with this recipe. People were clamoring for seconds. I was afraid it would turn out a little fruit-salad-like, but it really didn't. The color was what I was accustomed to, and the flavor is out of this world without being too sweet. No one knew how I did it, but I have converted the family! We all like our cranberries now!