Corned Beef and Cabbage/Pressure Cooker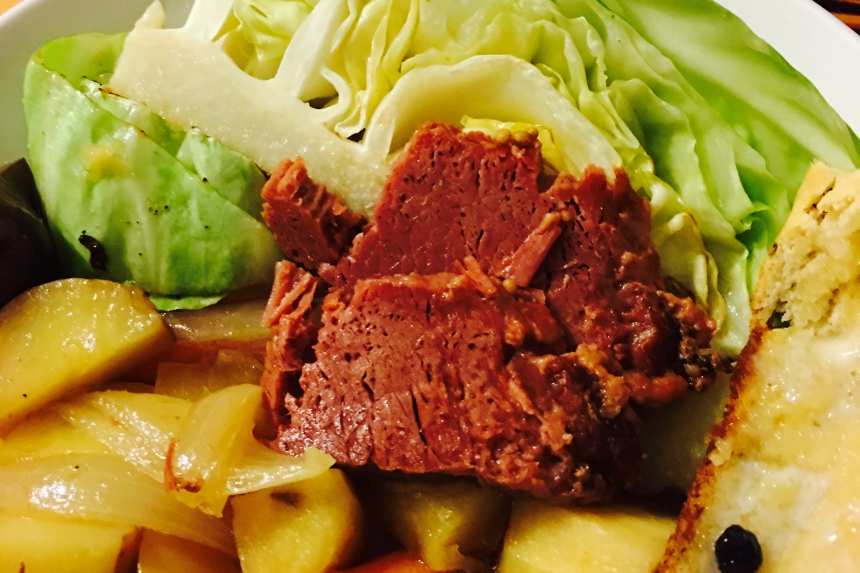 photo by duckie_lee

Ready In:

2hrs 15mins

Ingredients:

9
directions
Pour water into pressure cooker.
Add brisket; over high heat, bring water to a rolling boil.
Skim residue from surface.
Add garlic and bay leaves and secure lid.
Over high heat, bring to high pressure.
Reduce heat to maintain pressure and cook 1 hr 15 minutes.
Release pressure according to manufacturer's directions and remove lid.
Add vegetables to brisket and liquid, stirring gently.
Secure lid abd over high heat, bring steam to high pressure.
Reduce heat to maintain pressure and cook 6 minutes.
Release pressure according to manufacturer's directions.
Remove lid.
Serve with horseradish sauce.
Questions & Replies

Reviews
As a FIRST TIME PRESSIRE COOKER user, I have one wish...that someone, either the online pressure cooker manual or this recipe would have instructed me to place a kitchen towel over the part where the steam comes out. When it was time to release the pressure, I had it pointed toward the back corner of the stove and was surprised at the amount and force of the steam. The back of the stove, blacksplash, neighboring counter and toaster oven and everything within at least 3 feet was covered in Corned Beefy steam before I threw the kitchen hand towle over it. When I re-opened it after adding the veggies, I used the towel to open it and that worked perfectly. All of you first timers, that steam is SERIOUS!<br/><br/>Aside from that, the recipe was great. I had bought a pre-packaged corned beef that was seasoned and had the spice packet. So I added some dehydrated sliced garlic and bay leaves to that and it was great. I even forgot to skim the broth and it was still great. I was expecting the broth to be gross because I didn't skim, but it wasn't. It looked great.<br/>I couldn't believe the potatoes were fully cooked after just 6 minutes. <br/>I depressurized after the veggies and left everything in the pressure cooker for about 90 minutes until dinner time and the veggies got a bit more done than I like--probably because I left them in. But the corned beef was so tender and flavorful it was ridiculous!<br/>Next time I'm also going to try adding turnips & parsnips!

 

I have made this several times and it is wonderful everytime! I add about a tblspn of pickling spices and 1 bottle of Odoul's with enough water to cover. Sometimes I don't use any vegetables, but I've never been big on boiled veggies. One thing I would like to say to beginners is to make sure you add your garlic and spices AFTER you skim. I didn't and it is difficult to skim the foam and leave the spices. She does specify in the recipe but I just wanted to reiterate it.

 

This recipe is so delicious. It's going on year three of using this recipe (more than once a year!). Comes off without a hitch every time and cooked just right, with such flavor! We like to half the water add make up the other hal with apple juice. Yum! Time to start it soon for tonight's St. Patricks day dinner!

 
RECIPE SUBMITTED BY
I live in Las Vegas. I was lucky enough to run into Recipezaar around Nov. 2000 and got hooked quickly. I am a cookbook collector and have been collecting recipes for as long as I can remember. My DH had to build in shelves for all my cookbooks! I like to dabble with OAMC and for a few years hosted the Budget/OAMC forum with some great people over there. Even though I don't work in the forum any longer I've set up a lot of cookbooks for the purpose of OAMC and stretching food that might be helpful. Please feel free to check them out! I go on food jags and cooking jags! Please come say hi to me and chat on facebook. I currently host a blog for saving money through finding deals and coupons if you are interested. Most of the time I try to cook and have a good dinner on the table but I'll be honest enough to say there is still fast food occasionally in the budget! I have had such wonderful support here whenever I need it. Thank you all for being here! Just a quick note on how I rate recipes: ? 5 stars - This recipe is perfect. (My DH is truly a critic and doesn't give 5's unless it's amazing) I would recommend it to others and would definitely make again. ? 4 stars - This recipe was good but I would change something in it next time. ? 3 stars - This is a recipe I would not make again but it was OK ? 2 stars - This recipe I would not make again and we didn't like it at all ? 1 star - This recipes did not work out/taste was unappealing and wouldn't make again
View Full Profile