Copycat Pancho's Cheese Dip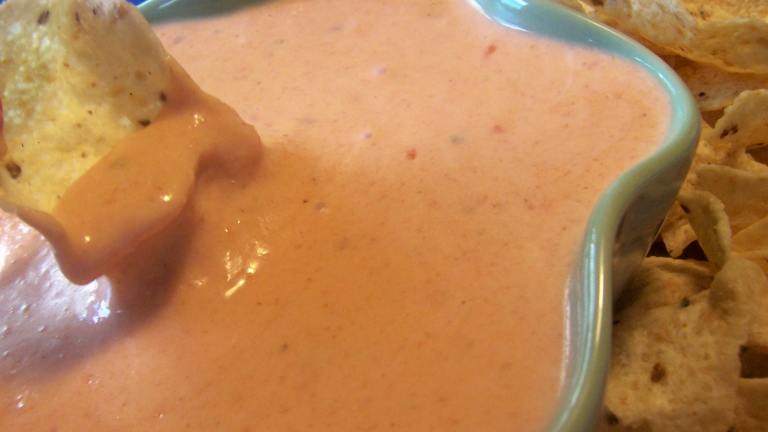 Tastes JUST like it! Recipe calls for block AMERICAN cheese, Velveeta might work just as well.
Ready In:

15mins

Serves:

Units:
Nutrition Information
directions
Melt cheese until smooth in a double boiler or microwave, stirring throughout.
Puree rotel in blender or small processor.
Stir into the cheese the rotel, cumin and garlic.
If too thick, add a little water.
Serve with tortilla chips.
ENJOY.
Submit a Recipe Correction
RECIPE MADE WITH LOVE BY
"Tastes JUST like it! Recipe calls for block AMERICAN cheese, Velveeta might work just as well."
Join The Conversation
Here it is: • 2 lbs Velveeta or *Deluxe* American cheese (not "cheese food" singles!) • 1 tsp granulated garlic powder (not the really fine ground stuff) • 1 tbsp ground cumin • 1 can regular Ro-tel • 1 can *mild* Ro-tel (Important; explained below) • milk or water as desired Cube/crumble cheese into double boiler, ~2.5 - 3 qt size. Sprinkle spices evenly over cheese to make mixing them in easier. While cheese is melting, open both cans and pour into blender. Do Not Liquify. Pulse blender several times until there are no big chunks. Pour Ro-tel into double boiler, cover and set timer for 10 - 15 minutes. At this point, cheese should be melted enough to stir. Stir well, continue to heat for 45 - 60 minutes total, to give flavors a chance to marry and blend. Stir every 10 minutes or so. Add milk or water depending on the consistency you want and how you're going to serve it: hot (add nothing or just a splash), room temp (1/2 - 1 tsp) or straight-out-da-fridge cold (1/2 - 1 tbsp). This is best if made the night before, and then gently reheated if you're going to serve it warm. I understand what others have said here, about jalapenos and red bell peppers. If you want to go that route, that's fine. But the spices, chilis and heat level are what make it Pancho's. All I can tell you is that I've lived most of my life in Memphis, and have made this for friends whose families have been here for generations. Every single one of them refused to believe it wasn't the real thing at first. The very first time I made it, I used 2 cans of regular Ro-tel, which is just enough hotter than Pancho's to be noticeable. One each of regular and mild does the trick perfectly. Enjoy!

After checking the ingredients on a tub of Pancho's dip, I noticed it doesn't have any tomatoes or green chilis in the ingredients. Use red bell peppers and jalapeños instead of Rotel and you will have a spot on copy. Also you will have to use a fair amount of water to keep it liquid when cold and it's best to let it chill in the fridge for a couple of days before eating.

This recipe was the first I tried and it was pretty close. I grew up near West Memphis and ate this dip my whole life. After making this recipe a few times and still not getting it quite right, the next time I went home for a visit I bought a tub of Panchos dip to compare. I quickly realized where this recipe was off. I checked the ingredients and there are no tomatoes and no green chilis. The Rotel was throwing it off. Panchos dip uses only red peppers and jalapeño peppers. Swap out your rotel for about a half red pepper and some diced jalapeño and you've got a spot on copy

Attention fellow former Memphians: this recipe is legit! You can now have Pancho's Cheese Dip! I made this using some slight modifications based on the reviews, and it is like I was transported to Summer Avenue. (just go with it) My modified recipe (based on this recipe and reviews): - 1 lb American Cheese, cubed (Note: I used "deluxe" sliced American cheese... the kind without wrappers. Ain't nobody got time for wrappers!) - 2 cans of original Ro-Tel Diced Tomatoes & Green Chiles - 1/2 can of water (use less water to thicken the consistency) - 1 tsp garlic powder - 1 1/2 tsp ground cumin Process: - Bring cans of Ro-Tel and water to boil - Transfer Ro-Tel and water mixture (hot) to food processor or blender (umm, again... it is hot, so... be careful?) - Process/blend mixture for 30 seconds or so - Add cheese cubes, garlic powder, and cumin and process/blend for about 2 minutes until nicely blended - Enjoy Side note: After it sat in fridge overnight, it still had the same consistency. It's been years since I had Pancho's Cheese Dip, but from my tastebuds' memory, it was pretty spot-on.