Copycat of Prantl's Burnt Almond Torte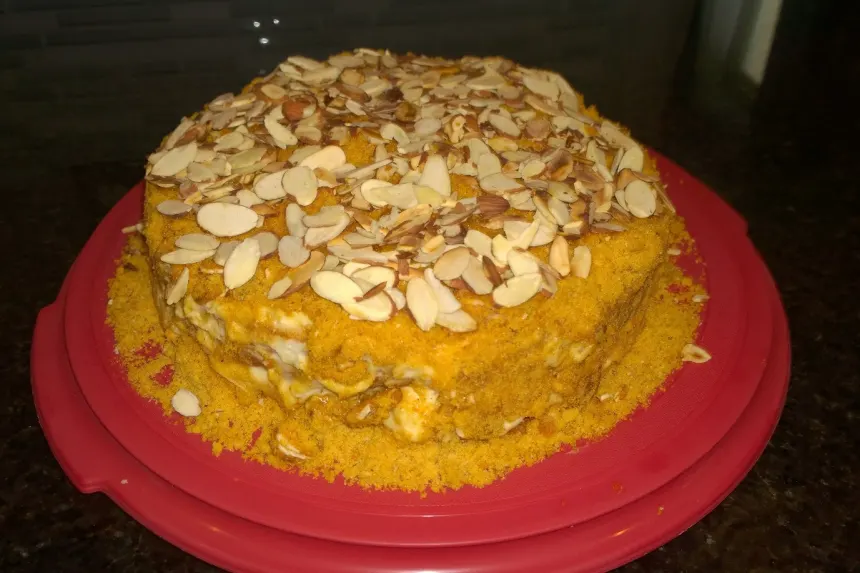 photo by earbullet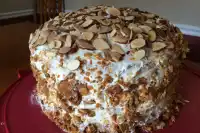 Ready In:

2hrs 45mins

Ingredients:

23

Serves:

8
directions
Preheat oven to 350 degrees.
Grease two 8-by-2-inch round cake pans.

For the cake:

Sift the flour, baking powder, baking soda and salt together into a bowl and set aside.
Cream the butter and sugar in a large bowl with an electric mixer at medium speed until light and fluffy, about 5 minutes.
Reduce the speed to medium-low. Add the eggs, one at a time, beating 30 seconds between additions.
Add alternating increments of the flour mixture and buttermilk and vanilla, blending well after each addition; this should take about 3 to 5 minutes.
Divide the batter evenly between the prepared pans.
Bake for about 30 minutes, until a cake tester comes out clean.
Cool in pans, on wire racks, for 10 minutes, unmold the cakes and let cool completely.
Note: The cake recipe makes two 8-inch round cake layers. Only one is used for this recipe.

To make the brittle:

Combine the granulated sugar, honey and water in a medium-sized saucepan. Bring to a boil over medium heat, stirring to dissolve sugar.
Boil, without stirring, until the mixture turns a deep amber color, about 10 minutes.
Remove the pan from the heat and immediately stir in the toasted almonds, butter and baking soda.
Mix with a wooden spoon just until the butter melts and the foaming subsides.
Pour the mixture into a nonstick or lightly greased baking sheet and set aside to cool.
Once the brittle has hardened, break it up and crush to fine crumbs in a food processor.
Store in a covered container in the refrigerator until ready to use.

To make the custard cream:

In a heavy saucepan over medium- low heat, heat milk to barely simmering.
Meanwhile, combine egg yolks, sugar and cornstarch in a medium mixing bowl. Whisk to blend smoothly.
Stir the heated milk into the egg mixture; return mixture to saucepan.
Bring back to a boil, over medium-low heat, whisking constantly; boil 1 minute.
Remove pan from heat; add butter and vanilla, stirring to melt the butter.
Transfer custard to a bowl; place a piece of waxed paper directly on top to prevent a crust from forming and refrigerate until cold.
Whip the cream and confectioners' sugar until stiff peaks form.
Fold into the chilled custard and refrigerate until ready to use.

To assemble cake:

Cut the cake in half horizontally.
Place one layer on a cake plate, spread cake with cold custard cream and sprinkle with brittle crumbs.
Cover with the remaining layer of cake.
Spread the remaining custard cream over cake, applying a thinner coat to the sides, then the top.
Chill for at least 1 hour before garnishing.
To garnish, press brittle crumbs onto the sides of the cake with the palm of your hand and sprinkle a layer of crumbs on the top. Refrigerate until ready to use.
Note: To toast nuts, arrange in a single layer on a baking pan. Bake in a 375-degree oven until golden brown, about 7 to 10 minutes. Allow nuts to cool before using.
Questions & Replies

Got a question?
Share it with the community!
Reviews
This is a good start but it needs a few things before I would call it a "Prantl's Copycat". First you'll need to make a separate batch of slivered almonds for the outside of the cake. Prantl's does not coat their cake in almond brittle or custard, rather the cake is frosted lightly with vanilla buttercream and coated entirely with candied slivered almonds. I used maybe 12oz of slivered almonds, 1-2 tablespoons of butter, and I think a third of a cup of sugar. Melt and mix the sugar and butter in a big pan and toss the almonds in, then shuffle them around every 30 seconds or so until they are lightly brown and then spread them out on a few trays with parchment paper until they cool. Then you'll need a buttercream frosting, there's a ton of recipes out there for that so find one that suits you - I'm not sure which would best match Prantl's but I can say that theirs is pretty light and not overly sweet. I used an all unsalted butter recipe because that's what I had available. My other note is that my cake layers came out pretty small, so I decided to use both of them rather than cut one in half. I doubled everything else and ended up with extra frosting and custard, not such a bad problem. Lastly, I'm not a baker (just really determined to try to get close to Prantl's magic), but this whole process took ALL day! I'd recommend doing the different components over a few days so you might still enjoy eating the cake once it's all done! :)

 

As an in-law to a big Pittsburgh family, I have eaten this cake on numerous occasions. This is pretty close, closer than I expected to be able to do myself. I'm no baker, so I'm sure the cake could be better, and I used all-purpose flour, but serviceable anyway. Custard frosting is on the money. The almond brittle crumb is delicious, but don't go it alone - mix in a generous amount of sliced almonds for garnish. Delicious!