Colored Sanding Sugar for Cookie & Cupcake Decorating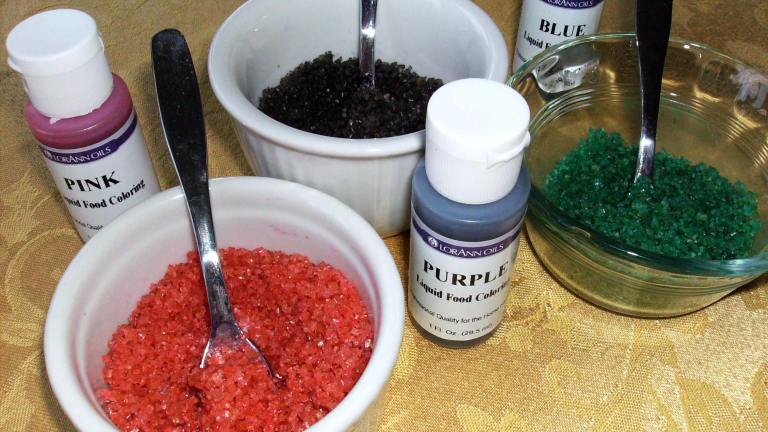 This isn't a recipe so much as it is a method. If you keep coarse sugar (turbinado, or AA-grade large crystal coarse sugar) around and don't want to buy colored sugar, this is the method for making colored sanding sugar-- gel food dye is the best for this but I also included instructions for the liquid food coloring you can pick up in most grocery stores. (1 serving = 1 tablespoon)
Ready In:

10mins

Serves:

Yields:

Units:
ingredients
SUGAR REGARDLESS OF METHOD

1

cup coarse turbinado sugar

GEL FOOD DYE METHOD

gel food coloring (just a teeny dab! a little goes a long way)

water, a couple drops

LIQUID FOOD DYE METHOD

4 -10

drops food coloring
directions
If using the GEL METHOD:

Put the sugar into a bowl.
On a spoon, put a little dab of the color(s) you want to use. A little goes a long way; gel colors stain much more deeply than liquid.
With a toothpick or the tines of a fork, mix the dab with a few drops of water-- no more than 4-5 drops of so. Be really careful with this step because if there's too little water, it won't diffuse enough. Too much water and the color won't stick. I like using a medicine dropper for this.
Carefully stir the spoon into the bowl of sugar, mixing thoroughly.
Shake the bowl occasionally to properly disperse the coloring.
Let the bowl of sugar sit in a safe area that is cool and dry for at least 10 minutes so the color can dry.

If using the LIQUID METHOD:

How many drops you use determine how deep you'd like the color to be or how many are required to get a certain hue. About 4-5 are medium shade depending on which one you use, ie you only need about 2 or 3 of red to get pink but about 8-10 for red.
Put the drops on a spoon, and mix thoroughly through the bowl of corase sugar.
Shake the bowl a few times to disperse all the dye. If it looks like "spotting", add another 2-3 drops of coloring to the spoon and mix again.
When you are satisfied with the color, let the bowl sit in a cool dry area for about 5-10 minutes to let the color seep in and dry.

FUN TIPS:

For rainbow sugar using the liquid dyes, don't put the dye on the spoon. Randomly put a few drops in the bowl and quickly stir it up, careful not to blend the colors together.
Put the sugar into separate bowls to get different colors instead of having to buy a whole container of colored sugar if you only want just a little bit.
Submit a Recipe Correction
RECIPE MADE WITH LOVE BY
"This isn't a recipe so much as it is a method. If you keep coarse sugar (turbinado, or AA-grade large crystal coarse sugar) around and don't want to buy colored sugar, this is the method for making colored sanding sugar-- gel food dye is the best for this but I also included instructions for the liquid food coloring you can pick up in most grocery stores. (1 serving = 1 tablespoon)"
This isn't a recipe so much as it is a method. If you keep coarse sugar (turbinado, or AA-grade large crystal coarse sugar) around and don't want to buy colored sugar, this is the method for making colored sanding sugar-- gel food dye is the best for this but I also included instructions for the liquid food coloring you can pick up in most grocery stores. (1 serving = 1 tablespoon)