Classic Crisco Pie Crust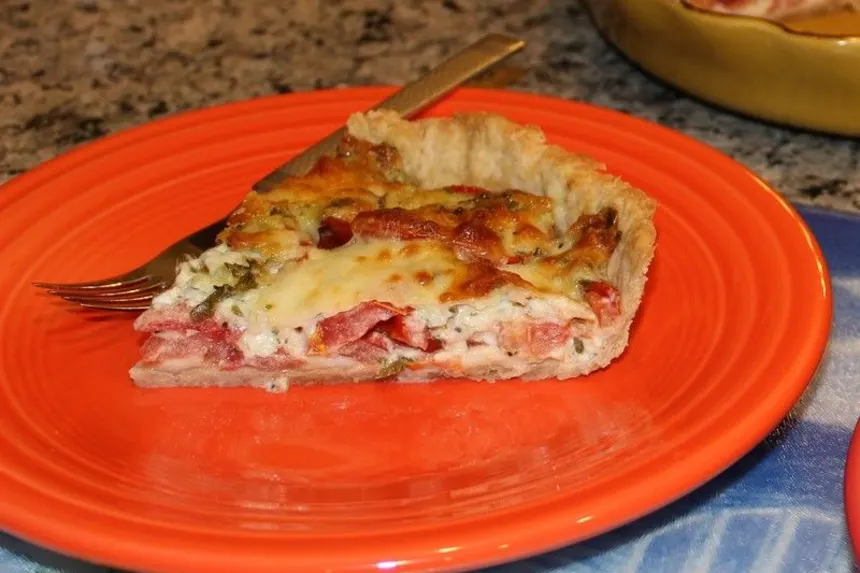 photo by ColoradoCooking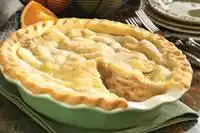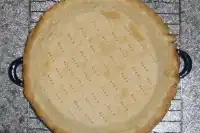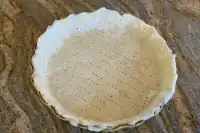 Ready In:

10mins

Ingredients:

12
ingredients
SINGLE CRUST

1 1⁄3

cups Pillsbury BEST® All Purpose Flour

1⁄2 teaspoon salt
1⁄2

stick well-chilled Crisco® All-Vegetable Shortening Sticks or 1/2 cup well-chilled Crisco® All-Vegetable Shortening

3 -6

tablespoons ice cold water

DOUBLE CRUST

2

cups Pillsbury BEST® All Purpose Flour

1

teaspoon salt
3⁄4

stick well-chilled Crisco® All-Vegetable Shortening Sticks or 3/4 cup well-chilled Crisco® All-Vegetable Shortening

4 -8

tablespoons ice cold water

DEEP DISH DOUBLE CRUST

2 2⁄3

cups Pillsbury BEST® All Purpose Flour

1

teaspoon salt

1

stick well-chilled Crisco® All-Vegetable Shortening Sticks or 1 cup well-chilled Crisco® All-Vegetable Shortening

6 -10

tablespoons ice cold water
directions
BLEND flour and salt in medium mixing bowl.
CUT chilled shortening into 1/2-inch cubes. Cut in chilled shortening cubes into flour mixture, using a pastry blender, in an up and down chopping motion, until mixture resembles coarse crumbs with some small pea-sized pieces remaining.
SPRINKLE half the maximum recommended amount of ice cold water over the flour mixture. Using a fork, stir and draw flour from bottom of bowl to the top, distributing moisture evenly into flour. Press chunks down to bottom of bowl with fork. Add more water by the tablespoon, until dough is moist enough to hold together when pressed together.
Test dough for proper moistness by squeezing a marble-sized ball of dough in your hand. If it holds together firmly, do not add any additional water. If the dough crumbles, add more water by the tablespoonful, until dough is moist enough to form a smooth ball when pressed together.
SHAPE dough into a ball for single pie crust. Divide dough in two for double crust or double deep dish crust, one ball slightly larger than the other. Flatten ball(s) into 1/2-inch thick round disk(s).
For ease in rolling, wrap dough in plastic wrap. Chill for 30 minutes or up to 2 days.
ROLL dough (larger ball of dough for double crust pie) from center outward with steady pressure on a lightly floured work surface (or between two sheets of wax or parchment paper) into a circle 2-inches wider than pie plate for the bottom crust. Transfer dough to pie plate by loosely rolling around rolling pin. Center the rolling pin over the pie plate, and then unroll, easing dough into pie plate.
For a SINGLE pie crust, trim edges of dough leaving a 3/4-inch overhang. Fold edge under. Flute dough as desired. Bake according to specific recipe directions.
For a DOUBLE pie crust, roll larger disk for bottom crust, trimming edges of dough even with outer edge of pie plate. Fill unbaked pie crust according to recipe directions. Roll out smaller dough disk. Transfer dough carefully onto filled pie. Trim edges of dough leaving a 3/4-inch overhang. Fold top edge under bottom crust. Press edges together to seal and flute as desired. Cut slits in top crust or prick with fork to vent steam. Bake according to specific recipe directions.

Two Methods for Pre-baking Pie Crusts (Cream Pies):

Pre-baking without weights: Thoroughly prick bottom and sides of unbaked pie dough with fork (50 times) to prevent it from blistering or rising. Bake crust in lower third of oven, at 425°F, 10-12 minutes or until edges and bottom are golden brown.
Pre-baking with weights: Thoroughly prick bottom and sides of unbaked pie dough with fork (50 times) to prevent it from blistering or rising. Chill or freeze for 30 minutes. Line pie dough snugly with foil or parchment paper. Fill with dried beans or pie weights. Bake at 375°F for 20 minutes. Remove foil and weights. Reduce oven to 350°F Bake 5-10 minutes or until edges and bottom are golden brown.
Reviews
I always have to look up the recipe. I can never remember the exact amounts. However I never roll my pie crust out on a floured surface. I roll it between two pieces of parchment or freezer paper. Then you just peel off the top layer, turn it out into your pan and peel back the paper. No fuss no muss and no need to chill the shortening or the dough.

 

This is one of the first recipes my Mom gave me when I got married (the first time). It's so easy and the crust turns out perfect every time. I use it for any recipes that call for a crust. I use solid Crisco and don't fridge that. Place on wax paper that has flour on it, roll out with extra flour on top. Once rolled, carefully roll back onto rolling pin and roll over pie dish, or just take the wax paper and flip it over the pie plate. Try and only roll the dough once as it will get tough after the first try. Prick the all over with a fork. One of my favorites is for Tomato Basil Tart.

 

I'm 58, my mom has been using this recipe, since before I was born,,, I still have the recipe, taken off the Crisco Can... 50 some years, before Crisco Sticks, which I love, and she would have too... what a pain it was to measure it in a glass with H2O... When I make 11 Pies at Thanksgiving, everyone gets one, I make this for only my house and my dad... he knows the difference, even though the Pilsbury pie crusts are good, but not homemade, unless you have never had a Crisco pie crust... YUMMM

 

This is the recipe my mother used directly from the can label when I was a very little girl. I am going to be 75 next month and I have used it all of my life also. It's my old faithful "go to" recipe. There are tricks to any kind of baking. Most important FOLLOW THE DIRECTIONS. "MEASURE everything", unlike a casserole baking is science. If it says particular temperatures (COLD water or ICE water) Do what it says. Consider variables for your home or region...do you live in a cool or generally warm or hot area? Is your kitchen cold or hot? It makes a huge difference! Is it August or January? If dough needs to be chilled, CHILL it. Is it raining or do you live in a desert area? You may need to use slightly less or more water because of humidity or dry air.Baking isn't rocket science but you do need to consider all these things. Ask someone like me who has lived in Wisconsin, Central Florida, and the too wet side of Washington! Recipes are written for average locations but I have never lived in one of them. Don't write off a recipe the first time. OH, one more thing...If baking is a new adventure for you, there is a big difference between Baking POWDER and Baking SODA. Use the one the RECIPE lists. Enjoy...don't give up. We learn as we go.