Classic Chili Poblano Rellenos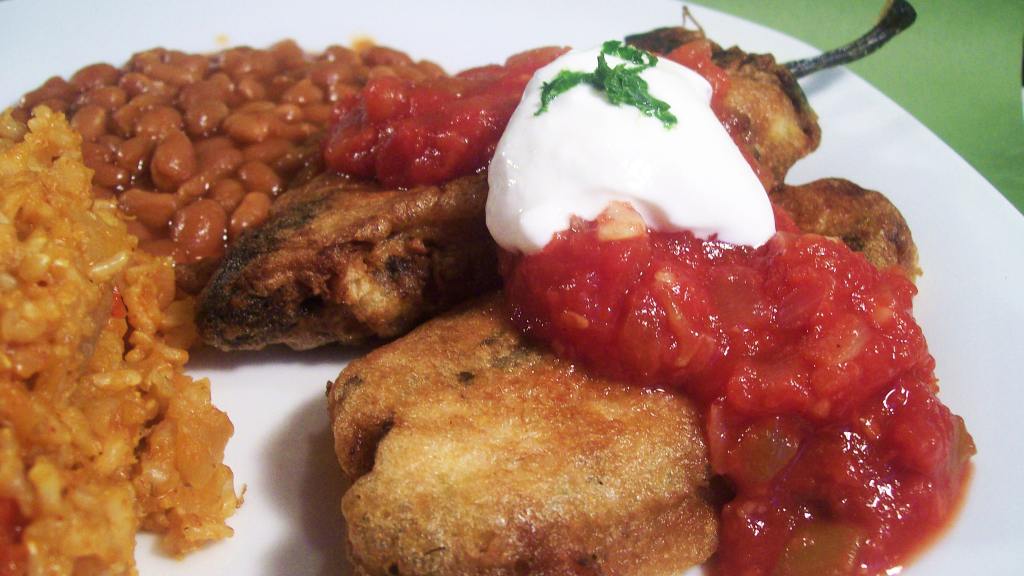 Ready In:

40mins

Ingredients:

10
directions
Roast the chiles:.
Roast the chilies by broiling three to five minutes on each side. The skin will begin to char and get black spots. Remove, cool a minute or two, then wrap in plastic wrap and let it sit five minutes. Remove the wrap and peel chilies.
Keep the broiler on.
Carefully cut a lengthwise slit into each chile and stuff with some cheddar cheese. Combine the flour, salt and pepper and dredge the chiles.
In a large saucepan, heat 1/2" of shortening till very hot.
Fold the egg yolks into the whites and working with 2 chiles at a time, dip the chiles into the egg batter and fry, turning occasionally, until golden brown, no more than a couple of minutes. With a slotted spoon transfer the chiles (careful--they are delicate) to paper towels to drain.
Arrange the chiles on a flameproof plate and sprinkle with sharp cheddar. Broil the chiles just long enough to melt the cheese.
Serve immediately, accompanied by your favorite salsa. Enjoy!
Join The Conversation
I love chili rellenos and with poblano chilies, they are super good! I hope you enjoy this classic recipe, using poblano chilies! This chile pepper is often mislabeled 'Pasilla', which is a different pepper entirely.It is one of the most popular chiles in Mexico and has won the appreciation of many a chef worldwide because of the superior flavor it has over regular bell peppers. They have a tough outer skin that usually requires roasting and peeling before use. These very large chile peppers are most popular in chiles rellenos recipes, but cooking with these as a substitute for bell peppers in any recipe will enhance the flavor.