Circus Burgers (With Lean Ground Beef and Chia Seeds)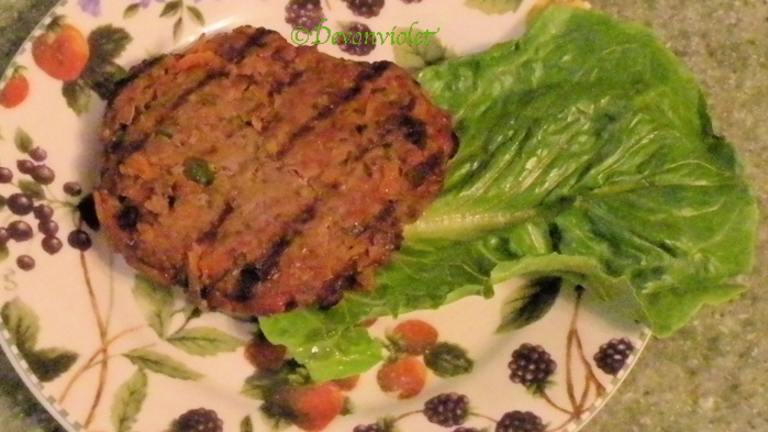 I love to cook creatively. One night I had thawed a pound of lean, grange fed, ground beef, to put on the grill. But, I didn't want plain burgers. I started adding what I thought would give the burgers good flavor and texture. I think it started with grated carrots, caramelized onion and garlic, and went from there. When my hubby brought them in from the grill, I was pleasantly surprised, that they smelled so great, and tasted awesome. They taste great on a bun, with lettuce and tomato, but we had them, that night, with buttered bow tie pasta, and a simple salad. My husband named them, when we talked about serving them to our grandson, who can be a picky eater. He said we should give them a fun name, and maybe he would be more willing to eat them. He suggested "Circus Burgers", because of the orange, of the carrot. Well, Joshua loves them, and the name has stuck. :D
Ready In:

21mins

Serves:

Yields:

Units:
directions
Combine Chia Seeds and 1/2 cup water. Stir constantly, for 1/2 - 1 minute. The seeds will quickly form a gelatinous coating, which will absorb the water. Let the seeds set, to thicken. After about 15 minutes, you will have a thick mixture, that can be added to the meat mixture, when it is ready to mix. This will help bind it all together, and add moisture. Chia seeds do not have any flavor, of their own. They add moisture, fiber and oodles of nutritional value to your food.
In fry pan, add chopped onion and oil. Mix well, to cover onion with oil. Spread onion evenly in pan.
Add 1 Tablespoon water and cover with tight fitting lid. Heat over medium heat, until water bubble. Turn heat to low and simmer for five minutes, or until onion is translucent.
Remove lid, and increase heat to medium low. Stir gently, until the onion starts to caramelize. At this point add minced garlic, and stir, for another minute. Remove from heat, and cover, until the remainder of mixture is complete.
In medium mixing bowl, add ground meat, grated carrots, caramelized onion/garlic mixture, Chia Seeds, and seasonings. Combine well, with hands (I wear plastic gloves), or large spoon.
Form into 3-1/2 to 4 inch patties, that are about 1/2 inch thick. These can be immediately cooked, on the grill, for approx 3 minutes per side, depending on how well you like them cooked. Or . . .
Place on cookie sheet and place in freezer. The patties should be frozen through in about an hour or less. We have found that it is easier to get a nicely cooked outside and still have a slightly pink center, when we cook them from frozen. This takes a little less than 4 minutes on the first side, and three minutes on the second side. The final result will be determined by your grill, so watch them closely the first time you cook them.
Submit a Recipe Correction
RECIPE MADE WITH LOVE BY
"I love to cook creatively. One night I had thawed a pound of lean, grange fed, ground beef, to put on the grill. But, I didn't want plain burgers. I started adding what I thought would give the burgers good flavor and texture. I think it started with grated carrots, caramelized onion and garlic, and went from there. When my hubby brought them in from the grill, I was pleasantly surprised, that they smelled so great, and tasted awesome. They taste great on a bun, with lettuce and tomato, but we had them, that night, with buttered bow tie pasta, and a simple salad. My husband named them, when we talked about serving them to our grandson, who can be a picky eater. He said we should give them a fun name, and maybe he would be more willing to eat them. He suggested "Circus Burgers", because of the orange, of the carrot. Well, Joshua loves them, and the name has stuck. :D"
I registered with Food.com only to write a review to this recipe... that's how well it worked.<br/><br/>The first thing I enjoyed about this recipe was how easy it was to form the patties. The chia gel is an excellent combiner! & you know that the more you mix your beef & pat it into patties, the drier it gets. The patties formed like clay. Second, they shrunk less & seemed to cook a bit quicker (however, that may be because of grilling methods--I put the patties over really hot coals).<br/><br/>It worked well. I wish I would have gotten a shot of it for ya. They glistened off the grill.<br/><br/>I purchase & use only grass-fed beef from a local farm. I usually have to coat my burgers with vegetable oil to keep them from drying out (a little helpful hint for ya, there). I have been eating chia seeds for a few months now in my oatmeal & smoothies. Blah blah blah.<br/><br/>I got to thinking that with their ability to hold on to water, the seeds may retain the moisture that I wanted for my burgers. So I Googled it & this was the first recipe that specifically addressed my query.<br/><br/>Thanks for sharing, DevonViolet!

I love to cook creatively. One night I had thawed a pound of lean, grange fed, ground beef, to put on the grill. But, I didn't want plain burgers. I started adding what I thought would give the burgers good flavor and texture. I think it started with grated carrots, caramelized onion and garlic, and went from there. When my hubby brought them in from the grill, I was pleasantly surprised, that they smelled so great, and tasted awesome. They taste great on a bun, with lettuce and tomato, but we had them, that night, with buttered bow tie pasta, and a simple salad. My husband named them, when we talked about serving them to our grandson, who can be a picky eater. He said we should give them a fun name, and maybe he would be more willing to eat them. He suggested "Circus Burgers", because of the orange, of the carrot. Well, Joshua loves them, and the name has stuck. :D