Cinnamon Flat Bread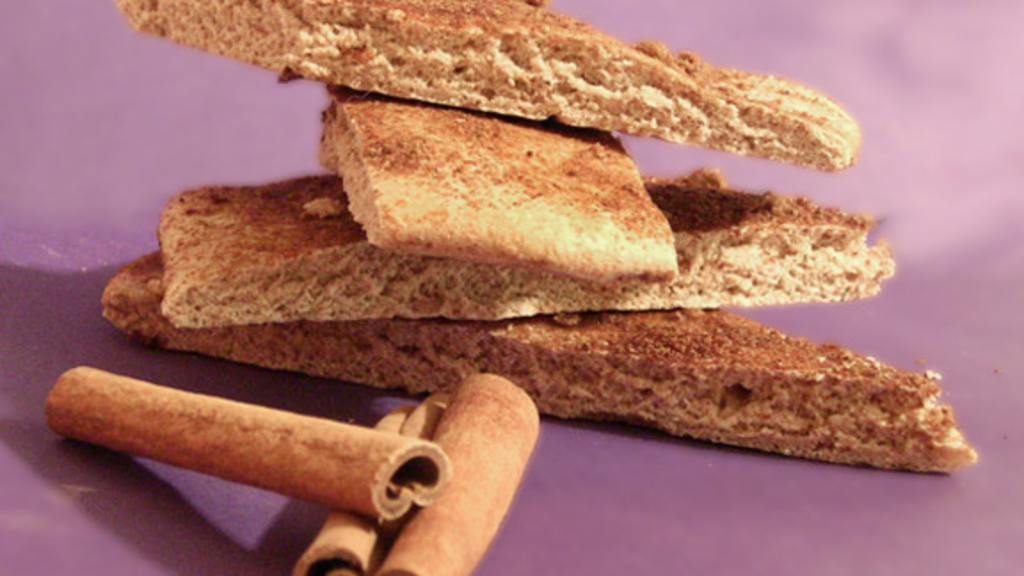 Ready In:

30mins

Ingredients:

10
directions
Mix all dry ingredients for the dough in a bowl and add the milk. Mix with slightly floured hands until dough is formed. Knead dough for 5 minutes with slightly floured hands. Let rest dough for about 10 minutes.
Preheat oven (480°F, 250°C). Put the baking tray into the oven. So it will be heated up, too.
On a slightly floured working plat form roll out the dough with a rolling pin. It should be thin (as thinner you roll it as crispier it will get during baking). Place the dough on baking paper (size of the baking tray).
Mix egg yolk and milk. Brush the dough with this mixture.
Mix brown sugar, grounded cinnamon and grounded cayenne pepper. Sprinkle the dough with this mixture.
Put dough (on baking paper) on the baking tray in the oven and bake for about 5 - 10 minutes. The bread should be done within 5 minutes and will be soft. If you like it more crispier let it bake for up to 10 minutes. During baking the bread will develop several "bubbles".
Take the cinnamon flat bread out of the oven and let cool on a cooling rack. Cut into pieces and serve.
NOTE (28 April 2006): you can omit the cayenne pepper, if you don't like it. But I would recommend it, because that spicy taste goes well together with cinnamon. If you are hesitant, just try it with a pinch of cayenne pepper first (I added this note after BestTeenChef has reviewed the recipe. Thanks for the comment).
Join The Conversation
This bread was excellent. The dough was so easy to work with and rolled out beautifully. I rolled out my dough thin enough that it was slightly too big for a 10x15" baking sheet. This made the bread the perfect thinness in my opinion. I used half of the cayenned pepper, but think i'll use the full amount next time. I love that this bread is made with all spelt flour. The little bit of sugar with the cinnamon gave the perfect sweetness for a breakfast bread. It is also delcious with peanut butter!! Thanks Thorsten!

 

As I was enjoying this cinnamon bread (although I would also roll it thinner than I did the first time), I thought that it might make a good base for a pizza. So I reduced the yield to 75% (so that it would not become too big when rolled thin) and used just 1 tsp of sugar to make it less sweet. After rolling out, I brushed with olive oil and baked for a few minutes, then added sauce, well-wrung spinach, mushrooms, fresh mozz, and a few capers. I had been a bit worried that the crust would turn out on the tough side because of my poor execution of the kneading and rolling stage, but it stood up to the toppings well and was not like eating a shoe. We both thought it was a great pizza...and with a crust made of whole grain flour and fresh vegetable toppings, not entirely unhealthy either!

 

Mine did not turn out crisp but it was certainly flat and delicious. I rolled it out 1/4 inch thick and next time would roll it thinner. All that said, the bread was easy and the taste was great. I used just a pinch of cayenne -- enough to contrast with the cinnamon. My first forray into spelt flour and I will certainly make again.

 

OMG!!! This was divine!! I loved the little hint of spice mixed in with all that sugary goodness! I will make this again and again every time I need a carb fix. I don't have baking paper so I made it on tin foil on a pizza pan. I ended up with more than a 12" pizza pan size so the scraps, I cut up and put in a separate pan and cooked them along side. They were a great snack for me while I waited for the rest of it to cool! ;-) Thanks for this great recipe Thorsten!