Cinnamon Chip Scones
photo by j1m404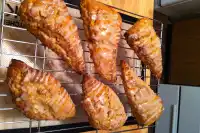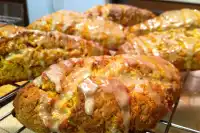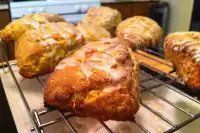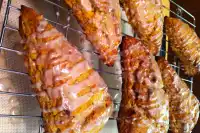 Ready In:

28mins

Ingredients:

11
directions
Preheat oven to 375°F
Combine flour, baking powder, baking soda, salt, and sugar in mixing bowl. Add butter slowly, mixing well.
In a seperate bowl, combine egg yolk, vanilla, and buttermilk. Add to dry ingredients, mixing completely. Stir in cinnamon chips.
On a floured surface, roll out dough (with hands only) to 1/2" thickness. Cut into scones, place on ungreased cooking sheet. Brush egg white over scones and sprinkle cinnamon sugar over scones. Bake 18 minutes.
Cool scones 5 minutes, move to plate and cover until completely cool.
Questions & Replies

Got a question?
Share it with the community!
Reviews
Awesome recipe. Every time I make these they go fast. Instead of patting the dough into one single round, I pat it into two smaller ones, cutting each round into 8 wedges and only bake them for 12 minutes. This works great because then there are more to go around. Also if you don't have buttermilk on hand or don't like using it, like me, you can use sour milk. In your measuring cup pour in about 1 1/2 to 2 tsp of white vinegar and then add the milk up to the 3/4 cup line.

 

The flavor of these scones is very good, though as mentioned by others, they have a light, cakey texture rather than a true scone texture. I followed the recipe exactly with the exception of using soured milk (1 teaspoon white distilled vinegar then filling the measuring cup to 3/4 cup with 2% milk) because I didn't have buttermilk on hand. I found the batter to be very wet and had a hard time transferring it from the cutting board onto the baking sheet. I ended up transferring the dough onto lightly floured wax paper, patting it back into a circle with a sheet of parchment on top, and flipping it upside down onto the baking sheet with the parchment underneath. After removing the wax paper from the top, I scraped off the dough that had stuck to it and patted the extra back onto the round. I then scored it again, coated the top with the egg wash and sprinkled the top with cinnamon sugar. (I used raw sugar, which is coarse, and Saigon cinnamon, which has a much richer and more intense flavor than traditional cinnamon. Delicious!) I'll probably try this recipe again, but next time I'll refrigerate the dough for 30 minutes or so before patting it out so that it's easier to work with. I'll also plan ahead and have buttermilk on hand. (I'm also wondering whether sour cream or Greek yogurt could be easily substituted for the buttermilk.) I'll also pat the dough to 3/4" or 1". This recipe doesn't rise much, despite the amount of baking powder. I prefer thicker scones. This was a quick recipe to mix up, but with the issues I had with the dough, it took longer than anticipated the first time. I imagine this as a versatile recipe that one could substitute currants, cranberries and orange zest, chocolate chips, nuts, or other ingredients for the cinnamon chips. Thank you for sharing! Very tasty.

 

These are delicious and easy to make. The egg, which I've not added to scones before, gives them a more cakey texture, which is more delicate, tender, and moist, than a traditional scone. Exactly what I was looking for this morning - thank you so much, Sara, for sharing the excellent recipe! I cut the butter in using a pastry cutter, and mixed it with a spoon - no mixer or food processor needed! I also mixed the cinnamon chips in with the dry ingredients, and then added the wet ingredients, which made them easier to mix in. I shaped the dough into a round, and cut it into wedges, right on the parchment paper. I'll definately make these again!