Churros With Dipping Chocolate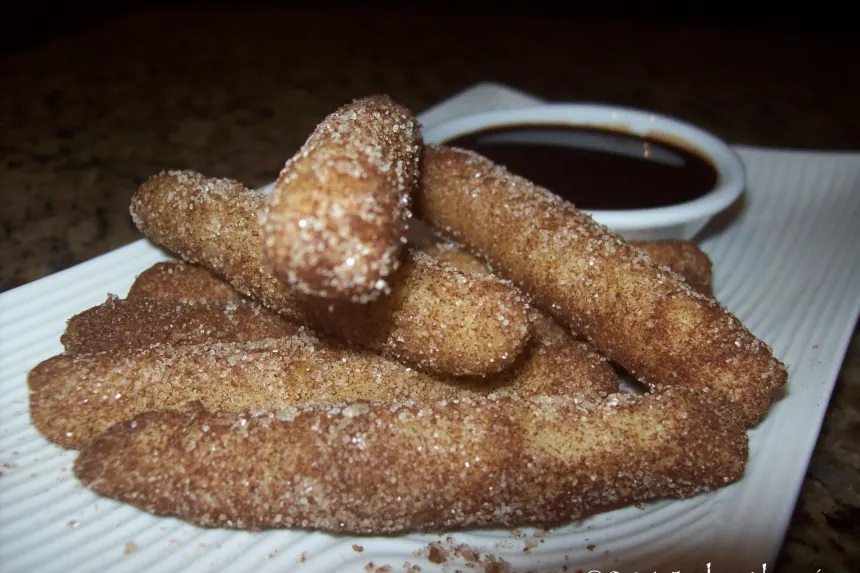 photo by Jostlori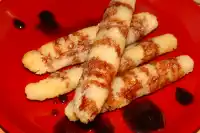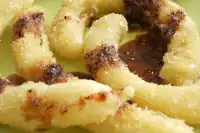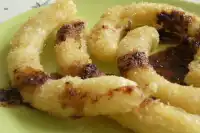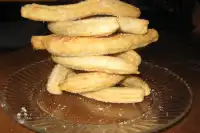 Ready In:

45mins

Ingredients:

12
directions
Hot Chocolate Dipping Sauce:

Bring the water and sugar to a boil in a saucepan over med-high heat.
Add the semisweet and bittersweet chocolate, cocoa and milk and lower the heat to med-low.
Stir constantly with a wooden spoon until the chocolate is thick and smooth, about 5 minutes.
Reserve.

Churros:

Bring the water, oil and salt to a boil in a saucepan over med-high heat.
Add the flour all at once and stir vigorously with a wooden spoon until a smooth ball forms.
Lower the heat and cook, flattening and turning the dough for 2 minutes.
Cool and transfer to a pastry bag fitted with a 3/8 inch star tip (the fluted edge is essential).
Pour the oil to a depth of at least 1 inch in a skillet (or use a deep fryer) and heat on high until the oil quickly browns a cube of test bread.
Squeeze 5 inch lengths of dough through the pastry tube into the oil - as many as will comfortably fit.
Reduce the heat to med-high and fry until the churros puff and have barely begun to turn golden, about 20 seconds. *Do not overcook - the churros should be crunchy outside and soft within.*.
Drain on paper towels. (If needed, you can keep them warm briefly in a 200 degee F. oven until ready to serve.).
Dredge the churros in the sugar and arrange 4 on each plate.
To serve, reheat the chocolate over very low heat and divide into 6 espresso or small cups placed off center on 6 dessert plates.
Dip away!
Questions & Replies

Got a question?
Share it with the community!
Reviews
This is a terrific version of Spanish churros. Cinnamon can be added to make them more in the style of churros from Mexico or the southwestern U.S. But as the chef's note indicates, this is a recipe for traditional Spanish churros, and thus it does not call for cinnamon. And of course they are fried in olive oil as is customary. Thank you so much for sharing, it is spot on!

 

The sauce was excellent! I've been making or helping to make churros most of my life, so the bar was high! I found the dough a little hard to work with because it was stiffer than I'm accustomed to. And, it was partially my fault too, because I didn't have a large enough tip, and ended up just making little balls and rolling them between my palms. You need those ridges, though! The end result was not pretty, but they tasted good! I did add cinnamon to the sugar for rolling, since that is traditional. Made for Culinary Quest 2015 by a Toasted Tourist.

 

This was my first time making churros. The dough is very easy and relatively quick to prepare, and the chocolate sauce is absolutely to-die-for. I wasn't fond of the churros alone, but they tasted better with the chocolate dipping sauce. DD enjoyed the sauce the most! Unfortunately, I am suffering from 2rd degree burn splatters to my right hand & arm from the hot oil. I never deep-fat fry and don't have much experience working with hot oil. I turned the burner to high heat but when I added the churros, one unfortunately exploded in my face as I was removing it from the hot oil. Thankfully, I was able to shield my face, but my hand/arm took the brunt of the damage. Ouch! Even so, I went on. I lowered the heat to medium and was able to finish cooking the remainder just fine. I would suggest placing a note in your recipe for future less-oil-savy cooks like myself, which indicates the proper oil temperature. Nevertheless, it was fun to step "outside the box" and make something different. I will definitely be using the left-over chocolate sauce for ice-cream sundaes this week and will keep it on file for later. Yum! Thanks for sharing this recipe! (Made for AUS/NZ Recipe Swap #40)

 

These were gone so fast!!! I can imagine adding cinnamon to them,that must be the Mexican version.DD was so funny explaining to my mom on the phone that we were making churros.She was on the floor laughing that she couldn't understand her.Finally she came over to try them herself. So,I quickly whipped up another batch.Good thing there was enough dipping sauce leftover.Thanks for sharing!

 
RECIPE SUBMITTED BY
Hello! I have a wonderful husband and two fantastic kids. I love to read, have fun with family and friends, stay active with: running; soccer; golf; biking; hiking; and gardening. I love to travel. I'm looking forward to more international travel someday. Cooking has become a passion for me. I love to read cookbooks, watch the Food Network, and try new recipes. I have way too many cookbooks! A few of my favorites are: Barefoot Contessa (any - but especially 'Family Style'),Rachael Ray 30-Minute Meals 2, Roasting by Barbara Kafka, Beyond Parsley & The Black Dog Summer on the Vineyard Cookbook. I try to carefully choose recipes that I think my family will enjoy, which is why most of my ratings are 3-5 stars. Happy cooking!
View Full Profile