Chopped Liver Pate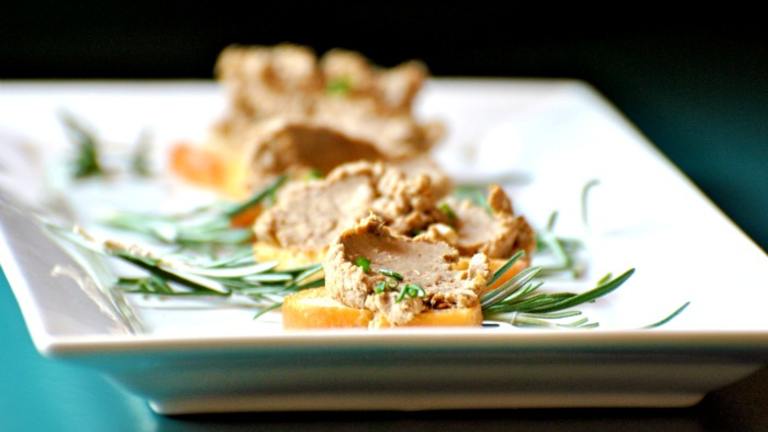 Chopped Liver Pate is the fancy name for Chopped Liver (Jewish Style) WARNING, THIS RECIPE IS BAD FOR THE HEART, BUT GOOD FOR THE SOUL
Ready In:

55mins

Serves:

Units:
directions
The most important part of cooking with an iron skillet is to heat the pan first without any fat inside. When it is really hot, add your chicken fat ) shmaltz. Turn down the heat to simmer. I play with the gas burner while cooking, up and down according to the heat in the pan. If you notice the oil burning, turn down the heat. I immediately add the chopped onions after I added the oil. Keep stirring with a wooden spoon. The onions will turn translucent. If there is not enough shmaltz oil in the pan add a little vegtable oil and continue cooking the onions. Try not to overcook the onions. Take them out before they turn brown. While this is going on, rinse the livers under cold water and drain. After the onions are removed from the pan clean the pan with a slotted spoon of any dark pieces of onion. Then add a little more shmalltz to the pan and some livers. Do not crowd the pan. Cook livers one pan at a time. I constantly keep turning the livers. I cut into the liver to see if it is done. It should be cooked all the way thru just not burned. Next, combine the livers and the onions in a bowl. In the cuisinart fitted with the blade on the bottom place a small amount of the ingredients and pulse until you like the consistancy. I like it soft like a pate. Do this until all of the liver and onions are finely mashed. I then combine the pate with the hand chopped onions. Add salt and pepper to taste. I like the pate to be slightly more peppery. It looks nice to garnish with the extra chopped raw onions and if you like, some chopped hard boiled eggs. During passover, you can eat this with matzah or serve with crackers. Place in refrigerator immediately after preparation for at least a few hours in a sealed container. I enjoy the liver after it is removed from the frig for 20 minute Happy Cooking!
Submit a Recipe Correction
RECIPE MADE WITH LOVE BY
"Chopped Liver Pate is the fancy name for Chopped Liver (Jewish Style) WARNING, THIS RECIPE IS BAD FOR THE HEART, BUT GOOD FOR THE SOUL"
This is the epitome of what a recipe should be. Great ingredients, and details of exactly how the recipe should be prepared. Who could go wrong making this for your dinner guests? The taste is exquisite, and so smooth, but complex at the same time. Also, don't be turned off by "chicken liver" ~ once together, there is no taste of liver, but a nice, pleasing mixture of fine ingredients, only highlighted by a baguette for dipping! Or you can just use your own knife and slurp it off there. Thanks for posting!! :)