Chocolate-Spice Cookies (Basler Brunsli)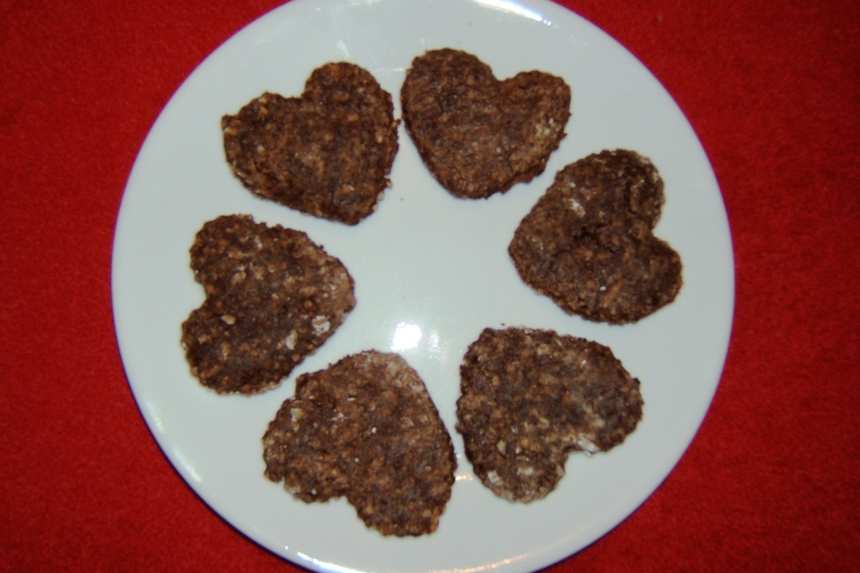 photo by MsBindy

Ready In:

29mins

Ingredients:

9

Serves:

40
directions
Heat oven to 325°F.
Line several baking sheets with aluminum foil.
In a food processor, process the almonds and 1 cup powdered sugar until the almonds are powder-fine but not oily; stop the processor and scrape down the sides several times.
Add the cocoa powder, cinnamon, cloves, and chocolate; continue processing until the chocolate is finely ground.
Add the remaining 1/2 cup powdered sugar, the almond extract, and egg whites; process until the mixture is blended and just forms a mass.
Set the dough aside for 5 to 10 minutes to stiffen slightly.
Generously dust a work surface with powdered sugar. If the dough seems too soft to roll out easily, dust it with more sugar and knead until the consistency is manageable, but avoid adding any more sugar than absolutely necessary.
Roll out the dough to 1/4-inch thickness, lifting it with a spatula frequently and re-dusting the surface and rolling pin with powdered sugar to prevent sticking.
Cut out the cookies using a 2 1/4-inch heart-shaped (or similar) cutter.
Use a spatula to transfer the cookies to the prepared baking sheets, about 1 inch apart.
Bake the cookies for 9 to 12 minutes or until almost firm on top and slightly puffy.
Let them stand on the foil lined baking sheets until completely cooled. Peel from the foil.
Store airtight for 3 to 4 days. Freeze, airtight, for longer storage.
Questions & Replies

Got a question?
Share it with the community!
Reviews
Other than Basler Läckerlie, Basler Brünsli are my absolute favorite cookie anywhere. My mother in law taught me to make them the way her grandmother taught her, and her grandmother before her. If I saw the cookies for sale at an outside Weinachtsmärkt (Christmas Market) in Basel or anywhere in the Alps, they were a very fine, delicate cookie in texture. The recipe I was taught was repeated in every location they were also made, and one of the key ingredients was unsweetened chocolate powder and finely ground hazelnuts, and the surprising method before baking them was to dry them overnight outside, uncovered in the cold! The egg-white needs to dry out first. I learned to make the teig (dough), cut the cookies with moon, heart and club shapes, sprinkle with castor sugar and lay onto a buttered and floured metal baking sheet. They'd sit on the balcony, and in the morning they'd be popped into a hot oven for only 10 minutes. Once cooled for about 25 minutes they could be moved to a cookie tin. The flavor was chocolaty with a hint of cinnamon, and the finely ground hazelnuts hid invisibly within the brown chocolate powder. They do puff up a bit during baking, and if made just under 1/4" thick, the surface is slightly crisp while the center has a softer bite to it. I adore these cookies! Using finely ground nuts (of your preference) keeps the cookies from breaking after baking and they also absorb the egg-whites and dry better overnight. Note: Drying the cookies outside overnight in the cold does not make a dry cookie. It is only the egg-white that has to lose a lot of it's moisture to avoid a sticky cookie. Baslers also make this cookie in February for the Fasnacht celebrations. En Guete!

 

This is a traditional Swiss cooky and traditionally baked a few weeks before Christmas. Together with other cookies it belongs to our Christmas cookies. Although I'm not a particular fan of it (I prefer Spitzbuben), a lot of Swiss love it. You can also buy Basler Brunsli in shops, but only around Christmas.

 

These were every bit as delicious as the ingredients and Bunny Mom's photograph suggested they would be. I even went out and bought myself a heart-shaped cookie cutter before making these! I'm NOT an experienced cookie-maker, so I owned NO cookie cutters. Such were the powers of persuasion of that enticing photograph that I wasn't even daunted by Bunny Mom's suggestion that the dough was tricky to roll out. It was, but as a novice cookie-maker, I probably would have found any dough tricky! I found Saturn's instructions fantastically clear to follow, and I followed them almost exactly. I cut down on the amount of ground cloves (personal taste preference). I was just SO pleased with the attractive and flavoursome end result. Really yummy! Thank you Saturn for a great recipe!

 
RECIPE SUBMITTED BY
<p>I am the Document Administrator for an engineering firm here in Sarnia.&nbsp; I am quite happy with the position and think I'll be there for a long, long time.&nbsp; It's nice to finally be settled in a job.</p> <p>I am married to a wonderful man who takes great care of me.&nbsp; My two teenage sons from my previous marriage love and adore him as well.&nbsp; Things are wonderful at home.</p> <p>As I am working full time, I don't have as much time to cook the fantastic meals that I would love to.&nbsp; Instead, we end up cooking a lot of quick, somewhat-healthy meals.</p>
View Full Profile