Chocolate Peanut Butter Bacon Pie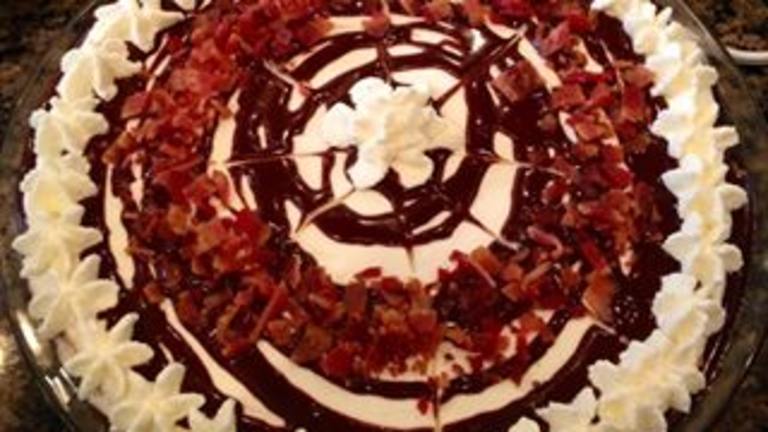 Francine Robert Bryson's recipe with corrections.
Ready In:

42mins

Serves:

Yields:

Units:
ingredients
25

chips-ahoy chocolate chip cookies

1

cup peanut butter

5

tablespoons butter, melted

1

(16 ounce) package bacon, divided in thirds

1

(12 ounce) can evaporated milk

1

(12 ounce) bag semi-sweet chocolate chips

1 3⁄4 cups sugar, divided
1 1⁄2

tablespoons mccormick's vanilla butternut flavoring

1

(8 ounce) package cream cheese

1

cup powdered sugar
2 1⁄2

cups whipping cream, divided
directions
Cook bacon in microwave for 3 ½ minutes till crispy. Drain the bacon on paper towels, then cut it into small pieces.
Melt butter and mix in crushed cookies. Then press it into a deep dish pie plate and bake at 350 degrees for 8-12 minutes, then let it cool. In a 2qt saucepan, heat milk and 3/4 cup sugar and add chips. Stir over medium heat until the contents are melted and thick. Then add flavoring and let it all cool.
Place cream cheese and 1 cup sugar in a mixer and blend till it's smooth. Then add one cup of whipping cream. Whip until the mixture is fluffy, then add peanut butter, and whip it once more. Spread 1½ cup of chocolate sauce over crust and sides and let it set.
Sprinkle 1/3 the contents of the chopped bacon over the crust and then pour in the creamy mixture. Spread half of the remaining chocolate sauce over the creamy middle. Then sprinkle 1/2 of remaining chopped bacon bits over the chocolate sauce.
Whip 1 ½ cup of heavy cream, a dash of cream of tartar, and powdered sugar. Spread over pie and pipe edges sprinkle with nest of remaining bacon and pipe circles of chocolate sauce. Drag knife back and forth thru top to form web design.
Submit a Recipe Correction
I have made this twice. I did not like to crust from the original recipe. I used an Oreo crust the second time and liked that much better. Yes, the pie is not very "firm" in the center, but I have gotten rave reviews on it. Took it to a church dinner and it was totally eaten. Getting ready to make it again for New Years.

Posted photo of one of the two pies that this recipe makes in a regular pie pan. The recipe should clearly say usa a 'DEEP DISH PIE PAN' since there is no way this would all fit into a regular size pan. We served the 2 pies at a dinner party tonight and while the flavor was good, the consistency was not. The peanut butter portion in the center was mushy, and then with the whipped cream non top, as the pie was cut, it was just mush and did not serve pretty on a plate. Not sure if this is how it was supposed to be, or if I didn't whip it enough or what. <br/><br/>The taste was not enhanced by the Chips Ahoy cookies, which are not cookies I even buy to eat. But, I always try new recipes exactly as they are first, and then adjust with future attempts. I think it would have been better in a regular pie crust, or even a graham cracker crust. Someone at the party suggested using nutter butter cookies, with the cookie filling scraped off and those cookies crushed instead of the Chips Ahoys. That would enhance the 'peanut butter' flavoring of this recipe I think.<br/><br/>Everyone at the party raved that it was an excellent pie as far as flavoring and taste, several commenting that they would never have thought the combination would work when told what was inside, and although it was beautiful before it was cut, it was a mess once it was being served. Would definitely try it again using of course a deep dish pie pan, and working to make the peanut butter portion stiffer, and using a different crust. Will definitely keep attempting to perfect this pie!