Chocolate Mint Slice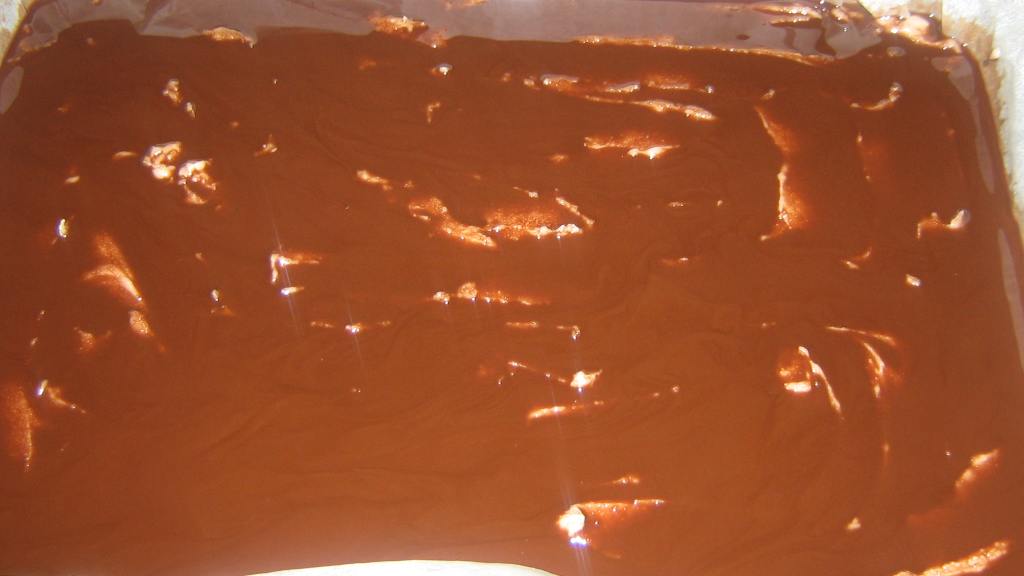 Ready In:

40mins

Ingredients:

10
directions
Biscuit Layer Sift flour.
Mix dry ingredients together.
Melt Butter and pour over dry ingredients, mix well.
Press into greased and paper lined 30cm x 25cm swiss roll tin.
Bake in moderate (180C or 350F) oven for 20 minutes.
While warm top with peppermint icing.
Peppermint Icing Melt chopped shortening over gentle heat.
Sift icing sugar into basin.
Add melted shortening, milk and essence.
Mix well, spread over biscuit layer.
When cold top with Chocolate Icing.
Chocolate Icing Pour melted white shortening over powdered drinking chocolate and mix well.
Cool slightly, then pour evenly on top of peppermint icing.
Leave to set, then cut into slices to serve.
Join The Conversation
This recipe is from an AUSTRALIAN cookbook from the 70's. <br/><br/>Weight of butter and shortening was in ounces in the book. 6oz butter, 1oz veg shortening, 3oz veg shortening, respectively. <br/><br/>Australians don't measure in ounces anymore but still often use cups for some dry ingredients and liquids. In Australia we use a vegetable shortening called Copha - some sort of solid coconut oil, do not know the American equivalent. And drinking chocolate is hot chocolate powder or can be made using equal parts cocoa and icing (powdered) sugar. <br/><br/>This is one of my all time favourite recipes, loved it when i was a kid and still love it now. There are newer versions that use real chocolate and vegetable oil but they are just not the same, i love the copha and dont care if it is bad for me!

 

First, I must agree with M'Larky, I dislike recipes that mix metric and U.S. measurements. They are troublesome. Having said that, I made these for a bake sale and they sold out within an hour. I think that rates 5 stars. It's not a difficult recipe. I made these the night before so they would have plenty of time to set up well and they looked great this morning. While I didn't eat any I can tell you that they are finger lickin good!