Chocolate Hazelnut Biscotti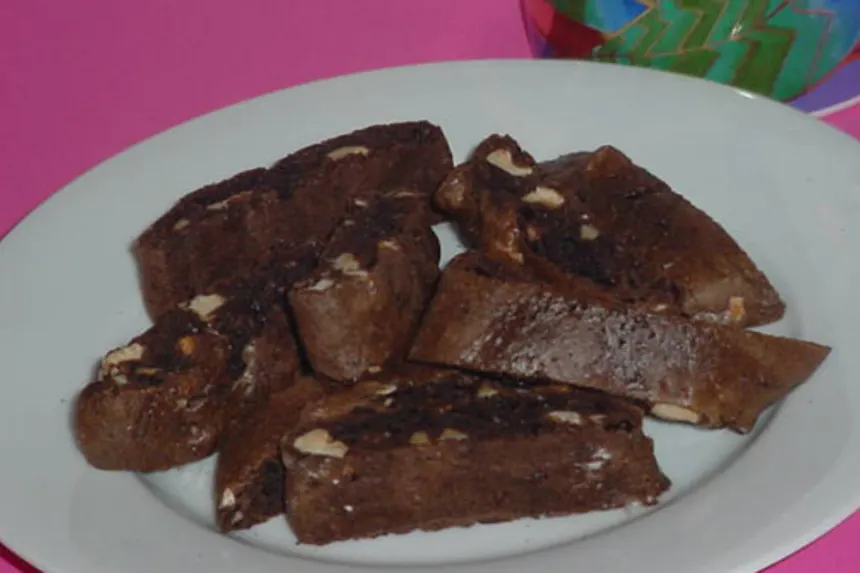 photo by justcallmetoni

Ready In:

2hrs

Ingredients:

11
directions
Preheat oven to 350°F.
To toast hazelnuts: spread on a baking sheet and bake for 15 minutes or until lightly browned and the skins begin to flake.
Remove from oven and place nuts in a dish- towel.
Roll up and let nuts 'steam' for 5 minutes and briskly rub the towel (with nuts inside) to remove the skins from the nuts.
Cool and then chop coarsely.
Set aside while you prepare dough.
Reduce oven temperature to 300°F.
Line a large baking sheet (12 x 17) with parchment paper.
In a food processor fitted with a metal blade, combine the coarsely chopped chocolate and brown sugar and process until the chocolate is very fine; set aside.
Sift or whisk together the flour, cocoa, espresso powder, baking soda and salt into a bowl; set aside.
In bowl of electric mixer combine the eggs and vanilla and beat to blend, about 30 seconds.
On Low speed mix in the chocolate/sugar and flour mixtures until a stiff dough forms, adding the hazelnuts and white chocolate (if using) when about half mixed.
On a floured surface divide the dough in half.
Form each half into a log, 12 inches long.
Do this by rolling the dough back forth into a cylinder shape with floured hands.
Transfer the logs to the baking sheet, spacing then well apart (with-wise on the pan) Pat to even the shapes.
Bake until firm to the touch about 40 minutes (logs will spread during baking).
Remove from oven, place on wire rack, let cool for 10 minutes.
Using a long spatula transfer the logs to a cutting board.
With a serrated knife cut the dough into 3/4 inch thick slices on the diagonal.
Arrange the slices on the baking sheet.
Bake 20 minutes at 300°F, turn the slices over and bake until crisp and dry, about 20 minutes longer.
Let cool on wire rack.
Questions & Replies

Got a question?
Share it with the community!
Reviews
These are great! Made them today with fresh hazelnuts from Turkey and good chocolate from Poland. Mine yielded 30 nicely-shaped cookies. They look just like the picture! The dough is extremely stiff, but that made it easy to shape on the baking sheet. Only downfall is the recipe dirties a lot of appliances/dishes.

 

The holiday season has begun and for me that means a flurry of baking not shopping. This weekend is all biscotti and I have 4 batches planned this among them. My big change is that I wanted small biscotti that would easily fit with the other goodies on the tray so I made 4 smaller logs resulting in 4 dozen 2-3 inch cookies. (Orginal cookie must be pretty big as mine are decently sized.) My dough was quite sticky and that had me a touch nervous, but the result were a sumptuous treat that was not too sweet and intense in flavor. The amount of hazelnuts was also perfect - a good generous amount but not so many as to overrun the cookie. I used half the amount of espresso powder as past experience made me realize my powder is quite potent -- it does not add a separate flavor -- no mocha just a deeper, richer chocolate. I did not cut the baking times, but wished that I had reduced the second baking times by 3-5 minutes. I also did a light brush of milk about 15 minutes into the first bake to take some of the greyish cast from the flour off the cookie - next time I may start with an egg white wash. Nonetheless the cookies are absolutely superb and I'm looking forward to sharing them in the coming weeks. Sorry for the ramble. Thanks Barb!