Chocolate Fantasy Cake With Chocolate Ganache Icing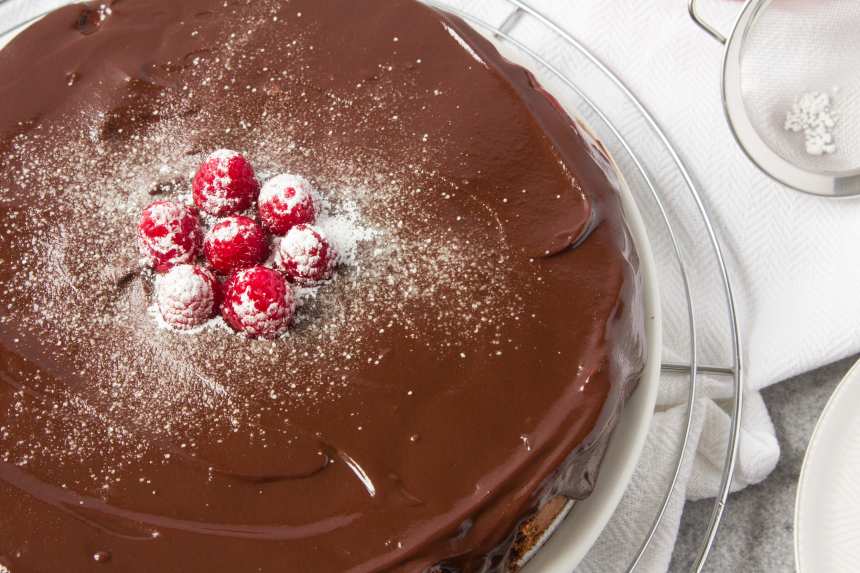 photo by anniesnomsblog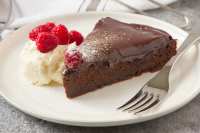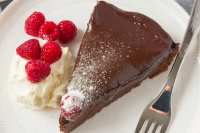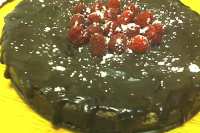 Ready In:

1hr 5mins

Ingredients:

11
directions
Preheat oven to 350°F Grease a 9" springform pan with 1 tablespoon of the butter and dust with flour.
In a metal bowl set over a pot of simmering water, melt the chocolate with the remaining 8 tablespoons of butter and stir occasionally until smooth and creamy.
Remove from heat.
Separate the eggs.
In another bowl, use an electric mixer to beat the egg yolks together with the sugar and vanilla until thick, stopping to scrape the sides of the bowl once or twice, for about 3 minutes.
In a third bowl, whisk the egg whites with the salt until stiff, for about two minutes.
Slowly and gently fold the chocolate into the yolk mixture, adding just a little chocolate at a time to keep the eggs from scrambling.
Fold in the egg whites.
Pour the batter into the springform pan and bake in the center of the oven until spongy; for about 40 minutes.
Remove from the oven, remove the springform ring and place the cake on a rack to cool completely.
When the cake is cool, prepare the icing as follows.
In a metal bowl set over a pot of simmering water, melt the chocolate with the cream, stirring constantly until smooth.
Don't let the mixture boil.
Remove from the heat.
Use immediately or store, refrigerated in an airtight container, for up to 24 hours.
Reheat in the top of a double boiler.
To serve, spread the chocolate ganache icing over the cake.
Top with raspberries or strawberries rolled in sugar and serve a small wedge of cake with a dollop of whipped cream (and a BAM of powdered sugar looks lovely as well).
Enjoy!
Reviews
Fabulous!! This is exactly the dense, rich, pure chocolate cake I was looking for. Why bother with layers of dry sponge cake and sickening frosting when you can have pure decadence and rich chocolate flavor?? I made this cake to go with Hope's Legacy Raspberry Merlot from Doukenie Vineyards, and the flavors of the Raspberry Merlot and semisweet chocolate were just to die for! Everyone loved it! Thanks for a fast and easy foolproof recipe!

 

I am very disappointed in this recipe. I have been baking chocolate cakes for my chocoholic husband for years, but I made this for my husband to take to his company's Christmas party (he always somehow ends up responsible for dessert, as I am an avid baker) and he just left to purchase something suitable from the store, because it is now too late for me to make something else. Admittedly, I am used to the toothpick test for doneness, so "spongy" seemed like a vague benchmark but the cake seemed to turn out fine until I tried to move it from the cooling rack to the carrying case and it fell into about 15 unglamorous pieces. Maybe it's the fact that this is my first flourless cake, but I will never waste my time on this recipe again when I have so many other reliable stand-by's. It gets one star, though, because the cake actually tastes pretty good even if it is not servable. If you are considering making this for a special occasion, learn from my mistake: DO NOT put all of your eggs in one basket!