Chocolate Chip Muffins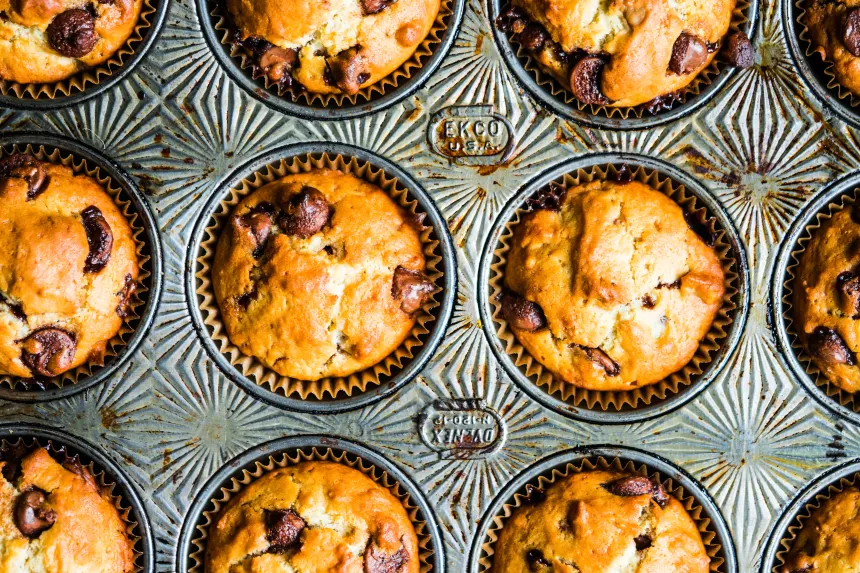 photo by alenafoodphoto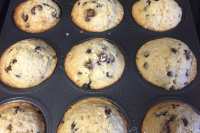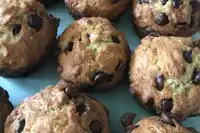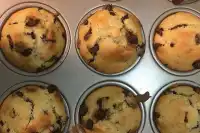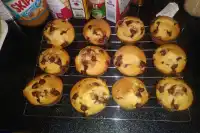 Ready In:

25mins

Ingredients:

11
directions
Preheat oven to 400°F.
Grease twelve muffin cups.
In a large bowl, stir together flour, sugars, baking powder, and salt.
In another bowl, stir together milk, eggs, butter, and vanilla until blended.
Make a well in center of dry ingredients.
Add milk mixture and stir just to combine.
Stir in chocolate chips and nuts.
Spoon batter into prepared muffin cups.
Now bake for 15-20 minutes or until a cake tester inserted in center of one muffin comes out clean.
Remove muffin tin to wire rack.
Cool for 5 minutes.
Remove from tins to finish cooling.
Serve warm or completely cool.
These muffins freeze well.
Questions & Replies

Reviews
Yummy, yummy, yummy! Just made these and ate one right out of the oven. They are superb! Very chocolatey - in fact, if you had only a half package of chocolate chips, it would still work. The batter is buttery and delicate yet dense enough to hold the chocolate chips without letting them all fall to the bottom of the muffin. I used my regular size muffin tin and filled the cups about 2/3 full and the recipe made 18 muffins. I sprayed the muffin cups with Pam and the baked muffins just fell out - no sticking! I didn't have any nuts so I omitted them and boy are these good! Thanks for the great recipe Charishma! I'm posting a picture, too.

 

I LOVE this recipe. I did use buttermilk instead of milk, increased the vanilla to 2 tsp and added 2 Tbsp of vegetable oil. I read ALL of the other reviews and noticed that many said these were dry. I think that may be due to the high heat - so I reduced the heat to 350 degrees and just made mini muffins (36 total) and baked them for just 10 minutes - I also topped them before - and again after- the oven with a sugar/cinnamon mixture - they came out moist and perfectly done! Thanks for the recipe Charishma!

 

These are so wonderful! I used buttermilk (because I love it), and half white/half milk chocolate chips. Mine did get a bit too brown on the bottoms at 15 minutes, but that is most likely the fault of my sub-par muffin tins. These were buttery, tender and perfectly sweet on the inside with a nice crisp on the outside. I did use pecans and I would highly recommend using them as they definitely add a little something! And to further gild the lily, I topped half of them with Kittencal's Recipe #89207 (the light variation) flavored with a bit of Irish whiskey and Bailey's...pure and utter decadence! Thanks for a sure-fire winner, Charishma! ~Kari

 
Tweaks
Lessened sugar by 2 Tbsp each type, used scant 2/3 C choc bits, used 1/4 C melted butter & 2 Tbsp oil. Used muffin liners. placed in preheated 400 deg oven, After 4 minutes reduced temp to 350 deg & left it in for 20 minutes altogether. With the less sugar, etc, tasted more like the old-fashioned muffins than cupcakes. Worked as anticipated.

 

I added extra vanilla and buttermilk. For the last batch (after we tried the first tasteless batch) I added more milk and half a banana. I hope that improves the taste! Baking at 400 for 5 mins and then lowering to 350 for 12-5 mins yielded a lovely texture - crisp on the outside and moist in the inside.

 

Being the queen of subbing - I used cashew milk, dark brown sugar, added a banana (reduced white sugar to about 1/8 cup), and for the second cup of flour, I used 1/2 cup whole wheat flour and 1/2 cup oats. Annnnd...I admit to hacking up one of the chocolate Easter bunnies instead of a bag of chocolate chips! Baked for 17 minutes. kids loved these!

 
RECIPE SUBMITTED BY
Hi Everybody! Thanks for stopping by in my little niche of the mighty Zaar world. Here is a quick link to the beauty recipes I've posted (highest rated so far):http://www.recipezaar.com/r/chef=6357/253/451/18/ls=h A few things I've done:- 1. Worked part time as a Telemarketer in Oman in the Crowne Plaza Hotel. 2. Worked as a Certified Professional Tarotist (Tarot Card Reader) and done accurate predicitions for many people from different parts of the world, most memorable of which is the reading I did for my college Law lecturer and it came true. 3. Written nearly 1000 poems several of which have been published in leading newspapers, ezines and magazines both in Oman and India. 4. Worked as a Moderator on www.allpoetry.com - my BEST and FAVOURITE site on the internet. My other interests include: Numerology, Vaastu Shastra, Feng Shui, Face Reading, Reiki and Astrology! I am really very keen on getting well-versed with metaphysical sciences such as Astrology, I-Ching, Feng Shui, Runes, Enneagram, Kabbalah and many more. I love researching on the mythology of ancient Goddesses and then condensing my research into poems. In the mood to gift me something? Here's what I'd love - A Nissan 350Z {my dream car}
View Full Profile