Chipotle Mexican Grill Honey Vinaigrette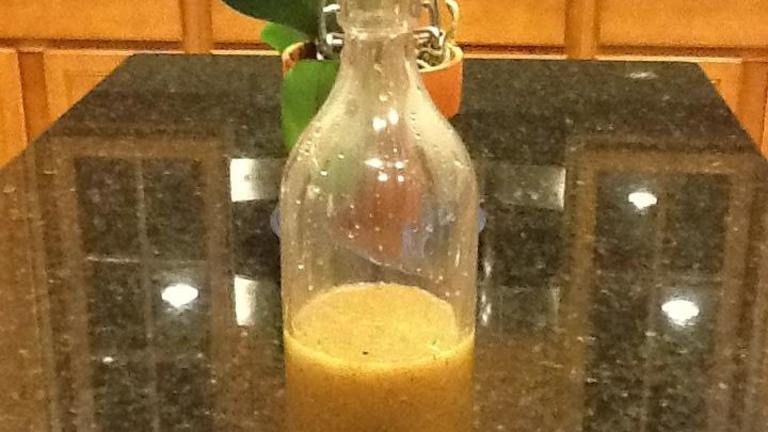 Can be used as a salad dressing or meat marinade. From: Chef, Jaime Mercado, Chipotle. Source: Texas Cable News/Food. ***Please note: this recipe calls for Kosher salt - a much coarser salt than regular table salt. If you use table salt you SHOULD reduce the salt to 1 Tablespoon. If a recipe calls for Kosher salt you should always 1/2 the amount if you are using table salt. I assume the folks who commented that the recipe was too salty were probably using regular table salt.***
Ready In:

10mins

Serves:

Yields:

Units:
RECIPE MADE WITH LOVE BY
"Can be used as a salad dressing or meat marinade. From: Chef, Jaime Mercado, Chipotle. Source: Texas Cable News/Food. ***Please note: this recipe calls for Kosher salt - a much coarser salt than regular table salt. If you use table salt you SHOULD reduce the salt to 1 Tablespoon. If a recipe calls for Kosher salt you should always 1/2 the amount if you are using table salt. I assume the folks who commented that the recipe was too salty were probably using regular table salt.***"
This recipe does not taste or look like the Chipotle recipe. I'll explain why. Firstly let me say i followed this recipe to the tee, and then made it a second time within the same hour with modifications. Chipotle's website lists the ingredients for its Honey Vinaigrette as: ice Bran Oil, Red Wine Vinegar, Honey, Kosher Salt, Water, Chipotle Chile, Cumin, Garlic, Oregano , Black Pepper The recipe listed here does not have a chile or cumin. Also the recipe is a bit excessive with the kosher salt. Even one full tablespoon of Kosher salt ruins it. Don't make this. And btw, Adobo seasoning is nothing more than granulated garlic, oregano, salt, and tumeric. I'm also not convinced those people who say they work at Chipotle are legit. I wish this was a good recipe, sadly it was a bust :(

I made the dressing following this recipe and it is amazing. One note. I used half of the salt, one tablespoon and it tasted just as good. Two tablespoons, in my opinion, would be too much. You must put the olive oil in last, after it has already blended and as suggested, do it slowly. It is really good!

As a chipotle employee, this recipe is very close to our recipe. YES we use two table spoon of salt in every batch, and a batch makes 20 oz of dressing. We use the same adobo marinade that we use on our steaks and chicken. Also, I am almost positive we use spy oil instead of olive oil.<br/><br/>Rookie mistakes: ALWAYS blend the ingredients first. make sure the vinegar, honey, salt all blend together first. Then slowly pour the oil. Slowly.