Chinese Fondue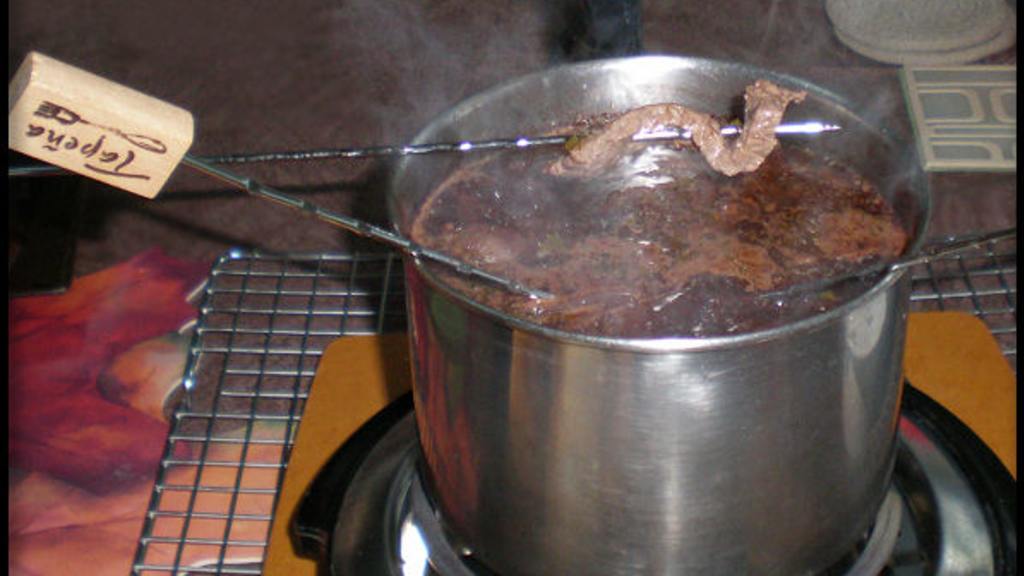 Ready In:

1hr 30mins

Ingredients:

10
directions
Sauté the onions and garlic and then add the rest of the ingredients.
Simmer the broth for about an hour and then pour into a fondue pot.
Enjoy with pieces of beef, chicken, seafood and vegetables!
Join The Conversation
This was outstanding! What a delicious and unusual alternative to the oil-based meat fondues i've had so far. DH just couldn't stop eating and complimenting. Definetely a keeper, MUCH healthier than the oil-based ones. DH and I just had the leftover broth with some instant noodles ( as suggested by Mary L. #3) and they were scrumptious. Thank you so much for this delightful recipe.

This is an excellent recipe. Thanks so much for posting it. We had it for New Year's Eve with our friends and everyone loved it. We used beef, chicken, scallops and shrimp. We even put in carrots and bok choy which was excellent in this broth. Used the leftovers to make a stew/soup the next day with some instant noodles and it was just as good.

Very good broth fondue, and extremely easy to prepare. The only change I made was to cut the amount of butter in half. There was too much broth to fit in our fondue pot, so I left a fair amount of the onions out of the pot. We cooked chunks of sirloin steak, pork tenderloin and chicken breast. They were all tasty, but I think I'd have to say the chicken was my favourite. The sauces overpowered the flavour of the broth, but I found that sweet thai chili sauce was wonderful on the chicken and pork. We also used spicy plum and satay peanut sauce. I had purchased a loaf of kalamata olive bread to have as a side, but discovered this was also delicious when dipped in the broth. It was a nice sturdy loaf and stood up well, but I'm not sure how a lighter bread would have fared. We had tried one broth fondue previously, and weren't impressed at all. This one was far superior. I still think oil fondue is my favourite, but if I'll ever use broth again, it'll be this one. Made for PAC Spring '08.

*I'M* gonna propose to you for submitting this recipe, Dancingcook! I finally got up the nerve to use my little cheap-o single electric coil burner for the reason I bought it: FONDUE! The "actual" fondue system I bought years ago was worthless when it came to getting hot enough to cook anything. (Do I hear eBay calling?) Anyway, what a fantastic recipe this is! Please thank your mother-in-law; we are in absolute LOVE with this stuff. I used 2 14-ounce cans of broth and one of water, but everything else, I followed, choosing Heinz chili sauce where I had an option. I cut a rather hefty top sirloin into 1/4-inch-thick slices which we threaded onto skewers. I had the burner set to medium and that kept it at a simmer, which cooked the beef in about a minute or less. The broth itself is so packed with flavor that the beef really needed nothing whatsoever in order to taste sublime, but I made three sauces anyway. ;) (Recipe #8282, Recipe #82280 and the cracked black pepper sauce from Recipe #86045) I also made a loaf of Recipe #196201 which was perfect with this fondue. Thank you for this keeper that went straight into my ~ENCORE~ cookbook!