Chickpea Flour Pizza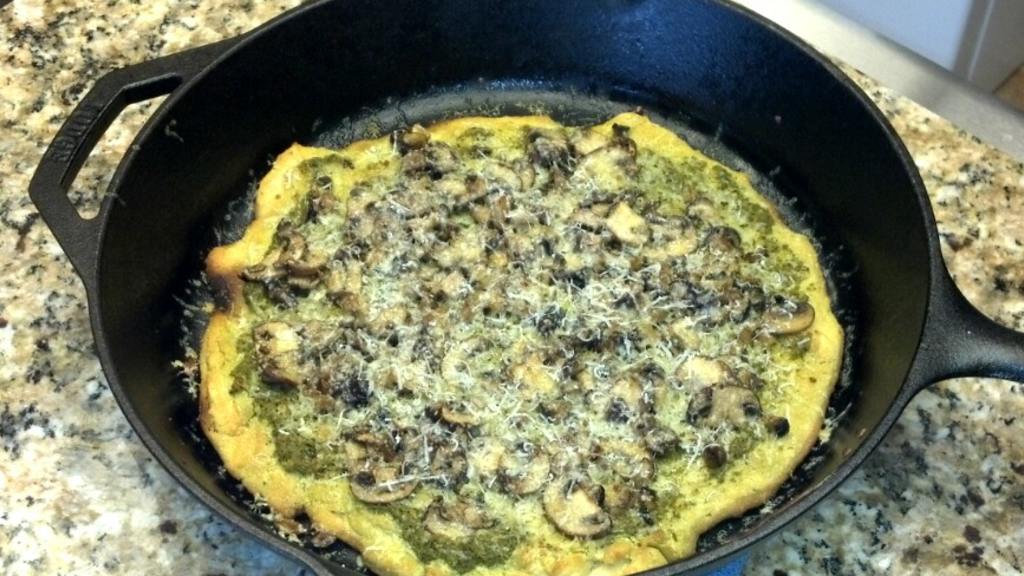 Ready In:

50mins

Ingredients:

9
directions
Preheat the broiler.
Sift the chickpea flour with the salt into a medium bowl.
Slowly add 1/4 cup of the water, whisking constantly to form a paste. Beat with a wooden spoon until smooth. Whisk in the remaining 1/4 cup of water and let the batter stand at room temperature for 30 minutes, then stir in the rosemary.
Heat 1 tablespoon of the olive oil in a 12" nonstick ovenproof skillet.
Stir the batter once, pour it into the skillet and drizzle the remaining 2 tablespoons of olive oil on top.
Cook the pizza over moderately high heat until the bottom is golden and crisp and the top is almost set, 2 to 3 minutes.
Burst any large air bubbles with the tip of a knife.
Sprinkle the tomato, onion, Parmesan and pepper over the top, then place the skillet under the broiler and cook until the pizza is golden and crisp, 4 to 5 minutes.
Slide the pizza onto a work surface, cut into wedges and serve hot.
Join The Conversation
Made this tonight for first time, with fresh ground chickpea flour (had to try out new mill!!). Worked out very well. Misread the recipe, I should say, and STILL worked out very well. Read place under broiler for 2-3 minutes instead of place over heat ON STOVETOP (to set the bottom)...Anyway, when pulled from the broiler to place ingredients on top, was nicely brownish, and no bubbles to break. After final broiler, still good...but stuck in very center. Ended up with several large portions of pizza and center piece very broken up. So...never one to waste: Mixed an egg with that portion and stir fried; piled the egg/pizza in center of plate surrounded by cracker-crisp pizza slices and served up Midnight Italian Pizza Omelet to guests! Woot! A BIG hit. Next time...will know. Also, can use stainless for this, well greased, or cast iron; but I'm on look-out for cast iron. TASTES YUMMY!!

 

This was super delicious! Reminded me of farinata, kind of like a flatbread. I used more toppings and half the oil (next time I will increase the salt by 50% too). The times were spot on for me and we did not have any trouble getting it out of our cast iron pan (loosened the edges first with a firm spatula). Yum yum!

 

I really like this concept and wanted this to work, so much that I tried making it twice so far and am not yet ready to give up. At first I tried doubling the recipe given that the reviews agree that this is a good size for one serving...bad idea on so many levels - the doubled batter was thin and watery. I added more flour to try to achieve the right consistancy only to have the cooked dough come out too thick. I made another batch, as written, and it was okay. The cooking times need to be a bit longer than called for and I note that both tries stuck to the pan. All of that said, it is yummy and worth the effort to perfect.