Chickpea Curry (Vegan -Pressure Cooker)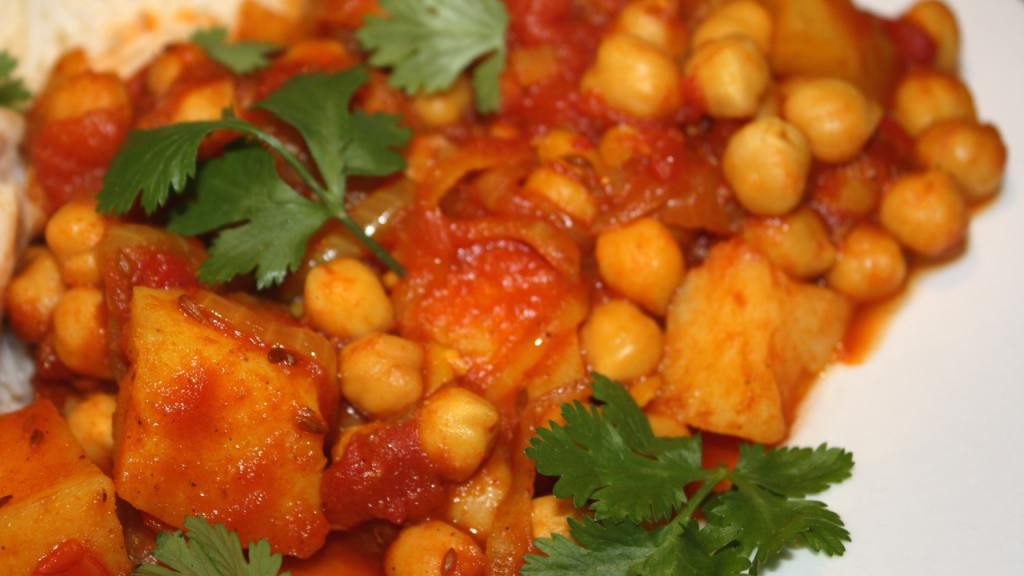 Ready In:

35mins

Ingredients:

14
directions
Heat the oil in the pressure cooker over high heat. Cook the cumin seeds for approx 30 seconds or until they start to crackle.
Add the sliced onion and cook, stirring, for 5 minutes. The onion should be golden and soft.
Reduce the heat and stir in the garlic and other spices.
Add all remaining ingredients (except garnish).
Close and lock the lid. Bring to high pressure over high heat. Reduce heat to stabilise the pressure and cook for 15 minutes.
Release pressure and serve with a sprig of coriander or a sprinkle of parsley. Serve with steamed basmati rice, naan or pappadums.
NOTE: to cook dried beans. Overnight soak, drain water, place into pressure cooker, cover with fresh water and cook on low pressure for 10 minutes. I soaked 2 cups dried chickpeas and result was a little over 4 cups cooked beans. Canned/tinned chickpeas can be used if desired- be sure to drain and wash them well.
Join The Conversation
This recipe has great bones- everything in it should be extremely tasty; however, it was under-seasoned, unremarkable and just plain bland. It resembles Aloo Choley, but the flavors don't pop and it was pretty disappointing. I think if I had to make it again I would increase the spices and add some madras curry powder to give it more flavor, but I will most likely never make it again.

I cooked this last night for my family using my pressure cooker also for the first time. I increased the garam masala, coriander and lemon juice and also added half a teaspoon of chilli powder. Served with rice, Naan bread cucumber raita and poppadoms and it was a smash hit. My 15 year old took it to school for lunch the next day. Yum yum!!!

Although the flavors in this recipe are good, the recipe lacks specific amounts of information. <br/>I've made it twice. The first time I had only one medium russet potato in my pantry so I used that instead of "three large potatoes" that it called for. My electric pressure came to pressure with no issues. <br/> Tonight I used 3 russet potatoes which were actually medium sized and not "large" as the recipe states, and I could not get the contents to come to pressure in my electric pressure cooker. I kept getting an error sign that my pot was getting too hot on the bottom. I kept opening up the cooker and adding more and more liquid. Needless to say, our dinner was an hour later than planned because of this.<br/>It would have been nice if the author of this recipe could have included the type of potatoes as well as the weight or measurement of the potatoes. Apparently I had too much potato in my batch that caused too much starch to form which thickened the liquid and prevented my cooker from coming to pressure before it started to burn on the bottom. The recipe was followed to the T.<br/>I ended up having to add at least a cup of water to the recipe in the end to get it to come to pressure.<br/>For anyone attempting to make this recipe whether in an electric cooker or stove top, I would use ONE large potato and bring your mixture to a boil while scraping the bottom of the pot occasionally BEFORE putting the lid on to attempt bringing to pressure, ....unless you want to risk having the starch from the potatoes and sugar from the tomatoes burn on the bottom of your pot before it comes to pressure.

Making it a second time today; quick and easy now that I've done it once before (I'm new to pressure cookers, and needed to get comfortable with them). I recommend grinding and/or toasting all your spices before you start, because there isn't enough time between additions to do so. This recipe is excellent-tasting fresh and also after it's been in the fridge for a couple of days. (As I used frozen tomatoes instead of canned, I wasn't sure how much extra water to add and so my first attempt was a bit soppy, but perhaps I could have thickened it with pea flour or yogurt.)