Chicken Soup With Asparagus and Rice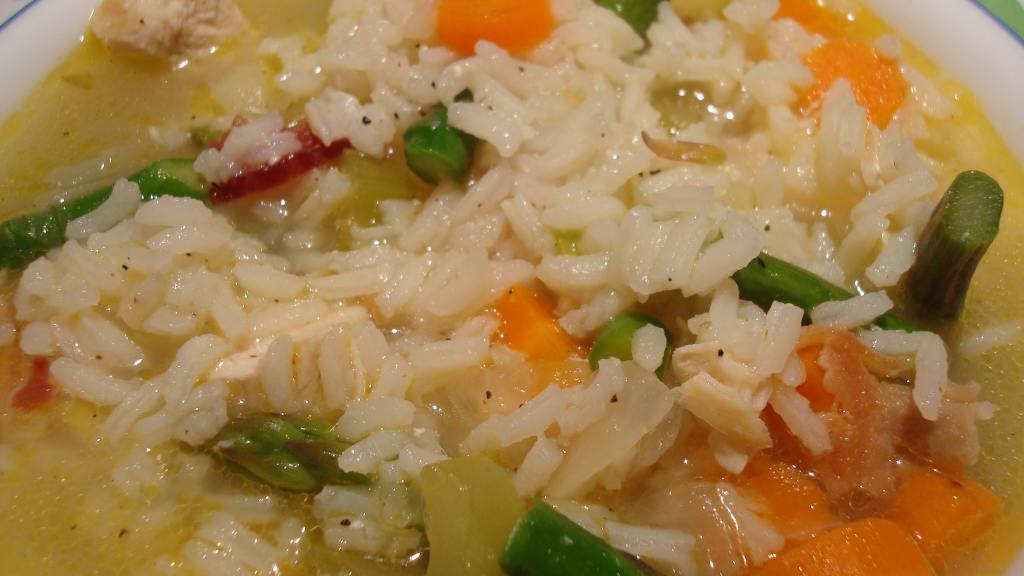 Ready In:

50mins

Ingredients:

12
directions
In a stockpot, saute the diced onion, celery and carrot in 2 Tablespoons of the olive oil, until the onions are translucent, about 8-10 minutes.
Stir in the rice and add the chicken stock.
Bring the stock to a simmer, cover and cook on low until the rice is tender, about 20 minutes.
Meanwhile, wash the asparagus and trim off the woody ends. (Throw them away or use them to make vegetable stock for another recipe.).
Slice the asparagus in 1-inch lengths on the bias, collecting the tips separately (because they cook very quickly and will be added last).
Heat the remaining 2 Tablespoons of olive oil in a skillet.
Saute the pancetta and asparagus pieces (not the tips yet) about 5 minutes, stirring as needed. The idea is to soften the asparagus but not cook it entirely.
Add the asparagus tips and saute an additional minute.
When the rice in the stock pot is tender, add the lemon juice, diced chicken, and the pancetta/aspargus mixture.
Bring to a boil; remove from heat.
Season with salt and pepper.
Serve.
Join The Conversation
The soup is great, however, I think adding more rice would bring out the comfort effect. I found the lack of rice a little disappointing. With that much stock, maybe, double the amount of rice to one and a half cups of rice and the recipe will be superb. Oh, and I also added some onion powder to the saute mix and substituted a sliced block of salt bacon block with the asparagus. I cooked the pork first, followed by dicing the cooked bacon up prior to combining everything at the end. Enjoy!