Chicken Shawarma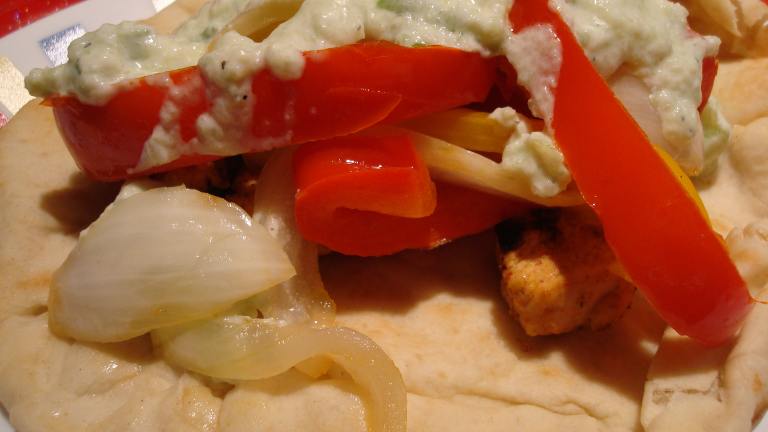 Ready In:

40mins

Serves:

Units:
Nutrition Information
ingredients
1

tablespoon ground coriander

1

tablespoon ground cumin

1

tablespoon ground cardamom

1

tablespoon chili powder

1

teaspoon smoked paprika

1

tablespoon grill seasoning, recommended brand Montreal

1

lemon, Juice of, divided

2

large garlic cloves, grated, finely chopped

5

tablespoons extra-virgin olive oil, divided

4

chicken breasts, boneless, skinless (about 6 to 8 ounces each)

1

large onion, sliced

1

red bell pepper, sliced

1

yellow bell pepper, sliced
1⁄4 cup tahini
1 1⁄2

cups Greek yogurt

4

pita bread
directions
Preheat an indoor or outdoor grill to high.
In a bowl, combine the coriander, cumin, cardamom, chili powder, paprika and grill seasoning. And the juice of half a lemon, the garlic and about 3 tablespoons olive oil and stir until it is paste-like.
Slather the mixture all over the chicken until it is well-coated.
Transfer to the grill and cook on each side for 6-7 minutes, until cooked through.
Remove from the grill and let the chicken rest before thinly slicing.
Once the chicken is working, preheat a large skillet over medium-high heat with 2 turns of the pan of olive oil, about 2 tablespoons. Once you see the oil ripple, add the onions and peppers, and season with some salt and pepper.
Cook, stirring frequently, for about 5 minutes until the veggies start to wilt. Once the onions are working make the sauce: In a bowl, combine the juice of the remaining half lemon, the tahini, yogurt, some salt and a small drizzle of olive oil. Mix to combine.
Place the pitas on the grill to warm them and give them a light char, about 1 minute on each side. To assemble, place some of the sliced chicken on each pita, top with some of the pepper and onion mixture, and a good dollop of the yogurt-tahini sauce.
Submit a Recipe Correction
Join The Conversation
I decided to follow the exact recipe for the spice mixture and then put together a different vegetable mixture on my own based on the way my favorite local food cart does their shawarma. Also, I stir-fried the chicken cubes in a pan with (non-extra virgin) olive oil on super high heat because I didn't have access to a grill. I skipped the sauce part of this recipe and just used store bought tzatziki. I was very happy with the spice blend for this dish! Middle Eastern food is common here in Portland, OR but I had little experience cooking it; was unfamiliar with the spices. I knew what it was *supposed* to taste like and this recipe was spot on. Fellow foodies out there might want to try the salad I made to go with it, it was a major crowd pleaser with my roommates, their girlfriends and myself. I chopped up one carrot, half a red onion, four or five small crimini mushrooms, one small zucchini, half a small can of Blue Diamond plain almonds, and then threw in a very small jar of pimentos, a clove of chopped garlic and a (regular American grocery store size? Not sure of total weight) bunch of fresh chopped spinach. Toast the almonds in a dry pan first, then add the carrots along with some olive oil to coat, then the onions. Then zucchini and other stuff and finally clear out a little space in the bottom of the pan for the garlic, throw the spinach on top, and once it's wilted it's all done. If you want to get even more fancy I bet pistachios or pine nuts would be awesome in place of the almonds. To corroborate some of the other comments, the raw chicken and spice mix does stink, it's off-putting on the first attempt. That smell decreases in intensity and combines with roasty meat vegetable scent, and by the time you're done people will be knocking on your door asking what's cooking.

When I mixed the seasonings, I was very afraid because the smell was not appealing at all. It smelle like dirty shorts to me. I went ahead and grilled the chicken anyway and was very surprised at the results. It was very good. I did not make the tahini, as we prefer tzatziki. I will still be searching for a shawarma recipe, however, as I want something more like the red chunks of chicken we get in local restaurants.