Chicken Saute With Mozzarella Cheese (Kasarli Tavuk)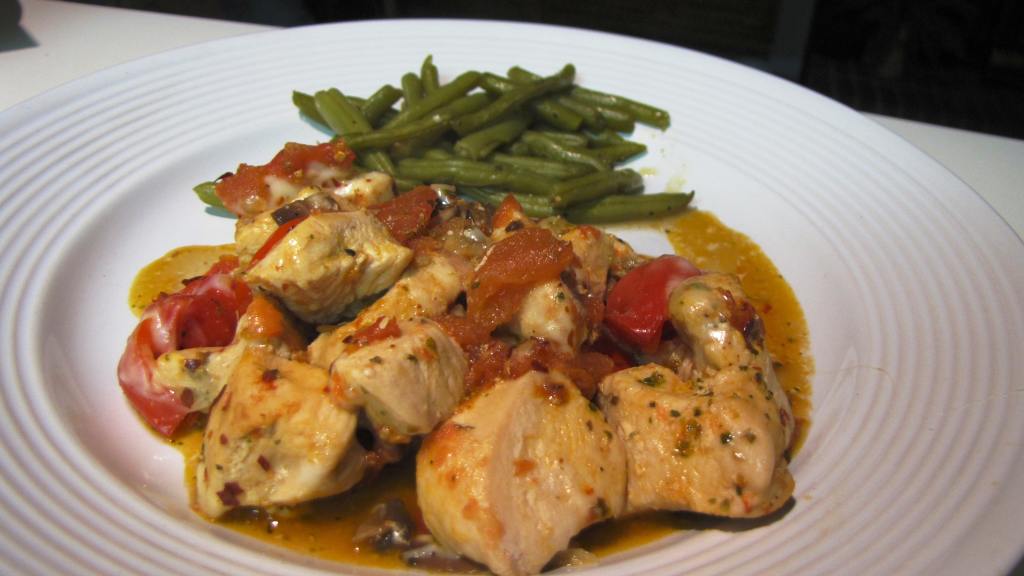 Ready In:

30mins

Ingredients:

13
directions
In a medium sized pan, saute the onion with butter and olive oil. Add the garlic and when the smell of the garlic comes out, add the chicken. Cook the chicken until the colour changes. Add the mushrooms, tomatoes, cubanelle pepper (red bell pepper), salt and pepper. Simmer for about 15 minutes with the lid covered. Turn the heat off and sprinkle some oregano all over.
Transfer to the oven proof dish. Sprinkle the shredded cheese and red pepper on top. Preheat the oven to 400 F (200 C) and bake until the cheese melts. Serve with Turkish Pilaf.
Join The Conversation
This was good. I used red bell pepper (no cubanelles in Phoenix) and subbed a little cayenne and paprika for the Turkish red pepper. I upped the cheese to about 3/4 cup and threw in some spinach at the end just to increase the nutritional value. I finished on the stove rather than the oven - who uses the oven in Arizona in July?!? Served over pasta.

I made a vegan version of this using "Quorn naked chic'n cutlets" and that was the only modification. The "Quorn Vegan chicken cutlets" have the same taste and texture as chicken, you'd swear it was real chicken!<br/><br/>As for the rest of this recipe..... My knees buckled that's how good it was. I mean, what's not to love? You've got all the best and healthiest veggies. Red Bell peppers are very high in vitamins A & C. THIS, I will be making over and over! Thanks Diner!

Great chicken recipe! I don't care for onions so just used a little extra mushrooms and peppers, otherwise made as directed. I used crushed red pepper flakes and was generous with the amount - this had a great little kick! Gotta love a tasty recipe that can be made with ingredients I always have on hand - thanks for sharing the recipe!