Chicken or Turkey Enchiladas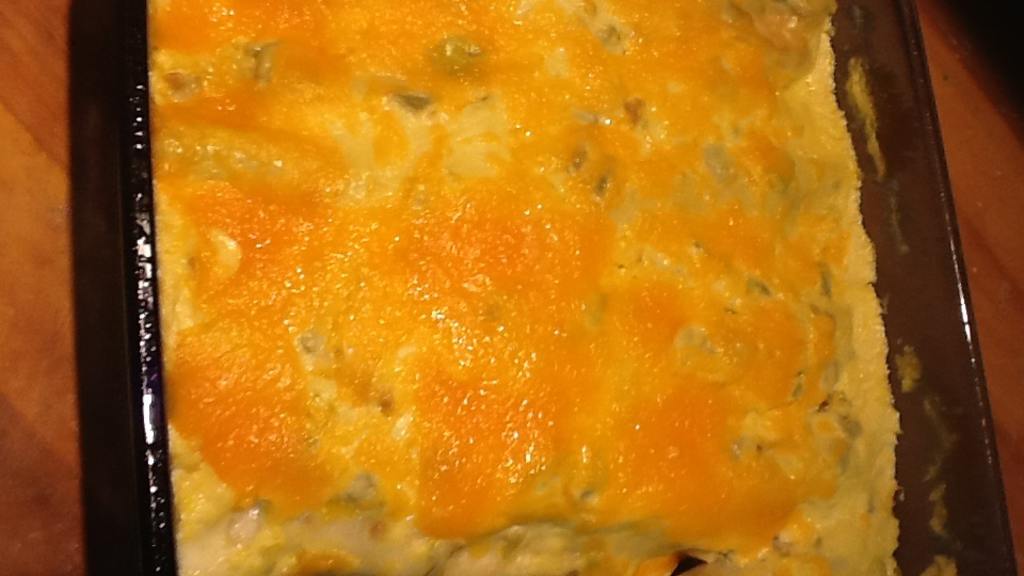 Ready In:

1hr 15mins

Ingredients:

17

Serves:

6
ingredients
1⁄2 cup onion, chopped

4

ounces reduced-fat cream cheese, softened (Neufchatel)

1

tablespoon water

1

teaspoon ground cumin
1⁄4 teaspoon pepper
1⁄8 teaspoon salt

4

cups cooked turkey breast or 4 cups cooked chicken breasts, shredded

12

(7 -8 inch) flour tortillas

nonstick spray coating

1

(10 3/4 ounce) can low-sodium condensed cream of chicken soup

1

(8 ounce) carton light sour cream

1

cup 2% low-fat milk

2 -4

tablespoons pickled jalapeno peppers, finely minced (May substitute 1-4 oz can diced green chilies, if you prefer it more mild)

1⁄2

cup Mexican blend cheese (I use Sargento brand)

1⁄4 cup tomatoes, chopped (optional)
1⁄4

cup sweet red pepper, chopped (optional)
directions
In a small saucepan cook onion, covered, in a small amount of water over medium heat until tender; drain.
In a medium mixing bowl, stir together the cream cheese, the 1 tablespoons.
water, cumin, pepper, and salt.
Stir in the cooked onion and chicken.
Wrap the tortillas in foil.
Heat in a 350 degree oven for 10 to 15 minutes or until softened (if using a microwave, wrap the tortillas in a microwave-safe paper towel and micro-cook on high for 30 to 60 seconds until softened).
Meanwhile, spray a 9 x 13 baking dish with non-stick coating.
For each enchilada, spoon approximately 1/4 cup of the chicken mixture onto one tortilla; roll up.
Place the tortilla, seam side down, in the baking dish.
Repeat with the remaining filling and tortillas.
For the sauce, in a medium mixing bowl combine soup, sour cream, milk, and jalapeno peppers; pour mixture over the enchiladas.
Bake covered, in a 350 degree oven for about 40 minutes or until heated through.
Sprinkle with the cheese.
Bake the enchiladas, uncovered, for 4 to 5 minutes more until the cheese is melted.
Garnish with cilantro, parsley, tomatoes, and sweet peppers if desired.
NOTE: Usually I don't have chicken prepared in advance, so I use 4 chicken breast halves and sprinkle them with salt, pepper, and cumin.
I either saute these or grill them until no longer pink.
I shred the meat and proceed as usual with the recipe.
The time to make does not include this step.
Join The Conversation
Yum, Yum, Yum!!!!! We loved these, I devided the mixture in 2 and only added the jalapenos to 1 half as my kids wouldn't eat anything too hot and left the other half as is and it dissappeared very quickly. Will definetly be making again. I did add more cream cheese than in the recipe, it seemed a little dry but maybe I had too much chicken, but then again with the sauce on top it was fine, thank you..........:)made for PAC 2006

Very good, and easy! I substituted whole wheat flour tortillas,cut down on the cumin and use diced green chiles, not Jalpenos. (My DH won't eat anything hot. These were a hit, and I think I'll make again with the Turkey leftovers this Saturday. Thanks for posting! All the other enchilada recipes I've seen call for corn tortillas and have you dip them in hot oil before filling and wraping. I really liked that I could use flour and warm in the oven or microwave.