Chicken and Zucchini Soup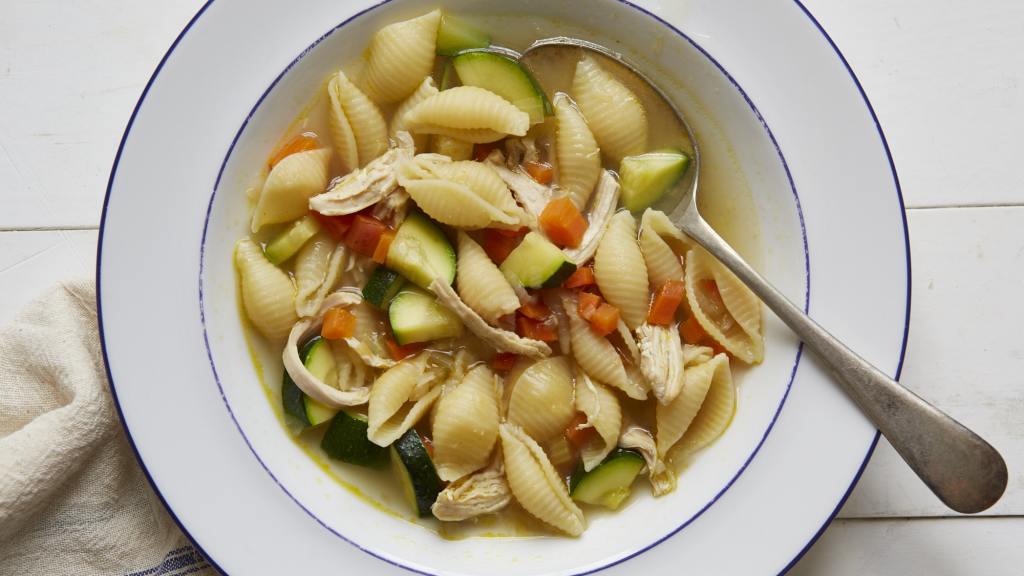 Ready In:

28mins

Ingredients:

13
directions
Take the chicken breast off the roast chicken and put the chicken bones, wings and any other bits in a large microwave dish with the water and thyme. Cover and cook on high for 10 minutes.
While that is cooking, start on the prep of the veg.
Finely chop the onion and fry in the oil. Add a little salt to help season the veg as they are cooking.
Cut the celery into strips lengthways and then chop into small cubes. Add to the onion.
Peel and cube the carrot to about the same size as the celery. Add to the pot.
Add crushed garlic.
By this time the stock should be finished - unless you are particularly fast at veg prep!
Strain the stock over the vegetables.
Add the pasta shells or whatever pasta you happen to have.
Slice the chicken breast and pick off any good bits of chicken from the drained bones. Add to the pot.
Simmer for as long as it takes to cook the pasta – 13 minutes for my pasta shells.
Season to taste with salt and pepper.
Add more water if necessary. I needed to add a little more water after about 10 minutes.
Add the zucchini/courgette in the last 5 minutes of cooking. Slice the zucchini lengthways. Cut into triangular pieces. I find cutting the zucchini this way helps keep them in one piece in a soup where they may get overcooked when the soup is reheated.
Enjoy!
Join The Conversation
I won the jackpot on this recipe! Not only was it very good and healthy, I was able to use leftover turkey. This will also be a great way to use up my abundant supply of zucchini in the summer!!! The onion, celery and carrots were chopped in the mini food processor so that only took a few minutes to prepare. I did add about 5-6 sprigs total of the thyme. I found a little more water was needed as this cooked. Thank you for a delicious lunch and a way to use more yellow squash and zucchini! Made for Healthy Choices ABC Tag Game 2011

I prepped the veggies and added Crock Pot Chicken or Turkey Stock #263211 thawed from my freezer. I added the sea shell pasta and a small can of chicken breast chunks. I added the diced zucchini the last 5 minutes as directed. Had a delicious pot of soup done in about 20 minutes. The short cut (having home made broth in the freezer) really helps. Thanks for a great recipe Rona. Made for Choose Your Event Party.