Chicago-Style Hot Dogs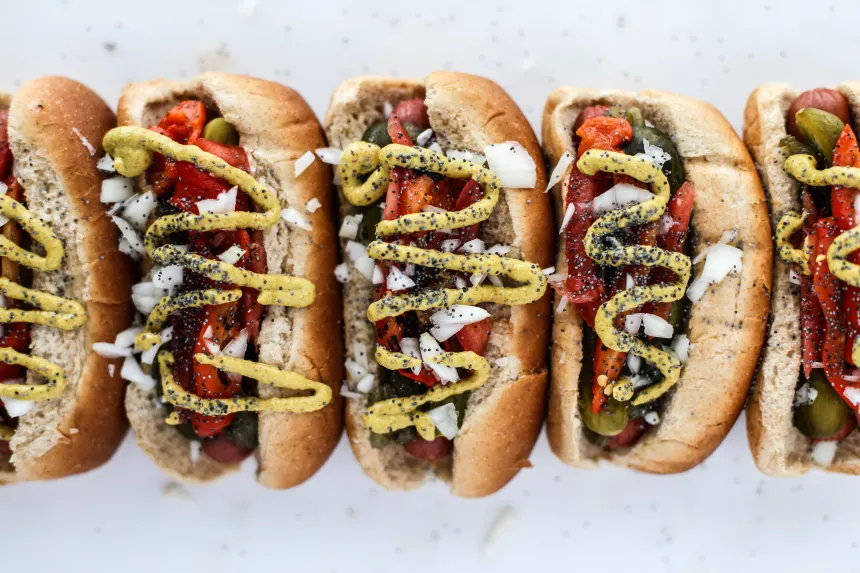 photo by Ashley Cuoco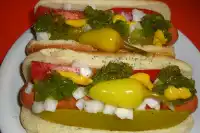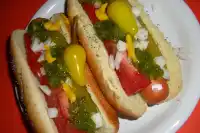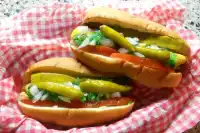 Ready In:

25mins

Ingredients:

11
ingredients
4

natural casing beef frankfurters (I like Boar's Head brand)

4

hot dog buns (with poppyseeds if you can find them)

1

small onion, diced fine

3 -4

teaspoons sweet pickle relish (bright green type if you can find it!)

1

cold-pack kosher dill pickle, quartered lengthwise

1

small tomatoes, sliced into julienne strips

4 -8

pickled sport bell peppers or 4 -8 tiny hot peppers (Kroger sells these)
dusseldorf-style brown mustard, with horseradish,to taste (may use yellow mustard)
poppy seed (omit if using seeded buns)
beer, for simmering (standard golden lager preferred; not authentic) (optional)
directions
Simmer frankfurters in beer or water for approximately 10 minutes.
Warm buns in microwave, until slightly warm and soft.
To assemble hot dogs, place frank in each bun.
Add mustard to taste; top with dill spear, relish, onion, tomato, and 1-2 sport peppers (Jalapenos"might" be a reasonable substitute if you are desperate to find the sport peppers, but the taste won't be quite the same).
Sprinkle with celery and poppy seeds.
Serve.
Reviews
Anyone from Chicago can tell you a Chicago Style dog starts with Vienna Brand hot dogs and Rosen poppyseed buns, although some people don't like the poppyseeds. Yellow mustard is the tradition and Sport Peppers are optional. Wieners are poached in hot water and buns are lightly steamed. Cooking in beer is not a local thing and ketchup will get you run out of town!. It's the only way we can eat a hot dog here. Although I want to try a chili dog I can never bring myself to do it!

 

Yellow mustard (we like Plochmans),celery salt, not celery seed..the only hot dog brand for these is Vienna Beef hot dogs. Sport peppers a must. Vienna beef sells the dogs and peppers via their website, which we have done numerous times. Being a transplant to the south, we can't get them down here. And i would kill for a portillo's! Maybe one day :-)

 
Tweaks
Tips from the Chicago Street Chef: Poppy Seed buns can be hard to find, but are essential. Vienna Beef Dogs are ideal. Good quality all beef natural casing dogs will do. Celery SALT, not celery seed. Pickles quartered are too big, Pickles sliced in 8 work better. A drop of BLUE food coloring in 8-16 oz or sweet relish makes it perfect bright neon green. Green food coloring works, but not as well. Yellow or brown mustard is added by the diner - not the server. Sport Peppers are standard, but can be held by the server. Steaming the dogs in beer doesn't add much to the dogs, but it sure makes the steamed buns better - and adds an aroma to the room. Current price on the street $3, at the ball park $6.

 
RECIPE SUBMITTED BY
You know me as Sue L or Sue Lau. I write a food blog at palatablepastime.com which specializes in Midwestern, Amish, Southern, and Ethnic recipes. Most of which are my own recipes. There are a few there that aren't, but not many. And really, since the best of my recipes here are my recipes, it tells me you guys like me just a teensy bit. ;) I post all my latest stuff on my blog including new recipes, updates to older recipes and (hopefully) much better photos. So don't be shy in dropping by. If you like my stuff here you will LOVE my stuff there. Seriously.
View Full Profile