Cherry Cheesecake Cupcakes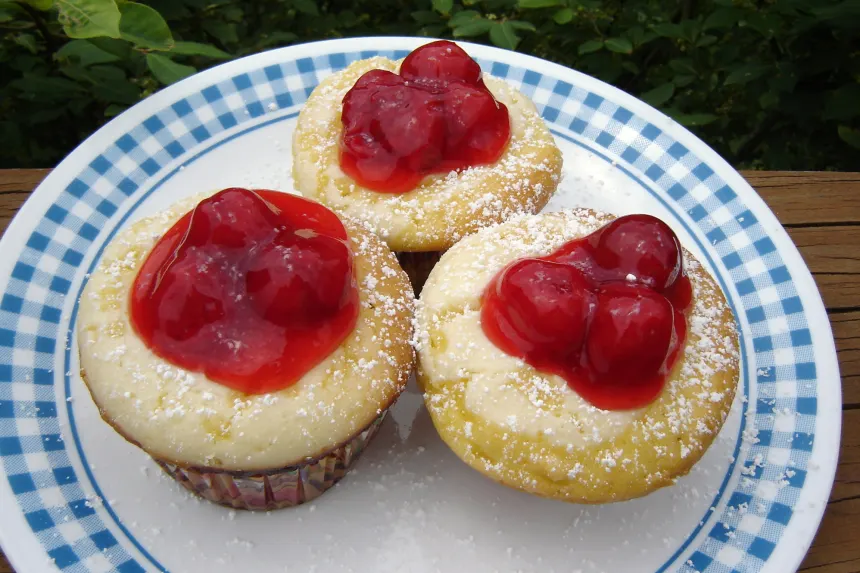 photo by Chris from Kansas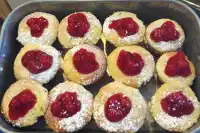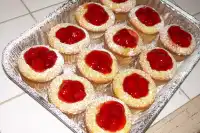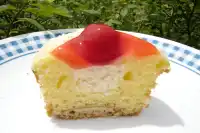 Ready In:

50mins

Ingredients:

14
directions
Preheat oven to 350.
Line 28 cupcake cups with paper liners.
Prepare the filling: Place cream cheese in small mixing bowl and blend with an electric mixer. Add the sugar, egg and vanilla and continue to beat for 1 minute.
Prepare the cupcake batter: Place the cake mix, pudding mix, milk, oil, eggs and almond extract in a large mixing bowl. Blend with an electric mix on low for 30 seconds. Scrape down sides, increase speed to medium and beat for 2 more minutes.
Place one vanilla wafer in the bottom of each cupcake liner. Spoon 1/4 cup batter on top of each wafer. Gently dollop 1 heaping tablespoon of filling on top of each cupcake. The cup will be nearly full. Do not shake the pans.
Bake until the cupcakes are golden and spring back when touched, about 18 to 20 minutes. Cool in pans for 5 minutes.
Remove from pans and cool on wire rack for 15 minutes before topping.
Mist a teaspoon with vegetable oil spray and use this to press down on the cupcake to create an indentation. Place a heaping teaspoon of cherry pie filling in the well of each cupcake. Dust with powdered sugar.
Store in the refrigerator.
Reviews
Followed this recipe exactly and the outcome was amazing! I made these for my boyfriend's work function and he came back with rave reviews. Something along the lines of, "they were like eating heaven"...haha. I measured out a 1/4 cup batter for each cupcake and in the end I only had 16 instead of 28. The recipe can easily be doubled though, and next time I'll have to do that since people were eating them like crazy! Thanks for the awesome recipe. It's definitely a keeper!

 

These were quite tasty, but the proportions in the recipe seemed off. I was left with 16 overflowing cupcakes instead of 28 normal-sized ones. I think I'd use my 3-tbsp sized ice cream scoop next time for the batter. I'd also make twice as much cheesecake filling because the "heaping tbsp" didn't go far enough, and the filling is too good to skimp on!

 

I decided to "come out" about my pregnancy using pink (cherry) and blue (blueberry) cupcakes, and this recipe caught my eye for the former. I made the batter and cheesecake filling exactly by the recipe, but because I needed to be able to frost the cupcakes pink, I added the pie filling on top of the cheesecake layer and then put just enough cupcake batter over that to cover the cherries. Baking time was about the same and they rose beautifully in the oven but, as expected, they sank in the middle when they cooled. But, nothing a whole gob of cherry-flavored pink frosting couldn't hide! The cupcakes were a hit, and the cherries were still moist without making the cupcakes soggy. And now I can finally stop minimizing my web browser everytime someone walks by while I'm shopping for baby strollers =)

 

These are striking looking cupcakes. I did come out with 28 cupcakes, but I doubled the cheesecake filling. Before adding the cheesecake filling, I formed a "hollow" with a spoon in the cupcake batter so that I could add more cheesecake filling to each cupcake. I would highly recommend these cupcakes. Thank you for posting this recipe.

 
RECIPE SUBMITTED BY
<p>I live in the Kansas City area and have many hobbies including cooking, reading and spending time with my husband and two children who are very active in sports now. I also have an eBay business which is a fun hobby that makes a little extra money! My interest in cooking focuses on making healthy dishes that are more satisfying than the higher fat and higher sugar versions. If I had a month off with no responsibilities, I would spend it at a luxury spa. <br /> <br /></p>
View Full Profile