Chappatis (Roti)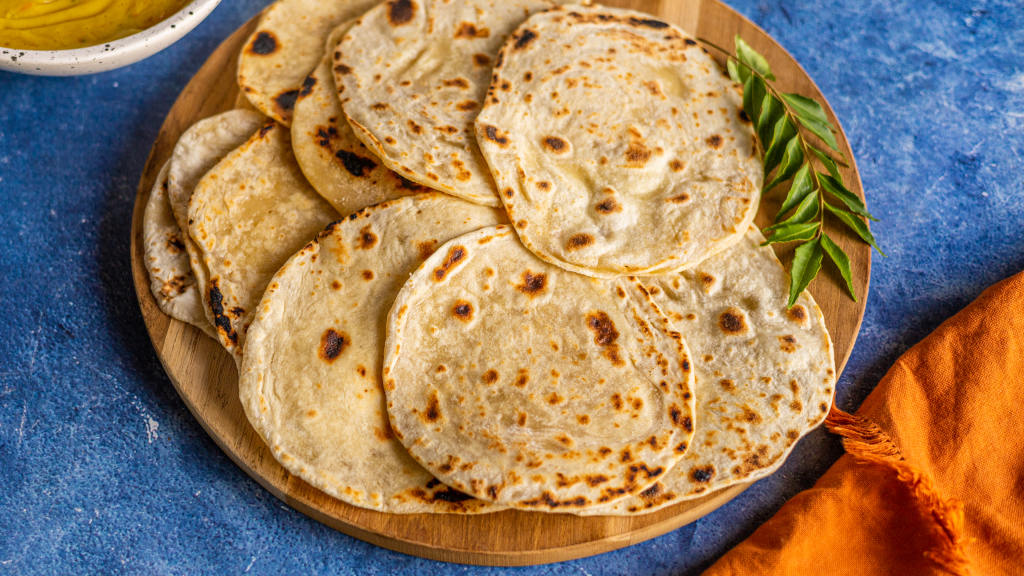 Ready In:

2hrs

Ingredients:

7
directions
Put flour and salt in a bowl.
Add water a cup at a time, kneading.
When kneading, make your hand into a fist and roll your knuckles into the dough, folding edges in continuously, working in all the flour.
When all the flour is kneaded into a ball, poke lots of holes into the ball of dough.
Pour a little oil into the dough and knead it inches.
Add the rest of the oil (the dough will look very oily and that's the way it should be).
Cover with a clean cloth and let sit for at least an hour.
Roll the ball in a little bit of flour so it's not sticky.
Divide the dough into about 15-20 balls depending on how big you want the chappatis to be.
Flour the counter/board.
Roll out each ball to about 6 inches in diameter.
Brush with melted butter.
Fold in three (like you fold a letter).
Now it should almost look like a long tube.
Take one end of that tube and fold it in to the centre and gently press it inches.
Take the other end of the tube and fold it over the seam.
Now you should have a little bundle of dough.
(In other words, fold the dough into thirds one way, and then the other).
Flour a plate and place the bundles on them.
Roll each one out to about 6-8 inch diamete, flouring counter/board as needed.
On a flat cast iron disc (available at Indian grocery stores) or on a big frying pan (cast iron is best), heat pan, and put chappati on it.
When it starts looking a bit translucent, flip it over.
Brush with melted butter, shuffling it around the pan quickly, then a quick flip over, a bit of melted butter (it should start puffing up into a pillow like shape).
Once it has small golden brown dots on both sides, take it off an put into a serving dish (cover with a clean cloth as you keep preparing the rest).
You will have to adjust the heat during the whole frying process.
Clean off the pan with paper towels or a clean cloth in between frying each chappati.
Don't turn the chappatis too much, just once or twice is enough.
Join The Conversation
I would love to make Roti again. I need to purchase an electric counter top burner to do this. (I have a glass cook top which does not hold the temperature like a gas or traditional electric cook tops.) Can anyone recommend the appropriate Watts to do this? 1500 or 1800 W. I'm assuming a non- induction cook top but I'm also not certain about that as well. Does anyone have experience with this?