Celebrity Walnut Loaf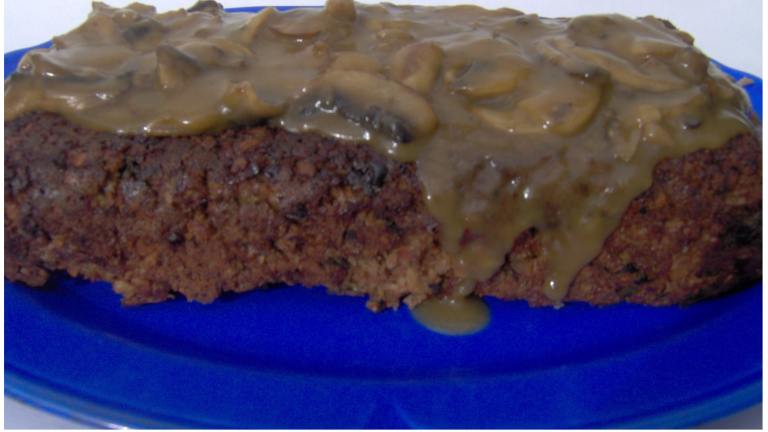 I saw this made on the Food Channel and I'm putting it on here cause it looked so good! UPDATE: I have made this and of course, it is delicious!
Ready In:

1hr 40mins

Serves:

Units:
directions
Toast the bread slices either in the toaster or on a baking sheet placed under the broiler.
Let cool.
Preheat the oven to 375 degrees F.
Generously butter a 9 by 5-inch loaf pan, then line the bottom with waxed paper and butter the paper.
Tear up the toasted bread slices and make crumbs out of them in a food processor.
Place in a large bowl.
Process the walnuts until finely ground and mix into the bread crumbs.
Combine the eggs and onions in the processor and process until fine but not liquefied.
Stir into the bread crumbs.
Place the green pepper, celery, parsley, tomatoes, and oil in the processor and grind until fine but still with some texture.
Stir into the loaf mixture along with the poultry seasoning, salt, and pepper.
Mix this all very well until evenly moistened.
(The mixture may be prepared to this point and refrigerated up to 8 hours in advance.) Scrape it into the prepared loaf pan and smooth over the top.
Cover the loaf with foil.
Bake 1 hour and 20 minutes, or until a knife inserted in the center of the loaf comes out dry.
Let sit 5 minutes, then run a knife all along the sides of the loaf to help loosen it.
Unmold the loaf onto a platter and remove the waxed paper.
Let the loaf cool 20 minutes or so before slicing it.
It's best to serve the loaf warm and the gravy hot.
Mushroom gravy: Melt the butter in a medium-size saucepan over medium heat.
Add the mushrooms and saute until brown, about 7 minutes.
Stir in the flour; it will become very pasty.
Cook this roux for 2 minutes, stirring constantly.
It will stick to the bottom of the pan a little bit; that's okay.
Stir in the stock, wine, soy sauce, and pepper, and bring to a boil.
Cook the sauce at a bubbling simmer for 5 minutes, stirring almost constantly and scraping any crusty bits that stick to the bottom of the pan.
Serve in a pretty gravyboat.
Submit a Recipe Correction
RECIPE MADE WITH LOVE BY
"I saw this made on the Food Channel and I'm putting it on here cause it looked so good! UPDATE: I have made this and of course, it is delicious!"
I've made this dish twice now. The only problem I have is that it doesn't set up nicely. I always wind up cooking it for longer and it still is very soft ; almost mushy. I wonder if I skip the wax paper and just let it cook against the pan it might cook through better. That being said I still really enjoy this. People should know this really is a Walnut Loaf; it's not supposed to taste like meatloaf. I suggest skipping the gravy and topping it with chili sauce. It really gives it great flavor. The gravy is nothing special and I found it very thin so i ad to cook it for a long time. I also add some worcestershire, dried marjoram, sub carrots for the pepper (I think the pepper overpowers the flavor and I personally don't enjoy the pepper flavor with my meatloaves). I omit the parsley only cos I don't keep it on hand. I'll keep working with this recipe to perfect it. UPDATE: I'm sorry I had to knock this down to 2 stars. I had some the next day hoping it would have firmed up and it was so mushy.

I LOVE this dish. I have made it several times now, and I think it is just wonderful. It is fairly easy to make, and freezes really well. With some of the leftover mix, I formed some meatballs which were fantastic in spaghetti. It amazes me how much this tastes like the meatloaf that I gave up years ago. Great texture and fantastic flavor. You will not be disappointed in this dish...

This recipe was fun to make because I couldn't quite imagine what the final result would taste like, using the interesting combination of ingredients. Well, it tasted like heaven. It's a vegetarian gourmet's dream dish, satisfying, healthy and delicious. I followed the directions to the letter, except I used sage, rosemary and thyme instead of poultry seasoning, and I used onion rye bread, since that was what I had on hand. The texture of the loaf was just perfect, and it even unmolded without a hitch. While the loaf is a 6 star, the sauce is a 4 star. I think it would be better if milk could be substituted for the vegetable stock. Obviously, it would not be quite as low fat or healthy with that change. We are looking forward to having some leftovers tomorrow, and know I'll be making this many times in the future. Try it yourself Sharon123; you were right about it looking good!!!