Carne En Su Jugo (Meat Cooked in It's Own Juice)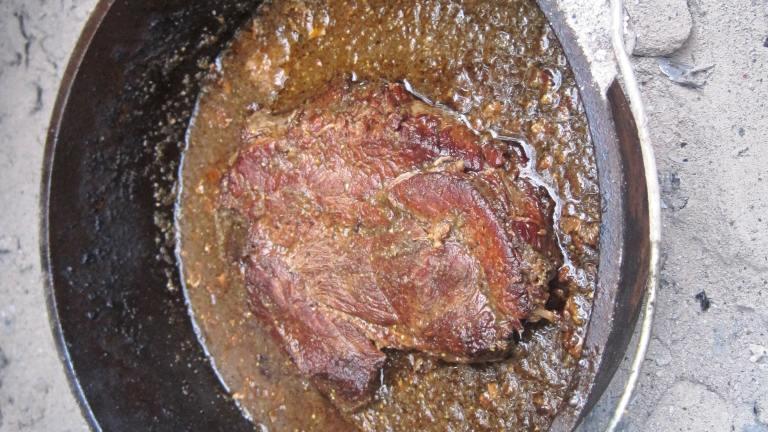 "Carne en su jugo" translates to "meat cooked its own juice". This recipe was passed down to me by my mother-in-law from Guadalajara Mexico. Its a delicious type of Mexican stew slow cooked in a green tomatillo based sauce. Wonderful served over beans with freshly grilled white corn tortillas. Select a well marbled chuck roast and I found peppered bacon gives a great flavor, but any "smoked" bacon will do nicely. Now I know the recipe says to use chicken bouillon and that may contradict some beef/poultry cooking rules but it is how the recipe goes. So don't reach for your beef bouillon instead of the chicken. Trust me :)
Ready In:

2hrs 15mins

Serves:

Units:
directions
In a large frying pan cook all the bacon to a nice crispy texture.
While the bacon is frying place the onion, garlic, tomatillos, bouillon and cilantro in a blender. Squeeze the lime wedges into the blender and mix well so everything inside forms a frothy uniformed consistency.
Remove bacon from the drippings and sear the roast on all sides in the bacon fat. This will ensure that the juices in side the meat are sealed in side. So make sure every raw spot is well browned.
After browning the meat return the bacon to the pan and pour the contents from the blender over the roast. Or transfer everything to a crock pot.
Cover and allow to simmer for 1 hour on the stove. If using a crock pot set for 6-8 hours but add 2 cups of water of beef broth.
Serve over black or pinto beans with grilled corn tortillas and enjoy.
Submit a Recipe Correction
RECIPE MADE WITH LOVE BY
""Carne en su jugo" translates to "meat cooked its own juice". This recipe was passed down to me by my mother-in-law from Guadalajara Mexico. Its a delicious type of Mexican stew slow cooked in a green tomatillo based sauce. Wonderful served over beans with freshly grilled white corn tortillas. Select a well marbled chuck roast and I found peppered bacon gives a great flavor, but any "smoked" bacon will do nicely. Now I know the recipe says to use chicken bouillon and that may contradict some beef/poultry cooking rules but it is how the recipe goes. So don't reach for your beef bouillon instead of the chicken. Trust me :)"
Went camping this weekend and made this in a dutch oven over an open fire. I prepared the tomatillo sauce ahead of time in a food processor and then froze it for the trip. The recipe turned out delicious, but I had to make a few small changes so I couldn't give all five stars. The recipe didn't specify and I wasn't sure so I left all the bacon fat in the pan which I should of drained before pouring the sauce in. I ended up using a spoon and some paper towels later on so no big deal. I also had to hit this with salt to taste as the only salt in the recipe comes from the bouillon. I was making this for my young son and I so I layed off the heat for us; if I was making it for a crowd I'd toss some chilies into the verde sauce. For my portion I just mixed in some lime rotel and it was perfect. Served with a side of mixed black beans and corn.

"Carne en su jugo" translates to "meat cooked its own juice". This recipe was passed down to me by my mother-in-law from Guadalajara Mexico. Its a delicious type of Mexican stew slow cooked in a green tomatillo based sauce. Wonderful served over beans with freshly grilled white corn tortillas. Select a well marbled chuck roast and I found peppered bacon gives a great flavor, but any "smoked" bacon will do nicely. Now I know the recipe says to use chicken bouillon and that may contradict some beef/poultry cooking rules but it is how the recipe goes. So don't reach for your beef bouillon instead of the chicken. Trust me :)