Caribbean Grilled Scallop Salad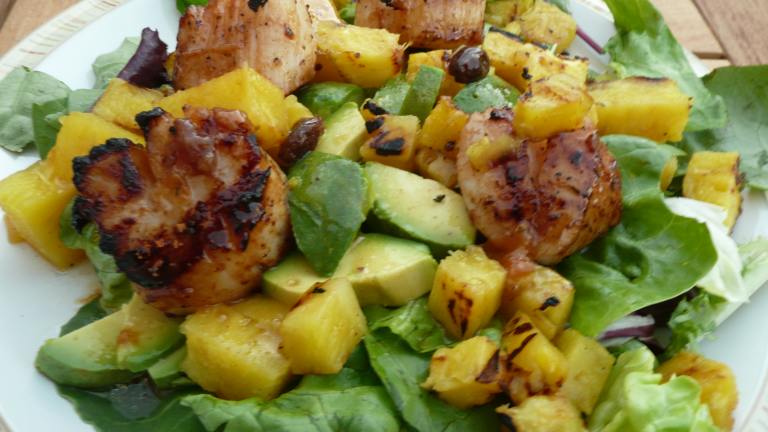 Boston lettuce has a mild taste and tender texture. Rinse it gently, pat dry and refrigerate with moistened paper towels until ready to assemble salad. (Total time: 16 mins.)This is a very nice and pretty salad dish. Cooking Light Magazine, August/05. Making of the salad included in prep time -- not cooling time. Update 06/19/2008 - after making this again I tweaked it a bit; the first thing I did was used a rub that I used for another dish - recipe #283294 which added quite a kick! Also, I was remiss about including Emeril's Creole Seasoning recipe #146819 number. Also, used a vinaigrette that I had for another salad and added more of the mango chutney!!!:)
Ready In:

40mins

Serves:

Units:
directions
Prepare grill to high heat.
Pat scallops dry with a paper towel.
Sprinkle 1 1/2 teaspoons fish rub evenly over scallops.
Coat scallops with cooking spray.
Place scallops on grill rack; grill 3 minutes on each side or until done.
Remove scallops.
Add pineapple to grill rack; grill 2 minutes on each side.
Remove pineapple from grill; chop pineapple.
Combine salad greens, lettuce, pineapple, and avocado in a large bowl.
Chop large pieces of chutney.
Combine chutney, lime juice, olive oil, and remaining 1/2 teaspoon fish rub in a small bowl (add red pepper flakes, if using).
Add dressing to salad, and toss well.
Place 1 1/2 cups salad into each of 4 bowls.
Arrange 3 scallops over each salad.
Submit a Recipe Correction
RECIPE MADE WITH LOVE BY
"Boston lettuce has a mild taste and tender texture. Rinse it gently, pat dry and refrigerate with moistened paper towels until ready to assemble salad. (Total time: 16 mins.)This is a very nice and pretty salad dish. Cooking Light Magazine, August/05. Making of the salad included in prep time -- not cooling time. Update 06/19/2008 - after making this again I tweaked it a bit; the first thing I did was used a rub that I used for another dish - recipe #283294 which added quite a kick! Also, I was remiss about including Emeril's Creole Seasoning recipe #146819 number. Also, used a vinaigrette that I had for another salad and added more of the mango chutney!!!:)"
This is a very nice and tasty salad. I do think the dressing could use some tweaking. As directed each of the four servings would only have a tablespoon of dressing...not enough for me. The grilled pineapple, scallops and avocado are a great combo, so it is worth experimenting with. Made for My Three Chefs game.

Boston lettuce has a mild taste and tender texture. Rinse it gently, pat dry and refrigerate with moistened paper towels until ready to assemble salad. (Total time: 16 mins.)This is a very nice and pretty salad dish. Cooking Light Magazine, August/05. Making of the salad included in prep time -- not cooling time. Update 06/19/2008 - after making this again I tweaked it a bit; the first thing I did was used a rub that I used for another dish - recipe #283294 which added quite a kick! Also, I was remiss about including Emeril's Creole Seasoning recipe #146819 number. Also, used a vinaigrette that I had for another salad and added more of the mango chutney!!!:)